If you are using Google Docs as your main word processor and didn't know that you can use Add-ons to make some tasks easier. This article will show you how to quickly and easily search for, install and remove Google Docs add-ons! Google Docs Add-ons work in a very similar way to browser extensions but are limited to use with Google Docs.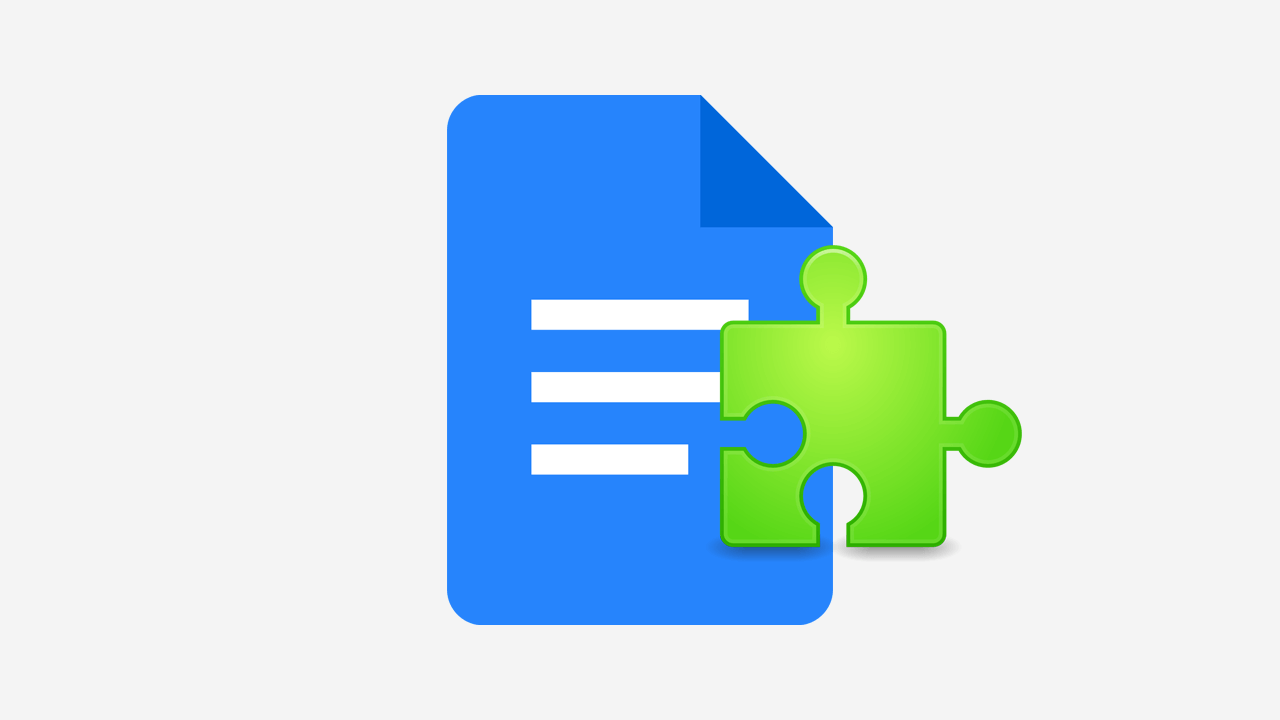 Related: How to easily view which tabs are sleeping in Microsoft Edge. (Fade Sleeping Tabs)
Not a lot of people know this but you can actually add extra features and tools to Google Docs using Add-ons. Add-ons in Google Docs work in a very similar way to extensions for Chrome, however are specifically designed for Docs. There are so many to choose from that the hardest part is tracking down exactly what you need, though exploring the list of options is quite an interesting task.
Thankfully, the hardest part about using Add-ons in Google Docs is finding the exact one/s you want to use. So you'll probably spend more time searching for content than actually adding or removing it. Anyway below you'll find the steps you need to follow to add or remove Add-ons in Google Chrome. The steps shown in this guide work for any Internet browser as well, you don't have to be using Google Chrome or Microsoft Edge. The only requirement is that you have a Google account and are signed in.
Note: Just like extensions and other content you download from the Internet, you'll need to be a little cautious about what you are installing. Just because something has made it onto the Google Docs Add-on store itdoesn't mean it is entirely safe. Always flick through the reviews and ratings to get a better understanding of what you are adding to your browser.
How do you Install an Add-on in Google Docs?
To install Add-ons to your Google Docs account, you'll need to do the following.
First, open a document, then click Add-ons from the ribbon menu. Next, select Get add-ons.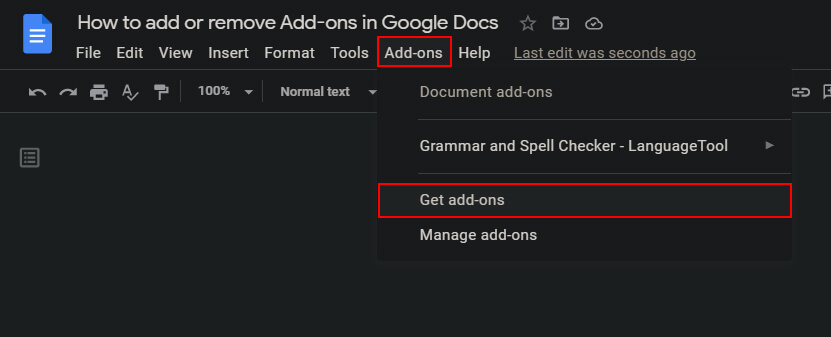 Now search for the add-on you want to install using the Google Workspace Marketplace.
When you find one, click Install on the add-on page and give permission to continue the installation.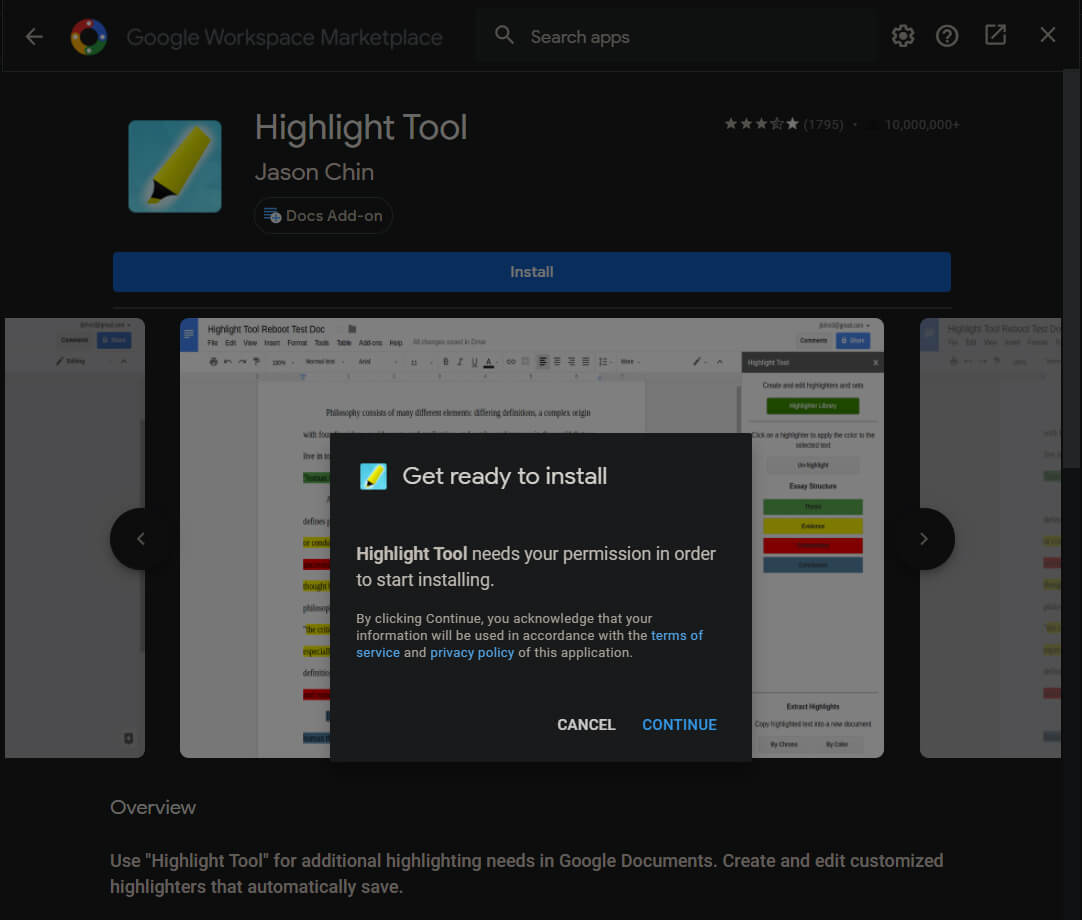 Finally, select your Google account and the Add-on will be granted access on that account.
After you have followed those three steps, your chosen Add-on will be installed and be ready to use. Depending on what you've chosen will determine how it works and where you can access it. Clicking Add-ons in the ribbon menu and selecting Manage Add-ons will let you manage any Add-ons you have previously installed.
How do you Uninstall an Add-on from Google Docs?
To uninstall a Google Docs Add-on you no longer want or need you'll need to do the following.
First, click the Add-on option in the ribbon menu, then select Manage add-ons.
Next, select the add-on you want to uninstall from the list of Add-ons you have.
Finally, click Uninstall and confirm uninstalling the Add-on using the extra prompts given.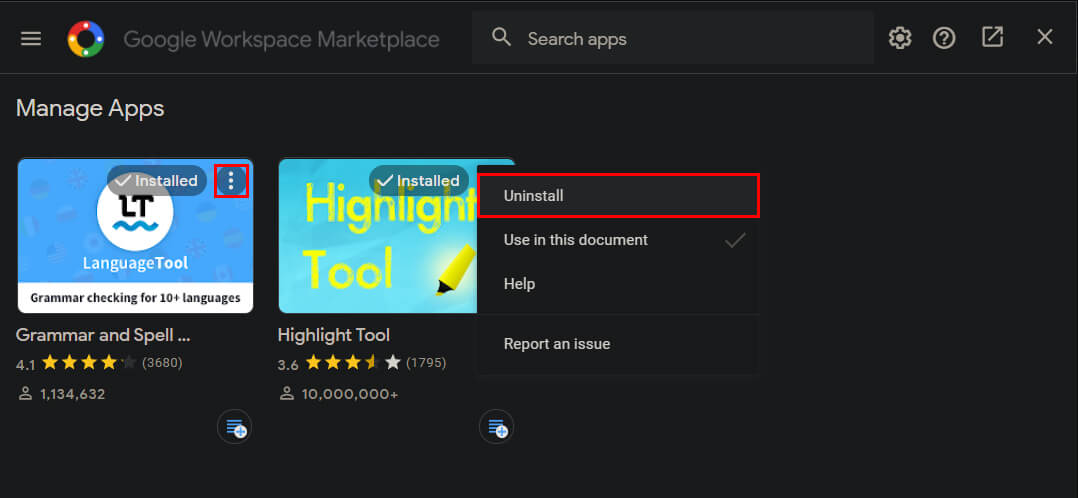 Once you have uninstalled an Add-on from Google Docs it will be removed from your account. This means that it will no longer be installed on any device that you access Google Docs from.