We are storing more and more files in a cloud, especially when it comes to the data we need in work. Unfortunately, by default GMail has no integration features that would allow to directly attach files from Dropbox, SkyDrive or other services to your messages. However, you can change it with a service called Kloudless.

Kloudless is a service and extension for Internet browsers (such as Chrome and Firefox) that allows you to integrate GMail with services such as Dropbox, SkyDrive, Box, Google Drive and others. Thanks to this feature you can add attachments directly from your cloud account as well as save attachments from messages you received on a virtual hard drive.
First steps with Kloudless
You can start working with the program by installing the extension. You can choose among Kloudless for Google Chrome and Kloudless for Firefox. Once it has been installed, Kloudless has to be connected to your main GMail account as well as to the cloud services you would like to integrate it with. To do it you have to log into your GMail account and click on the "Kloudless Beta" button on the upper bar next to the username.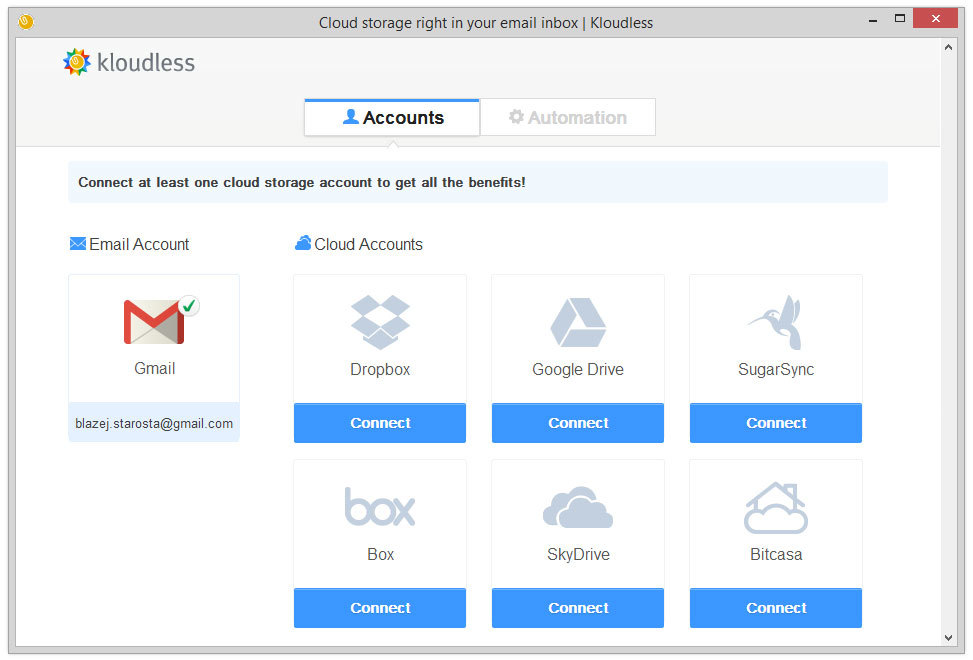 Click on the "Get Started!" button and log into your GMail account. Next you can add your cloud accounts in the Accounts tab. This is all extremely easy - just click on the "Connect" button under the icon of a chosen service, log into your account here and allow Kloudless to integrate with that service. Once you have added all the accounts you wanted you can close the configuration window.
Adding attachments directly from the cloud
You can add attachments directly from the cloud very easily and quickly. In the Compose window in GMail a new icon is added next to the old attachment icon.

Once you have clicked on it Kloudless displays a new window where you can find a minimalistic file browser for searching for the files in your cloud account.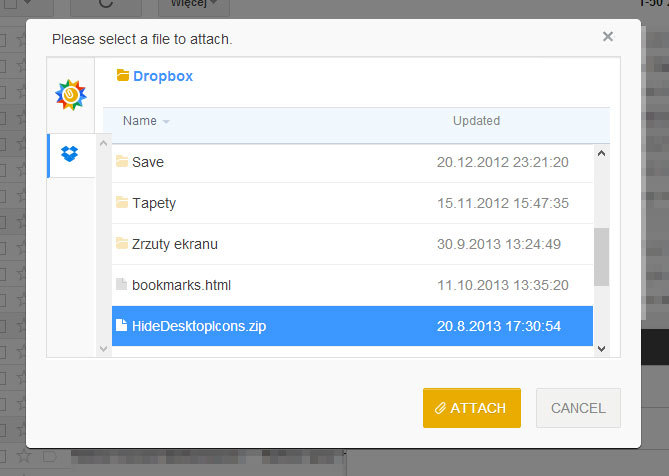 All you have to do is to pick a file and confirm your choice with the "Attach" button. If you have integrated your GMail account with more than one cloud service, then you can switch between your Internet drives using the icon on a sidebar.
Saving attachments to the cloud
You can also save received attachments on any of your cloud accounts. Next to every received file you can see a "Move" button.

When you click on the "Move" button, Kloudless' file browser window will pop out and you will be able to choose any directory in the cloud and save you attachment there.
Automatically saving attachments to the cloud
Apart from manually saving your attachments you can enable Kloudless to monitor your e-mail account and automatically saving any new attachments to the cloud. To do it you have to click on the Kloudless beta button in the upper part of the screen and go to the Settings section. In here you have to go to the "Automation" tab.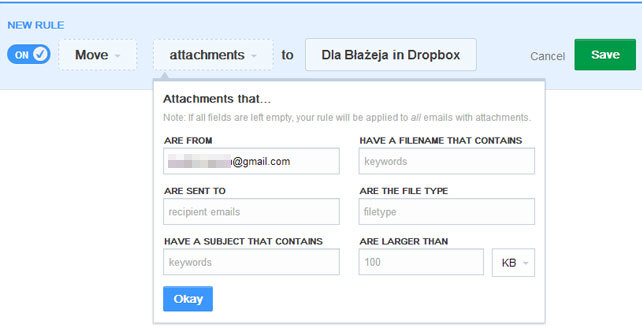 In this place you can choose the rules based on which any attachments will be saved to the cloud. There is a plethora of options and you can both set the easiest principle (all the attachments are saved to a folder in the cloud that you want them to go) as well as make only the attachments from a specific sender to be saved in a specific directory.