Facebook has had the option to change the URL linked to your account for a very, very long time and a lot of people enter the settings menu wondering why the option even exists, it seems kind of useless right? There are a few reasons you may want to change your Account URL, for example, you might want to make finding you a lot harder or you may wish to make finding you a lot easier. Whatever your reason you can find out how to make the changes below.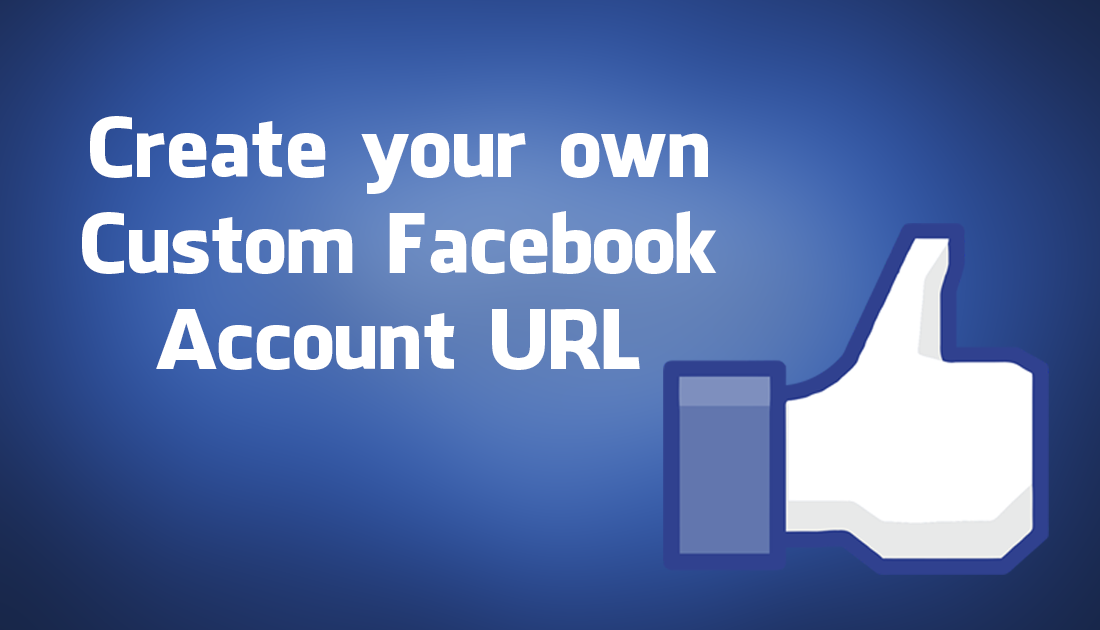 How to Set a Video Instead of a Photo as the Cover of your Facebook Page. 
Facebook is one of the easiest and most convenient ways to keep in touch with people you know around the world. Unfortunately, it's, getting harder and harder to avoid using, even prospective employers are starting to stalk the Facebook pages of potential candidates. With some even requesting the URL during interviews or job applications to make the Social Media search simpler.
Most people will be happy to leave their Facebook URL as standard, which is generally your profile name, plus a couple of random numbers: Bryan.Came.748 for example. If you are someone who already has a unique name you probably won't need to change your Facebook URL, especially if it doesn't contain any numbers. If you are in the opposite boat though and have a reasonably common name like James West or Li Jing, you may want to know how to change your URL so it is easier for new acquaintances and friends to find you.
How to Change the URL Linked to your Facebook Account. (Change Facebook Username)
Changing your Facebook URL is quite an easy thing to do and is a great way to make yourself much easier to search. The first thing you will need to do is sign into your Facebook account using the web version. Once you have signed into your account, you can start the process of changing your Facebook Username. In the upper right-hand corner of the Facebook menu screen, you will see a small Downward Pointing Arrow (next to the ? icon) click this once and select Settings from the menu.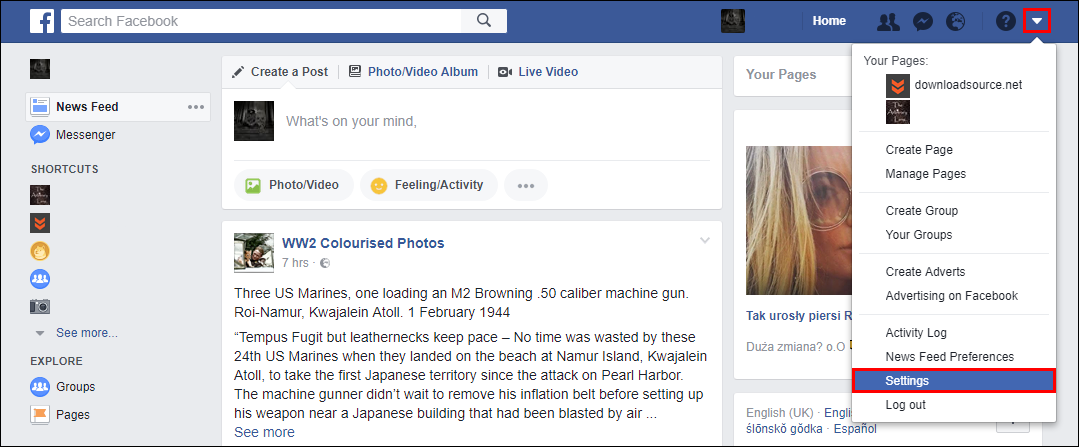 On this page you can see a variety of basic account information, underneath your Name you will see your Username. This is what generates your Facebook Account / Profile URL and you can change it is often as your like.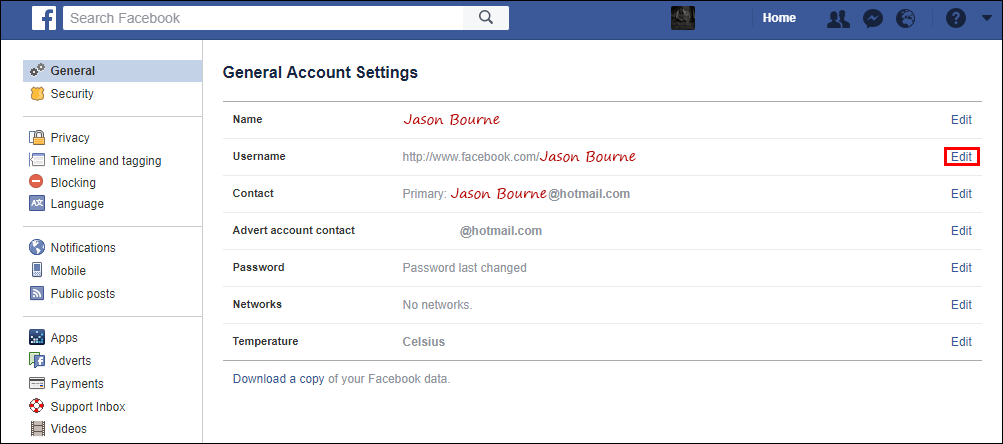 Click on the Edit option that is on the same line as your Username, on the right-hand side of the menu. The screen will change a little and a new box will appear displaying your current username. In this box is where you will add a New Facebook Username, that will change your account's URL. As you can see you will need to make a username that is unique and hasn't already been taken by another Facebook user. This is the hard part, finding a unique username that you can share with people to make it easier to find you.
Note: Keep in mind that if you are ever in the market for a new job, potential employers may notice your Unique URL when searching for you on Facebook. So you may want to consider something that is Safe for Work.
The only requirement when changing your Facebook Username / URL is that your new username still has to match your current name to some degree. For example, if your name is Jason Bourne you aren't going to be able to use Bruce.Pony.Willis. Try to keep either your First or last name: Jason.Bourne2Kill is an example that Facebook Seems to accept.

This username also can't contain anything other than letters and number. Periods (full stops) will break up the words but won't affect the name's availability. Jason.Bourne is still recognized as JasonBourne so won't be classed as unique if someone else is already using it.  
Once you have decided on a name that is unique and that Facebook agrees with, you can click the Save Changes option. You'll need to enter your password here to confirm the changes. As soon as you have confirmed the change with your password your new username and Facebook URL will be set.

From now on if you want people to be able to find you really easily without having to search through countless Jason Bourne clones. Just give them the unique username you have created.
Using this Username they can search for you using the standard Facebook Search box or just tag the username to the end of the below URL:

https://www.facebook.com/Insertyourweirdnewusernamehere