Facebook cover photos have been around for quite some time, allowing users to set a larger image/banner to display alongside the profile picture of your page. Fast Forward a few years and the Facebook cover photo has been given an upgrade. Now, as well as the standard cover image you also have the option to set your own cover video. If you aren't sure how to find the new video feature, this article will guide you through the process of setting a video as your new cover page on Facebook.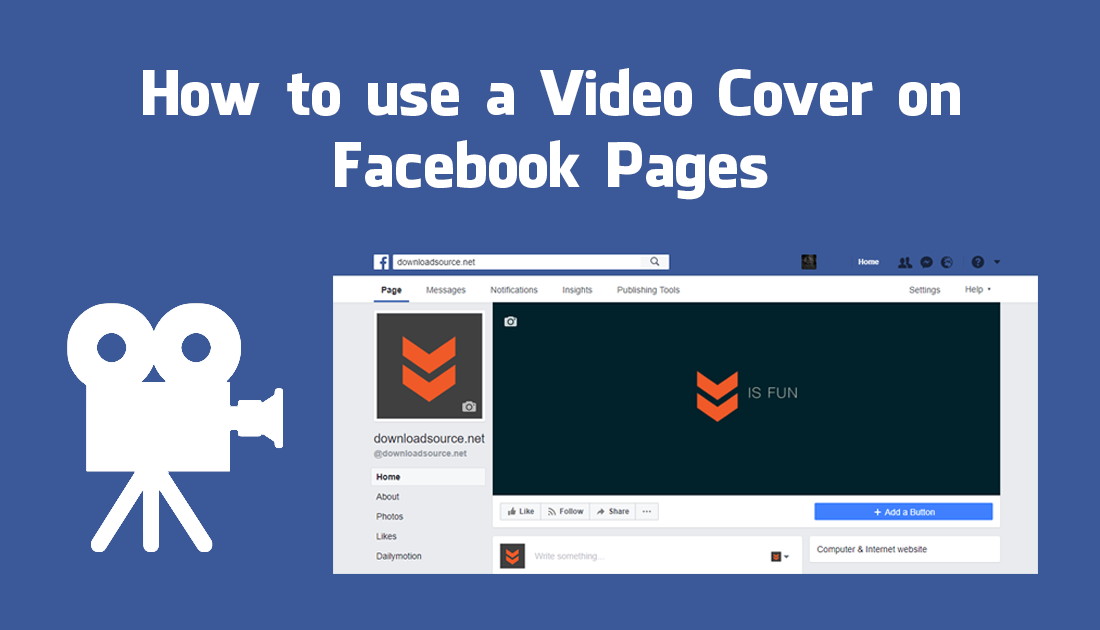 How to Buy Swap and Sell Items Using the Official Facebook Marketplace.
A couple of days ago Facebook rolled out a new feature that allows it's users to set a video as the cover photo for their pages. Keep in mind the cover video feature hasn't yet been adapted to personal accounts/profiles and is currently only available for Facebook Pages. (Pages like our Downloadsource.net Facebook page) Depending on whereabouts in the world you live, you may or may not have already seen the option. At this stage the exact details of which countries have access and which don't isn't readily available, so you will have to check your Facebook book page/pages to see if you have access. 
The good news is that if you are happy having a photo as your page's cover, Facebook isn't going to force you to change to a video. That being said though if you are interested in changing your still image to a video, the process is very simple, you even have the option to set it as muted, so it will only play video without any sound.
Now! There are a couple of requirements your video must meet before you can set it as your cover, they are as follows:
The video must be a minimum resolution of 820x 312 pixels (anything higher is ok)
It must be between 20 and 90 seconds long.
The wider aspect ratio must be adhered to, otherwise, the video may not be displayed or will be displayed poorly. The recommended size is 820 x 462 pixels.
It must also adhere to Facebook's policies regarding appropriated content.
If the video you have in mind meets these requirements you will be able to display it as your cover video.

How to use Videos as your Facebook Cover Page Instead of a Static Image.
The first thing you need to do in order to change your Facebook Cover Photo to a Cover Video is log into your Facebook account. From here go to the Facebook Page you wish to change the cover image for. In the upper left-hand corner of the current cover photo you will see a new camera/video icon that rotates, click on this and you will see a drop down menu.
From this drop-down menu, you will see a few different options, we will be clicking the option Upload Photo/Video for this guide. You can choose the option: Choose from Videos if the video you want to use a cover photo has already been uploaded to Facebook in the past.

Once you have chosen either of the two options, you will have to pick the video you wish to use. The next step (depending on the resolution of the file) is to set its placement on your cover page. This option will vary somewhat depending on the dimensions of your file. Center it as best as you can, then click the Next button in the lower right-hand corner of your screen.

You will now be brought to a second screen that gives you the option to choose the thumbnail of the video. Options which of course are captured from within the video itself. All you have to do is use the arrows on the left and right side of the image to cycle through your choices. When you have found the perfect one, click Publish in the bottom right-hand corner. Your Facebook Page will now be brandishing its very first cover video.
From now on all visitors to your page will automatically see your cover video, instead of your cover picture. Although this feature is currently limited to Facebook Pages and not individual accounts, it's highly likely that Facebook will eventually roll it across to personal accounts as well, so keep an eye out for a new video option in the near future.