A lot of people automatically overlook the built-in Windows 10 Defender Antivirus program, opting for third party options like Avast and Avg. Although they are good at what they do, you shouldn't automatically shun Windows Defenders ability to protect your system, after all, Windows does know its own operating system inside out. This guide will show you how to setup and configure Windows 10 Defender Antivirus to best suit your needs.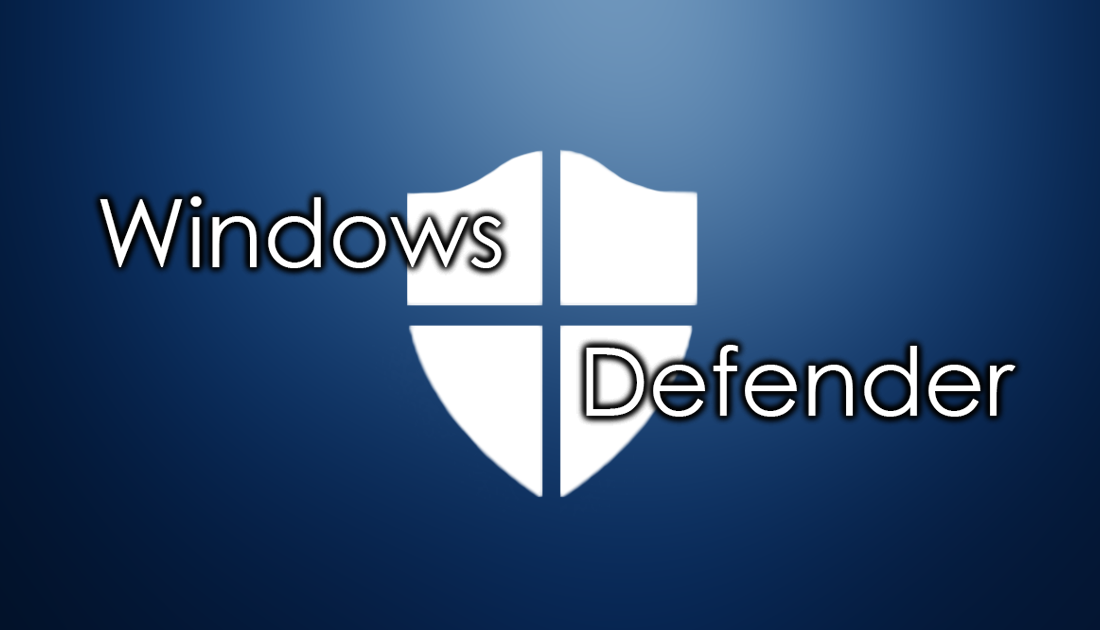 How to Remove the Windows Defender Icon from the Taskbar System Tray.
Windows Defender has been an integrated part of Windows 10 since its launch and offers quite a good level of protection. It continually runs in the background making sure all users are protected from the endless stream of Internet viruses, it's also very easy to setup and use, having been redesigned and improved in the Creator's Update. If you still aren't convinced to give Windows Defender a whirl on your system, it's also worth mentioning that Windows Defender is one of the most compatible protection programs available, interfering the least with programs, apps and games you have installed on your computer.
Windows Defender: Automatic Scans and Updates.
As with all other Antivirus programs Windows Defender is almost fully automated, running quietly in the background performing scans when needed. If it locates any problems, they will automatically be sent to quarantine and you will be notified accordingly, you'll also have the option to decide what to do with the threat. Most often it is best to remove them immediately unless you are certain it's a false positive, which does happen from time to time on all antivirus programs.
Note: All Windows Defender Antivirus definitions are automatically downloaded and installed with Windows updates. This is one of the main reasons Windows has opted to make automatic updates compulsory.
How to Check Windows Defender Scan History & Quarantined items.
To view Windows Defender scan history all you have to do is open the start menu type: Defender and select Windows Defender Security Center when the option appears. You can also find it by going to Settings > Updates and Security. When the program opens, change to the Windows Defender tab (shield icon) then click the Scan History option.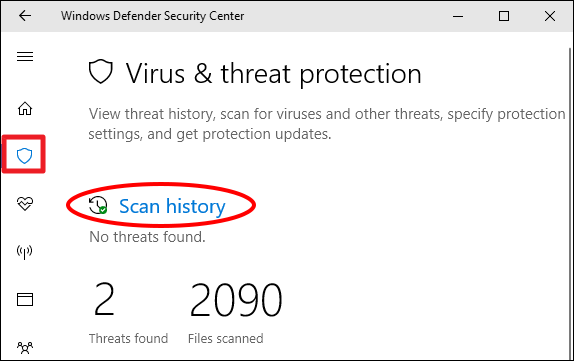 This screen displays all current threats and information about your last scan. If you would like more information, click See full history.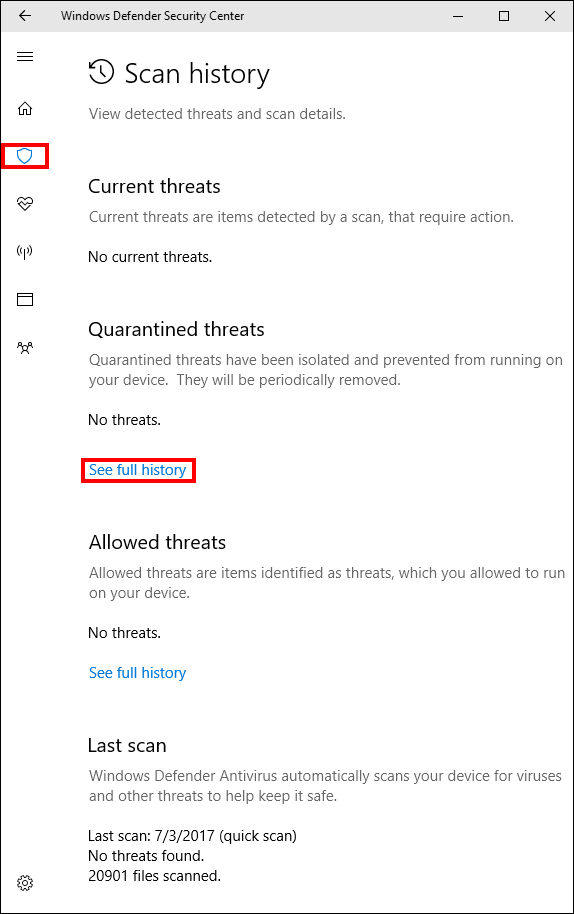 Note: You'll also be able to delete/remove threats from this screen if you didn't choose to at an earlier time.
How to Start a Windows Defender Manual Scan.
From the main Windows Defender tab there is also an option to manually scan your computer for threats, simply clicking Quick Scan will start the process.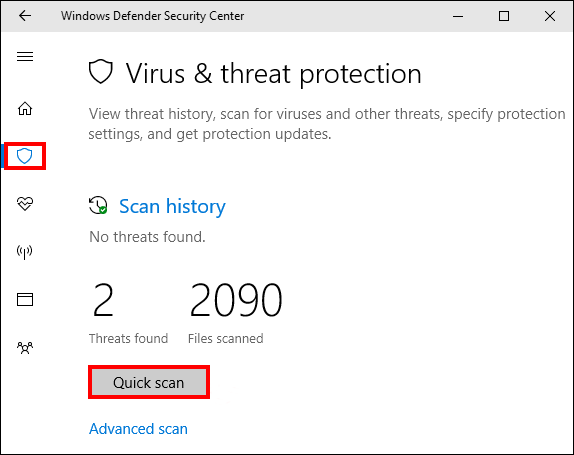 As well as the quick scan, manual scan option, there is also an option to perform an Advanced Scan which consists of three different variants:  
Full scan: Checks every file and program on your computer, which does take a considerable amount of time, however, is worth doing occasionally. Just start the scan when you know you don't have to use your computer for a while. (A full scan can run in the background, however, does use a fair amount of system resources so some processes will be slowed down during a scan.)
Custom scan: Lets you choose which folders you wish to scan. You can also do this by right-clicking on a folder and choosing Scan with Windows Defender from the Context menu.
Windows Defender Offline scan: This is a really handy tool you can use to remove threats that can't be removed while Windows is running. Offline scan, does this by restarting Windows and running a scan before Windows loads.
Configuring Virus/Threat Protection Settings.
Although Windows Defender will automatically protect your system in real-time, you can manually make changes to your protection level. This can be done by clicking Virus & Threat Protection Settings from the main Windows Defender tab. Here you have the ability to enable or disable Real Time Protection, Cloud Base Protection, and Automatic Sample Submission. If you aren't sure what each of these settings do, there is a lengthy description next to each explaining their purpose. The only one I would bother turning off is Sample submissions.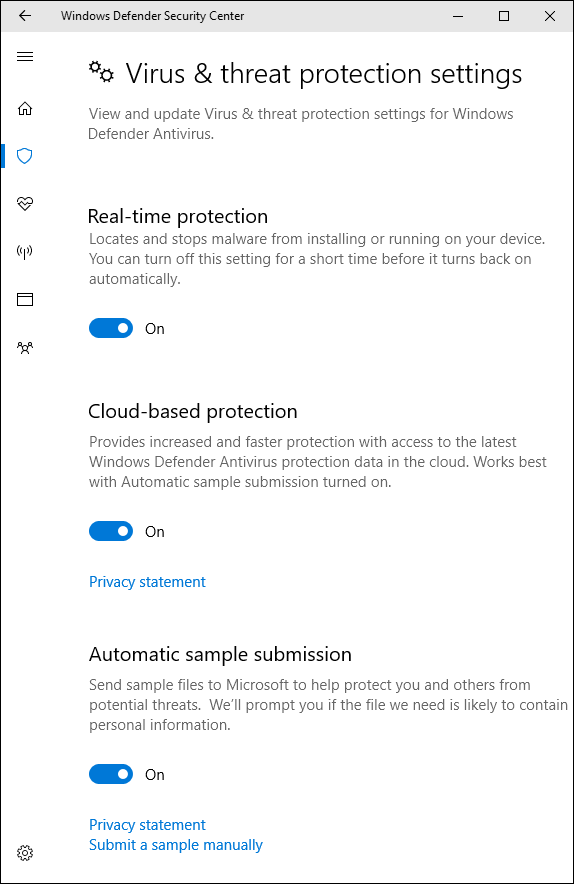 How to Set Folder and File Exclusions in Windows Defender.
If you need to set some exclusions in Windows Defender, doing so is quite easy. Simply go to the very bottom of the Virus & Threat protection settings page and tap Add an exclusion, now select the type of exclusion you wish to add from the drop-down menu. Finally, select the location of the item you want to be excluded. Just remember that the more things you exclude the less protection your computer will have, so make sure you do so wisely.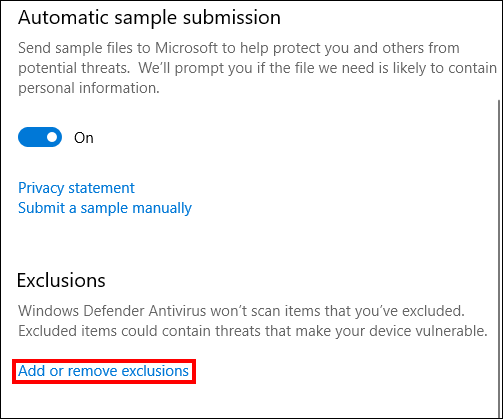 Use Malwarebytes with Windows Defender.
Although Windows Defender is a pretty good all round piece of protection for your computer, you can increase protection by running it alongside another program called Malwarebytes. Malwarebytes is a program which specifically targets malware rather than viruses and works very well with Windows Defender. If you've never heard of Malwarebytes before, you can find out more or download the program from their website.

Malwarebytes