More often than not, there is malware on our computers hiding from our eyes in the form of standard processes and services, DNS entries in hosts files, as well as DLL files. You cannot always detect them using an antivirus program. How to deal with them?

Of course, you should always start by using antiviral software, along with more specialized malware detectors such as MalwareBytes AntiMalware. However, if there's a big player sitting down there, coming back when you don't expect it, then it's high time you used a bit more advanced tool, for example RogueKiller.
Keep in mind that RogueKiller can eliminate practically any process on your computer and using the program mindlessly may, in extreme cases, lead to system instability. Therefore, you should be really cautious when using it and only remove those processes and services about whose malicious nature you are sure.
Getting rid of the mess using RogueKiller
First of all, you need to, of course, download the tool and launch it. It does not require installation, so you can place it anywhere on your hard drive or even on a flash memory.
Once you have launched the program, the main window should appear. Begin working with the program by scanning the system, looking for any suspicious position. Scanning should begin automatically, but if it does not take place then all you have to do is to click the "Scan" button on the right.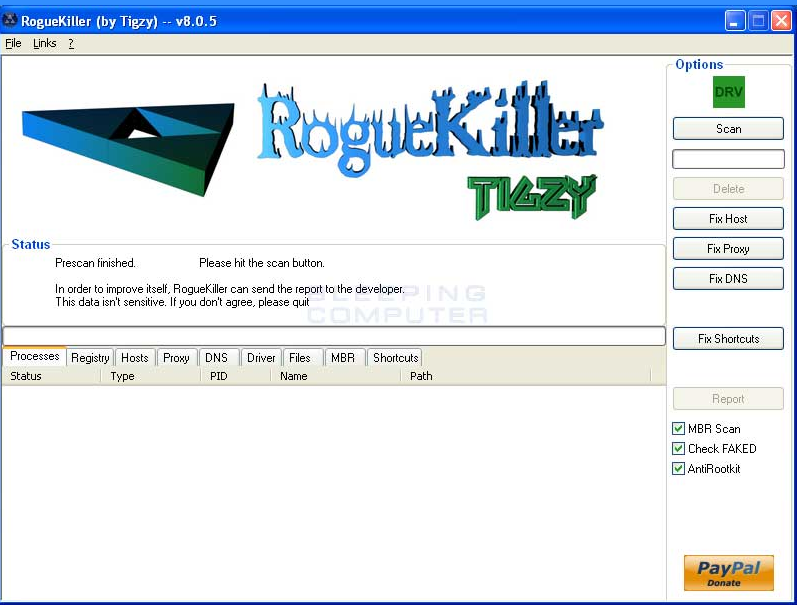 The program tests every running process, as well as running services, registry entries and Hosts file. All the scanning results are divided into appropriately entitled tabs.
After scanning, the program only shows you the results that seem malicious or suspicious. However, you need to be very cautious and take what it displays with a pinch of salt. For example, the program may display a program, such as password manager, installed into a localization that the application thinks is reserved for respective applications only.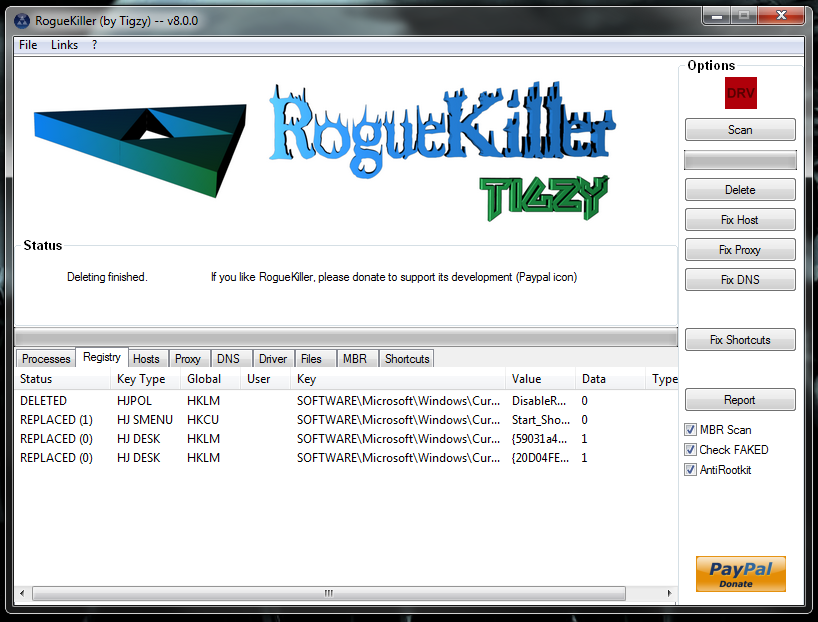 For this reason, you always should check what this process is doing before removing it (you can use Google to learn about processes, just search for the file name before deleting it). If you are sure that a given process, service, Host entry or other file is malicious, you have to mark it and remove it with a dedicated button.
As you can see, RogueKiller is a very specific application that focuses primarily on checking out processes that are running in the background, affecting system performance. However, you shouldn't treat this program as a substitute for antiviral and anti-malware software. Quite the opposite, keep it on your hard drive so it can be used in critical situations.a