How to Fix 'Driver Power State Failure' Error on Windows 10.
Author

Publication date

11.06.2018

Ilość komentarzy
Windows has hundreds of different blue screen of death (BSOD) errors that can randomly appear on your computer and crash your system temporarily. Although they are all frustrating, one of the worst BSOD errors you can come across is 'Driver_Power_State_Failure'. Thankfully there are ways you can fix this issue, so follow along as this article guides you through the process.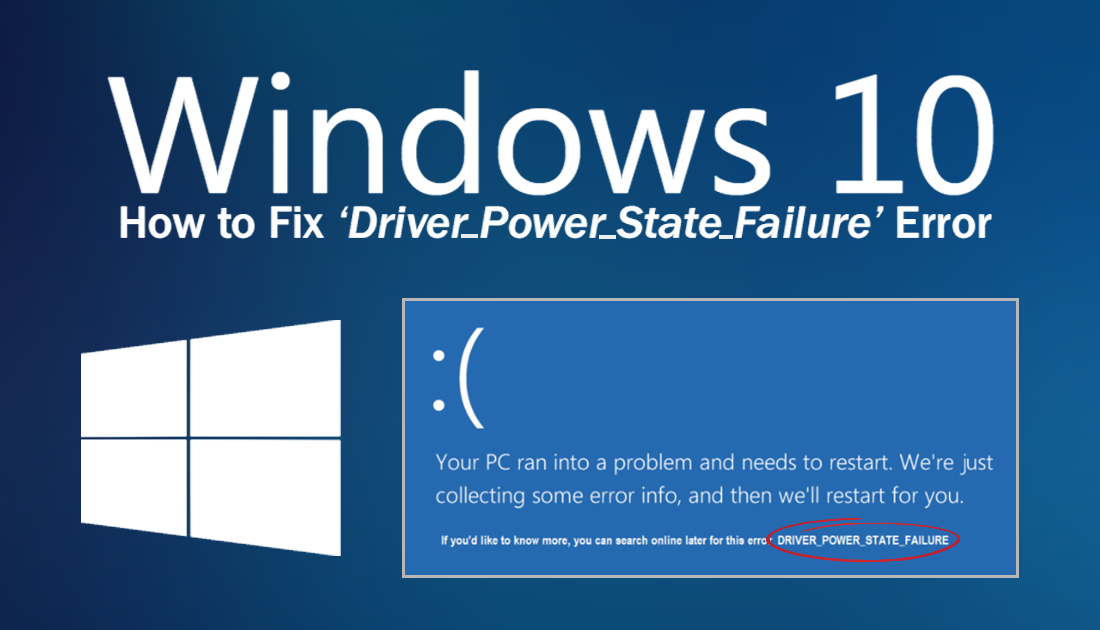 How to Fix Google Chrome Error Kill Pages or wait.
Windows 10 is notorious for randomly crashing from blue screen of death errors, more so than any other version to come before it. Because of this Microsoft had added a handy QR scan code option to most BSOD error messages to allow you to better find and fix errors. The only issue with this is that a lot of the time these screens appear and disappear before you can get your mobile device and scan the code.
If you're lucky enough to get the name of the error message, in this case, 'Driver_Power_State_Failure', a quick Google search usually grants a ton of suggestions offering to fix the issue. Seeing as that's how you've probably found this article, let's get straight to work fixing 'Driver_Power_State_Failure' on your version of Windows.
How Do You Stop 'Driver_Power_State_Failure' Error On Windows?
If you are receiving this error message, nine times out of ten it is because of an incompatible or corrupt driver installed on your system or a device that has incorrectly been placed into a different state of power usage. Luckily fixing these issues is really easy to do and doesn't require you to have advanced Windows user knowledge.
Fix 'Driver_Power_State_Failure' Error By Updating Windows.
Just about every article showing you how to fix an error on Windows suggests that you check for Windows updates before doing anything else. This is because a lot of the time Microsoft is aware of major issues like 'Driver_Power_State_Failure' and are actively looking for ways to fix the problem and are quick to release patches.
Even if you are skeptical, it's easy to manually check for an update and install it. Even if it doesn't fix the issue, your system will be more secure for doing so. To force Windows to start an update go to Settings > Update & Security and click Check For Updates. If any updates are available, Window will automatically download and install them.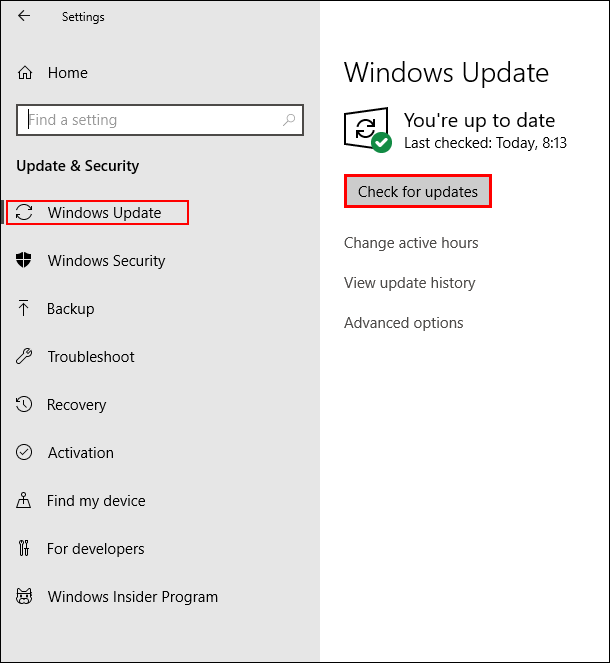 If you are already running the latest version of Windows and are still getting 'Driver_Power_State_Failure' Error, continue with some of the more advanced steps below.
Fix 'Driver_Power_State_Failure' Error By Updating/Re-Installing Wi-Fi and Graphics Drivers.
The next thing to check are your system drivers, your graphics and WiFi drivers in particular. To do this right-click the start menu and select Device Manager from the list of options. On the screen that appears find your Graphics Device (display driver), expand the option, then click Check for Updates. If there aren't any updates available, follow the same steps but this time choose Uninstall, then Restart your computer. After it has restarted, Windows will automatically download and install the latest drivers.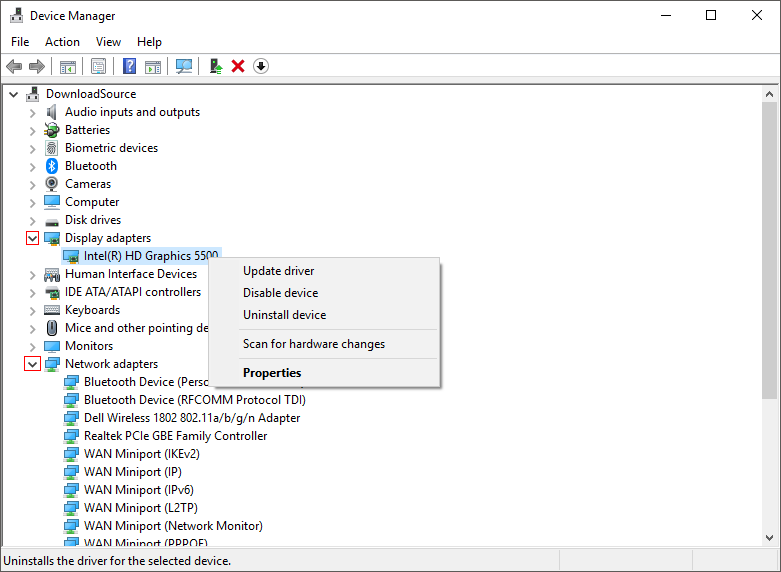 Alternatively: If you have a computer with a higher end graphics card running Nvidia or Catalyst software. It's best to use those tools to check for driver updates.
Once you have checked your Graphics devices, do the same for your WiFi adapter, which you'll find under Network Adapters.
Fix 'Driver_Power_State_Failure' Error By Resetting Power Settings.
If neither of the above options helped, you'll need to reset your system's power settings. To do this open Settings go to Update & Security, then click Troubleshoot in the left-hand pane. Now from the central pane find Power, expand it, click Run the Troubleshooter and let the tool run. When it completes, you won't necessarily find out if the problem has been fixed, so simply use your computer normally and wait to see if Driver_Power_State_Failure returns. Hopefully, it won't!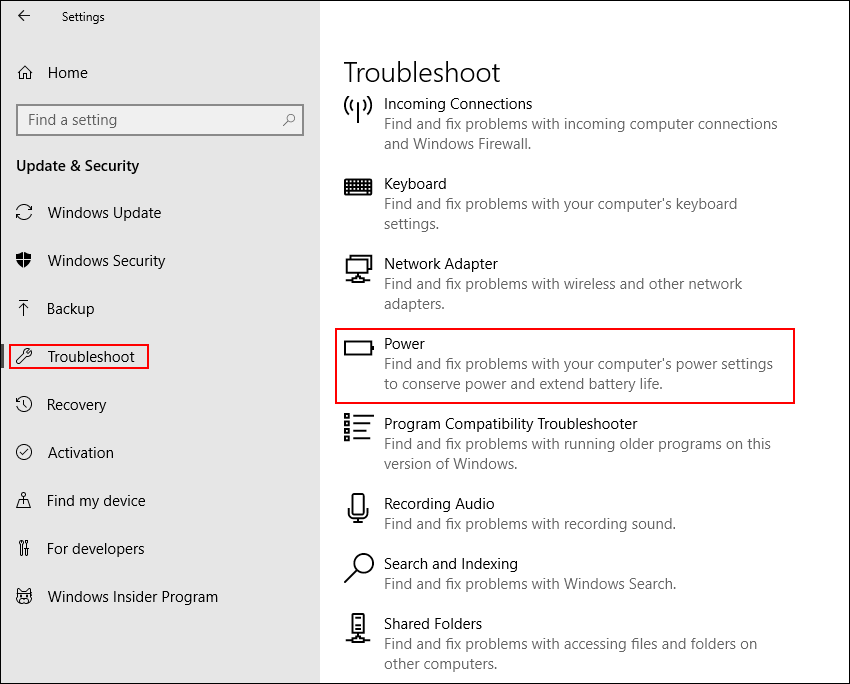 Fixing Driver Power State Failure Error With System Restore. (if you can pinpoint roughly when the problem started)
If none of the above has stopped or at least reduced the occurrence of Driver_Power_State_Failure on your system, you can restore your computer to an earlier time. Although you can use this method at any stage to restore your computer to an earlier state, it may be pointless if you can't identify roughly when the issue started occurring. As a point of reference system stability often changes after installing a program or making a change to some major settings.