If you are using Windows 11 and are having some issues with programs, apps and games failing to launch because you keep getting MSCOREE.DLL not found or missing. This article will guide you through several different steps you can take to solve the problem and prevent MSCOREE.DLL errors from occurring.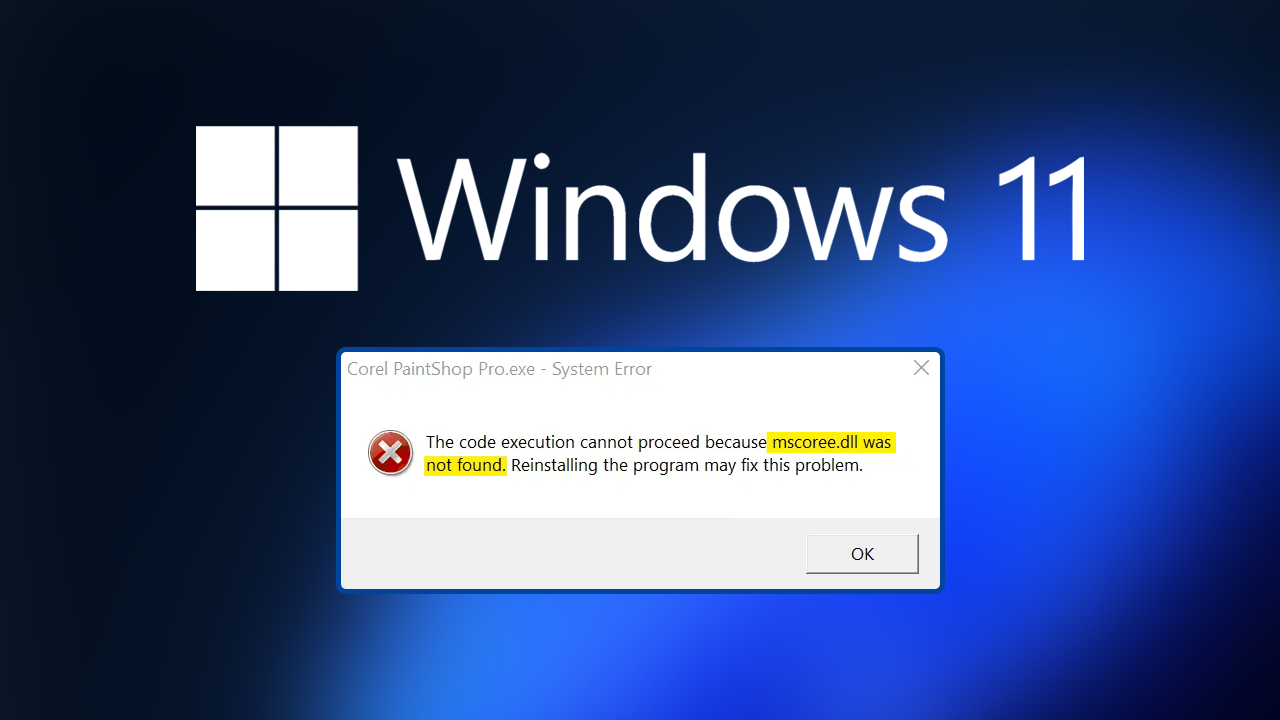 Related: How to fix microphone set up error 0x80004003 on Windows.
Missing .dll errors on Windows 10 and 11 are some of the most frustrating error messages you can get because they always pop up at the most random of times when you haven't even done anything different on your computer. While most of these error messages are usually caused by file corruption, that can occur for a range of different reasons. They are also quite often caused by Windows updates which occasionally move or delete .dll files that are used by Windows and other programs, apps, games, etc.
This particular .dll file is part of the Microsoft .NET Framework, so is a rather important part of the operating system one that a lot of programs, apps, tools, etc use. The good news is that there are quite a few different solutions available that will help you solve MSCOREE.DLL not found or missing on Windows 11.
How do you fix MSCOREE.DLL not found or is missing on Windows 11/10?
If you are only getting this error message in one specific program the first and quickest solution is to uninstall and reinstall that program. Just open Control Panel or the Settings app and uninstall it. Just make sure to restart your computer after the uninstall to get the best reinstallation.
Run the SFC (System File Checker) command to double-check Windows files are all good.
The SFC tool is another great tool that will fix any errors in the OS that may be preventing Windows 11 from updating properly. To run the SFC tool to the following.
First type CMD into the Start menu then right-click Command Prompt and choose Run as administrator.
When you have Command Prompt open type the following command into Command Prompt and press Enter.

Now just wait for the process to complete and you should be able to start using the program again without getting the .dll error. If the file checker tool shows any error messages just restart your computer in Safe Mode and try running it again.
Try using the Microsoft .NET Framework Repair Tool to fix MSCOREE.DLL not found or missing on Windows 11.
Another really good fix for this problem is to run the dedicated Microsoft .NET Framework Repair Tool. Just download the tool from the Microsoft link below and follow the steps it requires and you shouldn't have any more issues with MSCOREE.DLL not found or missing.
https://www.microsoft.com/en-us/download/details.aspx?id=30135
What if this error message comes back?
If you notice that this error message keeps on coming back, the issue is more than likely linked to Windows updates. There have been numerous .dll problems that keep recurring on Windows after Windows updates. Most of which seem to affect Adobe software. If you're also having problems with Adobe software and missing .dll errors make sure you check out the following article. How to fix Premiere Pro MSVCP110.dll, MSVCR110.dll, MSVCR100.dll was not found.