If you are trying to play Red Dead Redemption 2 on Windows 10 or 11 but can't get the game to work in full-screen mode. This article will show you several different solutions you can try to get RDR2 working in Full-screen mode on both Windows 10 and Windows 11.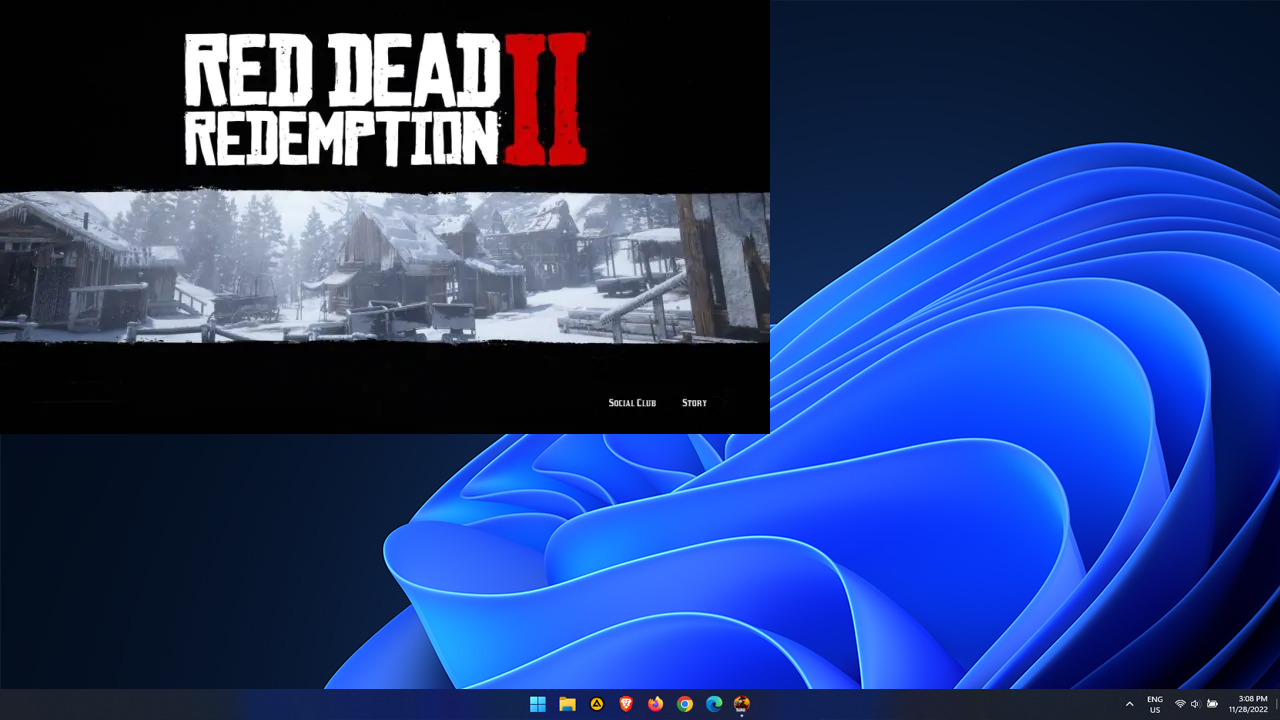 Related: How to Download Discord Channel and Direct Message (DM) History.
Red Dead Redemption 2 is one of the greatest games ever made but requires quite a high-end PC to run at maximum quality settings. While RDR2 has seen a lot of improvements over the years and finally the inclusion of AMD FSR 2.0 recently there is still one major issue plaguing the game. One that has been around since it first launched. Full screen not working properly.
As expected, this issue comes in a variety of different flavours and has a variety of different potential fixes. Sometimes Red Dead Redemption 2's monitor selection option is greyed out, while other times screen resolution options are capped at 1920x1080. Then there are the instances where RDR2 doesn't allow you to apply changes from Windowed or borderless Windows to Fullscreen… Oh, and there are a variety of other configurations that don't allow fullscreen in Red Dead Redemption 2 either.
How do you solve full screen not working in Red Dead Redemption 2 on Windows 11 & 10?
The quickest and easiest way you can solve this issue, although not ideal, is to unplug any other monitors you are using. Having more than one monitor connected to your PC is a major cause of this issue. Laptops suffer from this quite often with RDR2. Going back to a single monitor will almost always solve the problem. However, for people like myself, that isn't a solution worth using… We have multiple monitors for a reason and every other game works without issue…
Try to resolve full screen not working in Red Dead Redemption 2 using DDU (Display Driver Uninstallers).
Before you start anything else the first thing to do is uninstall and reinstall your graphics drivers. Although you can do this from Device Manager on Windows, it's better to use Display Driver Uninstaller (DDU). DDU is the go-to software for all graphical issues, both NVIDIA and AMD products.
First, download Display Driver Uninstaller (DDU).
Then download the latest graphics drivers from your computer or graphics card manufacturer's website (usually found on the support page). You can find the NVIDIA catalogue here. And the AMD catalogue is here.
Once you have the drivers on your computer, turn off your Internet connection and run DDU. Make sure that you enable the tick box next to Remove GeForce Experience (GFE) when it appears. This is important.
After a system restart, install the driver software and enable your internet connection again.
This will make sure that Windows doesn't try to install a generic driver in the background.
Now that you have a clean graphics driver installation, you should be able to set RDR2 fullscreen. If you have any issues with your computer booting to a black screen after using DDU check out this guide: How to fix a black screen after uninstalling graphics drivers using DDU (Display Driver Uninstaller).
Force change settings using GeForce Experience or AMD Control Center to fix fullscreen not working in Red Dead Redemption 2.
Another way you can get around this annoying bug that prevents Red Dead Redemption 2 from going into full-screen mode or preventing monitor changing is to use GeForce Experience or AMD's Control Center. Simply open either tool and adjust RDR2's options from within.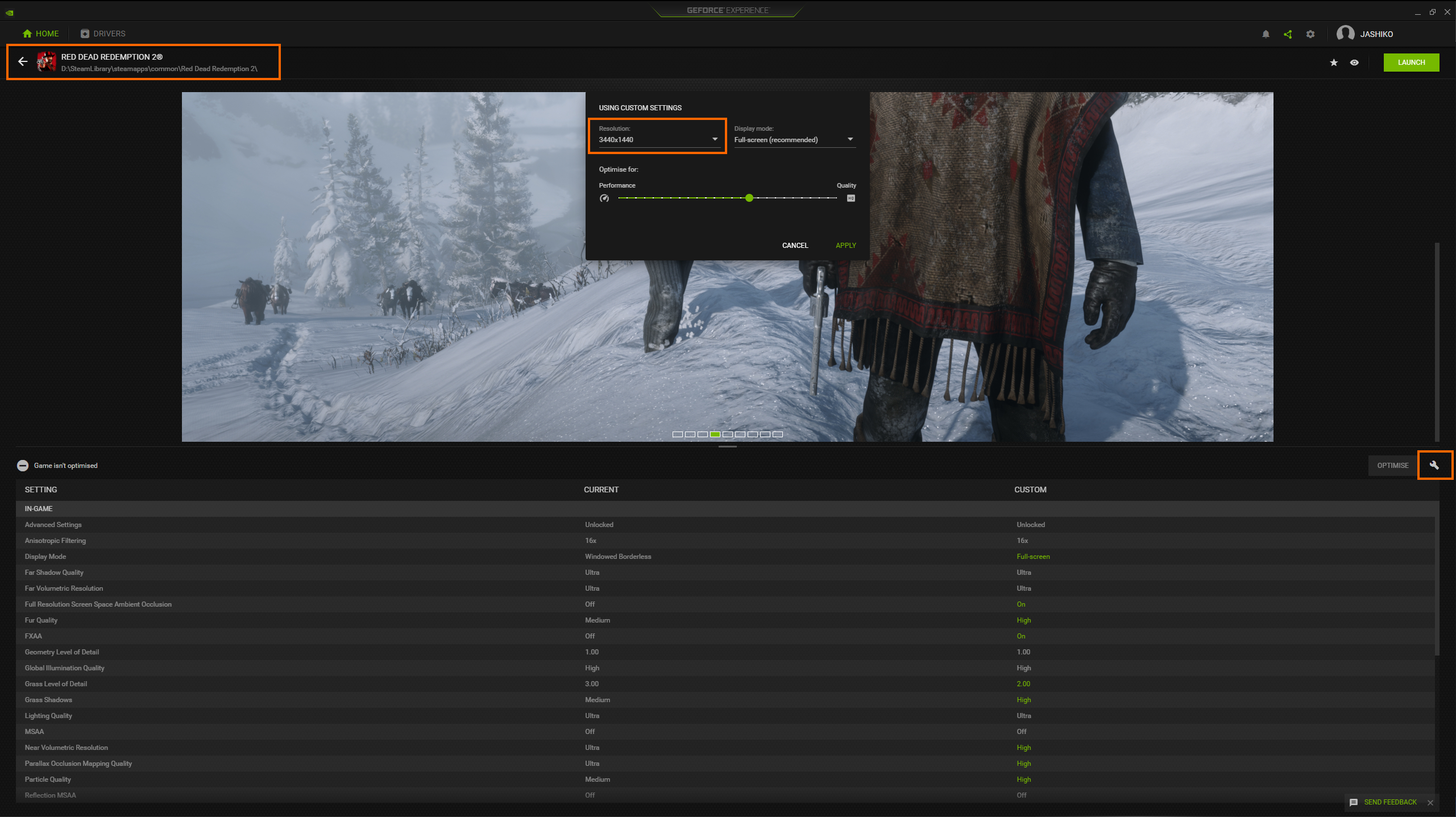 Adjust RDR2's graphics settings to the lowest first.
The final option is to adjust the game's graphics settings to the lowest setting, apply the change, and then adjust the screen resolution and screen settings to fullscreen. After making the change and restarting the game once to apply them fully you can go back and adjust graphics settings to whatever your PC can maintain. Even if you are running a high-end PC you may have to use this method.
Got this problem on Windows 11 but didn't on Windows 10?
If you are on Windows 11 and haven't had any luck solving this problem you may have to wait for it to be patched. I recently raised an issue with RockStar tech support who were unable to solve the problem so are reviewing the data supplied. Hopefully, they figure it out and patch it. This isn't exactly a new issue for Red Dead Redemption 2 so fingers crossed they finally fix it properly.