If you have recently updated to Windows 10 Fall Creators and your start menu has suddenly stopped working. This guide will show you several possible fixes you can use to get your system back up and running as it should be.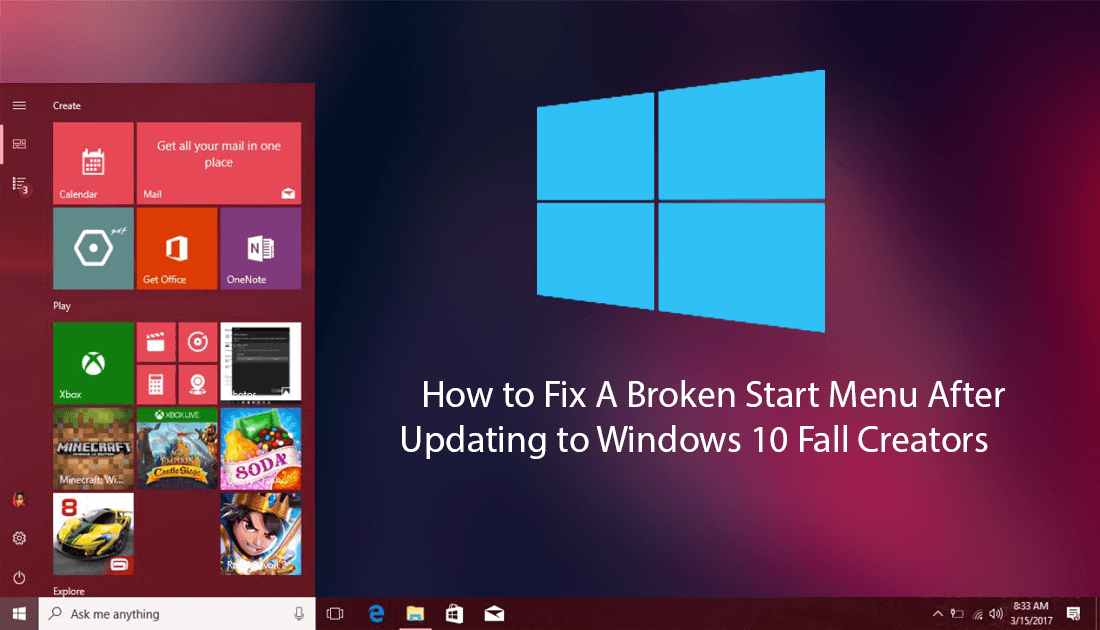 How to Fix OneDrive Files on Demand Missing After Fall Creators Update.
The Windows 10 Fall creators update isn't off to the best start with a large number of users already suffering a near-crippling error, a broken start menu. The issue isn't entirely new, with Windows 8 and earlier versions of Windows 10 also having similar start menu issues. Hopefully, Microsoft will finally address the issue permanently in future updates. However, until that day comes, you'll need to manually fix the issue on your own. The good news is after having this problem ourselves, we have compiled a list of solutions that should fix the issue on your system. 
The exact start menu error this guide will be addressing is the complete lack of access when either using the Windows Key or when clicking the start menu icon in the bottom left-hand corner of your screen. There are several possible reasons why this problem might be occurring, some users are suggesting it is caused by graphics/display drivers, whilst others believe it is a result of registry tweaks and changes made in previous versions, for example, disabling Cortana and the search function. Regardless of the cause, below you will find several solutions that should fix a broken start menu after updating to Windows 10 Fall Creators.
Important: Before you go any further, I would suggest restarting your computer before trying the steps below, in my experience this problem seems to randomly occur and randomly go away. Sometimes it can take 3 or so restarts before the problem disappears but it does go away. To restart without access to the start menu, press Ctrl+Alt+Del then shutdown your computer using the option in the far bottom right corner. This isn't a permanent fix but it will help if you don't have time to do the below steps. It also seems to take some time for the problem to reoccur.
Fix Fall Creators Update Broken Start Menu Option 1: Restore/Reset Cortana Processes.
For this method, open the Task Manager by right-clicking on the Taskbar, find Cortana then right-click on it and select End Task. Once the task ends, restart your computer to be sure.
Note: Cortana will instantly restart itself, so don't be surprised if it reappears straight away.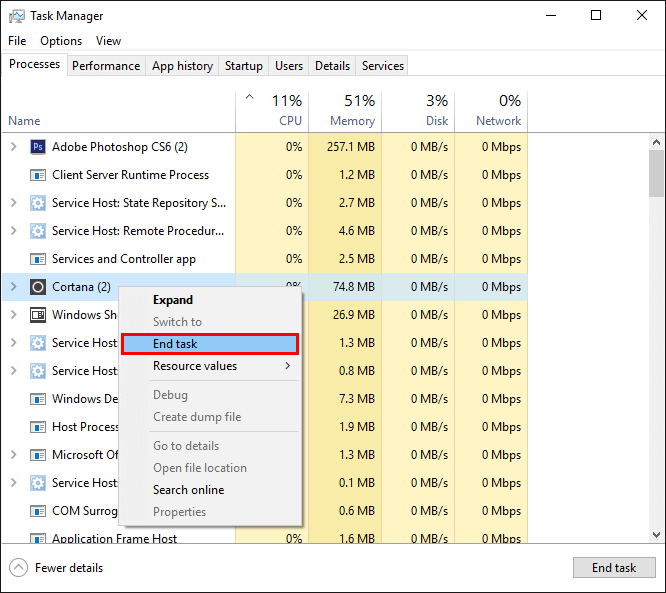 Fix Fall Creators Update Broken Start Menu Option 2: Troubleshoot the Start Menu Using the Troubleshooter Tool.
This method will require you to download and use the Windows Start Menu Troubleshooter Tool which has a good chance of fixing a broken start menu after updating to the Fall Creators version of Windows. Simply click on the link above to download the file, once you have it, right-click on it and run it as administrator. The troubleshooter may take quite some time to finish its search and repair mission, so be prepared to wait. If it finishes without fixing the issue you'll have to try one of the next options.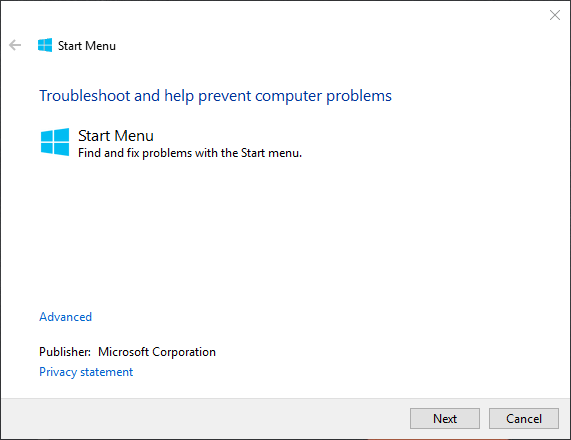 Fix Fall Creators Update Broken Start Menu Option 3: Run the Search and Indexing Troubleshooter.
The next option at your disposal is to run the Search and Indexing Troubleshooter. Seeing as the Start menu is out of order you can access this troubleshooter using the Windows Run tool. First, open the Run tool by pressing the Windows Key + R, then type the following text into the tool and press Enter: Control.
This will open the Control Panel, where you will need to go Troubleshooting> System and Security> Search and Indexing. Again, another window will open, now it's just a case of following the steps provided by the tool. If this to has failed to the start menu not opening, continue with option 4.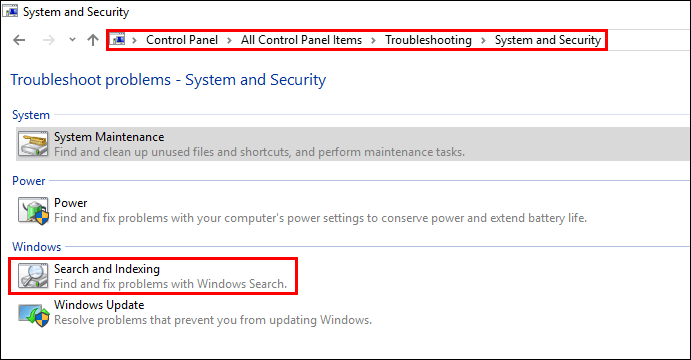 Fix Fall Creators Update Broken Start Menu Option 4: Command Prompt Health Check/Repair.
For the next step, you will need to use Command Prompt, which you can open using the Windows File Explorer. Copy and paste: %SYSTEMROOT%\System32\ into your file explorer's address bar then press Enter. At this address there are hundreds and hundreds of folders and files, the one you are looking for is called CMD and has a black and white icon. (everything is in alphabetical order) When you find it, right-click on it and select Run as Administrator.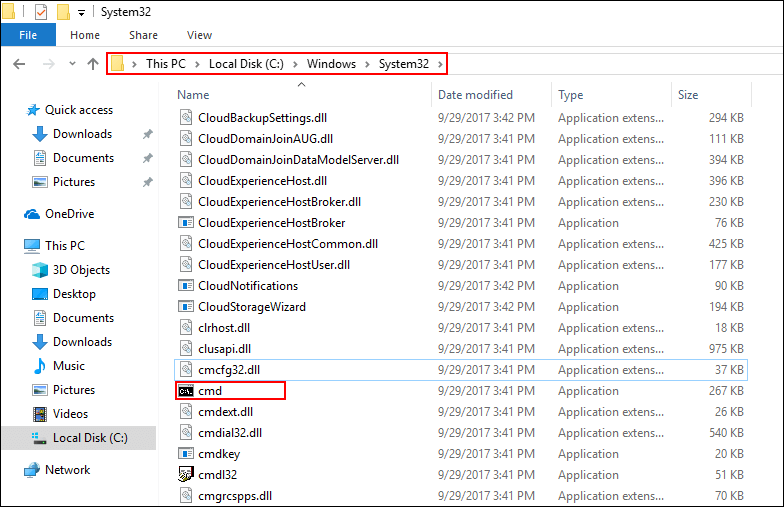 When you have the Command Prompt tool open, type the following commands into the window, pressing Enter after each:
DISM.exe / Online / Cleanup-image / Scanhealth
DISM.exe / Online / Cleanup-image / Restorehealth

Note: These commands may take up to 20 minutes to finish, so be patient. When they finish running, you can close the command window and check to see if your start menu has been fixed.
Fix Fall Creators Update Broken Start Menu Option 4: Update Video Drivers.
Another rumored solution to fix a broken Fall Creators update start menu is to update your video drivers. Several users on the Windows forums have stated this does work, however, it didn't help solve the issue on my work computer. But it's worth as shot as it's easy enough to check.
You can update your drivers using your computer manufacturer's website, usually, the Support > Download page has all the information you need. Alternatively, you can use the Windows Device Manager tool, which is found by pressing Windows key + X then selecting Device Manager from the list. On the device manager page, simply find your video driver, right-click and select check for updates. Windows will then make sure you have the latest driver.   
Fix Fall Creators Update Broken Start Menu Option 4: System Restore or System Repair.
Unfortunately, if none of the above steps have solved the broken start menu issue you are having, you will have to restore your computer to an earlier time. Which in this situation will be just after the Fall Creators update installation. To do this you will need to restart your computer in advanced startup mode and follow the onscreen options. I would suggest a Restore Point first. If that doesn't work try Repairing Windows.
How to Access Windows 10 Advanced Startup Options.
Note: Remember to select the option to keep your files when performing a system repair. This way only the operating system will be refreshed and all your files will remain.