If you're experiencing an issue where the volume bar on your Windows 11/10 computer is stuck at 100%, this article will provide you with several solutions to fix the problem. There could be various reasons for this issue, such as a glitch in the computer system, corrupted audio drivers, or corruption in the audio settings. You may find that the Windows volume bar just won't move, which can be frustrating.
Related: How to add AV1 Support to Premiere Pro. Voukoder for Premere Pro.
The issue of the volume bar being stuck at 100% on a Windows 11/10 computer can be quite frustrating and could be caused by a number of things. A glitch or bugged or more likely corrupted audio drivers, or corruption in the audio settings. This can prevent you from adjusting the volume level to your desired setting, and may even make it difficult to hear audio at all.
This problem can occur unexpectedly and without warning, making it difficult to troubleshoot and fix. It can affect both desktop and laptop computers and can happen with both built-in speakers and external speakers. For obvious reasons, you'll want to solve this problem pretty quickly! Nobody wants to go deaf! I recently opened Spotify with my surround system enabled and it scared the hell out of me!
How do you fix volume stuck a 100% on Windows 11/10? Can't adjust the volume on Windows solution.
To begin, the quickest and easiest solution for this problem is to restart your computer. This will solve the problem for most people, however, it isn't a master solution so you may have to try a few other things if the problem doesn't go away.
Run the Windows Sound Troubleshooting tool.
If a system restart didn't solve this problem you will need to run the Windows Playing Audio troubleshooter. This is a quick process that forces Windows to check for and fix any problems with sound playback.
To use the tool open Settings by pressing the Windows Key + I.
Next, go to System > Troubleshoot > Other Troubleshooters, then click Run next to Playing Audio.
Now just wait for the tool to complete, restart your computer and check to see if the problem has been solved.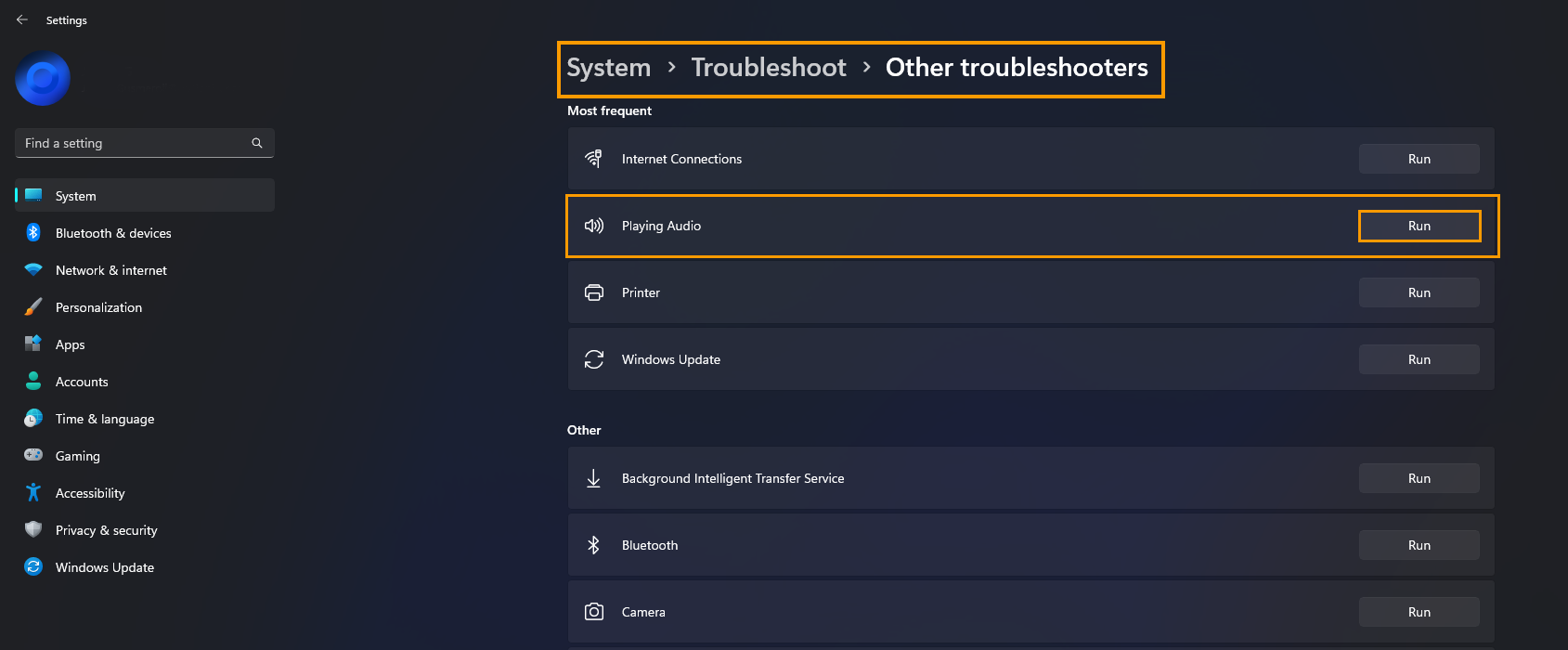 Uninstall the most recent Windows update on Windows 11.
Another way you can fix potentially fix sound stuck at max volume on Windows is to try uninstalling the most recent Windows 11 update installed on your computer. If you are not sure how to do this, you can check out the article linked below. Keep in mind that this option may not be available to you, but it is worth checking just in case.
How to uninstall a bad Windows 11 update. Rollback a Windows 11 update.
Uninstall and reinstall your sound drivers. (Use your manufacturer's drivers).
If nothing so far has worked the final solution is to uninstall and reinstall your audio drivers. This should solve the problem, however, you will want to use the drivers designed for your device not the "potentially" generic ones that Windows will download for you automatically.
To do this, right-click the Start menu and select Device Manager. When the window appears scroll down to Sound and expand the section.
Here find your sound hardware (not a connected device) then right-click on it and select Uninstall.
Now go to your computer manufacturer's website and download the audio drivers for your computer. They are usually on the Support page.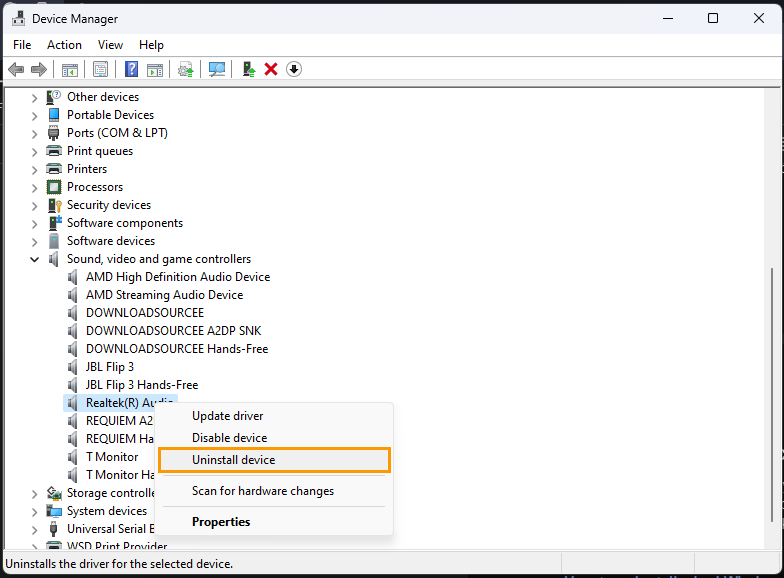 Once you have installed the drivers, everything should be working again.