Computers can be quite fickle things sometimes, one moment everything is working fine, then the next you're seeing an error message… This is quite often the case when it comes to the Windows 10 update system. Some updates download fine without issue, whilst others trigger error codes. If you are trying to update Windows 10 and receive error 0x8024a105 this guide has a few solutions for you.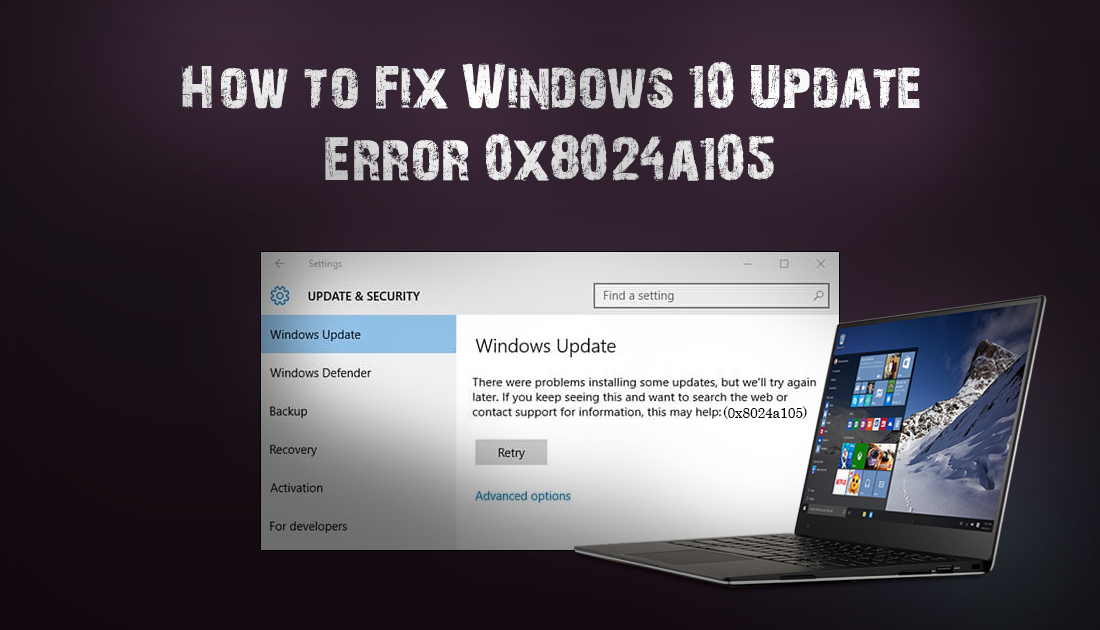 An Often Overlooked Way You Can Speed Up Windows 10 Computers.
If you have recently updated to Windows 10 Creators you may have started receiving this error message more frequently when trying to manually update your computer. The reason for this is still mostly unknown and Microsoft is working on a fix for this error. Until the issue is fully patched though you are going to need to fix the problem manually using some of the below solutions.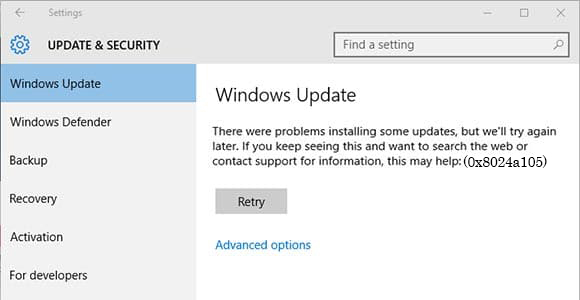 "THERE WERE PROBLEMS DOWNLOADING SOME UPDATES, BUT WE'LL TRY AGAIN LATER. IF YOU KEEP SEEING THIS, TRY SEARCHING THE WEB OR CONTACTING SUPPORT FOR HELP. THIS ERROR CODE MIGHT HELP: (0X8024A105)"
How to Fix Windows Update Error 0x8024a105.
Before we start listing some of the possible solutions for error 0x8024a105 there are a couple of super simple quick fixes you need to try. First, restart your computer and see if the update works. If that doesn't work just try run the update again sometimes the error is just a glitch and will work perfectly fine the next time. If neither of those options worked proceed to the solutions below.
Run Update Troubleshooter.
Running the Windows 10 update troubleshooting tool is one of the quickest and easiest ways you can fix Update errors.
First, press Windows Key + I to open the Settings menu.
Then, go to Update & Security > Troubleshoot.
Here, click on Windows Update from the troubleshooter list.
Follow the instructions given by Windows.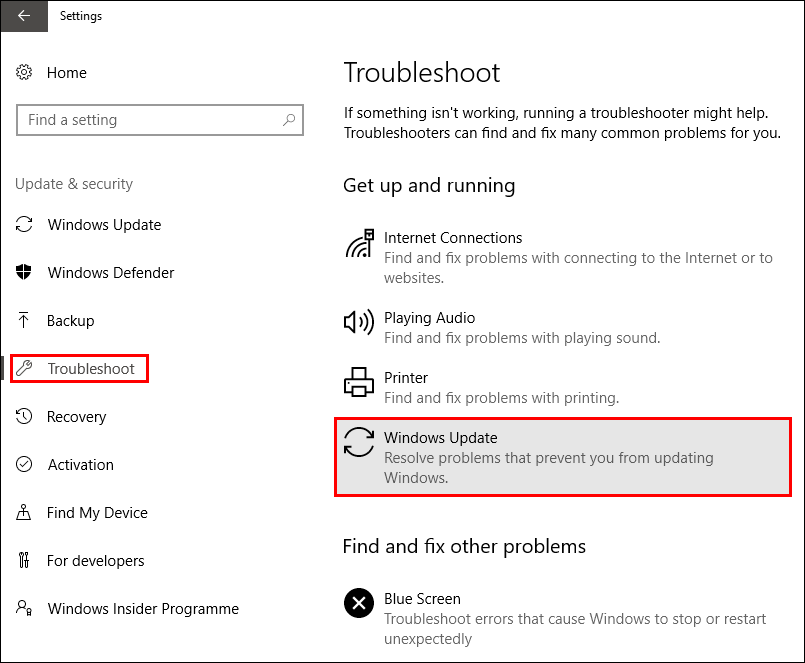 This should almost certainly fix any update related errors. 
Reset Software Distribution Folder.
If you are still having problems updating your version of Windows, you may need to reset the Software Distribution Folder. A slightly more complicated task than the previous, however, it has a high success rate for fixing Windows Error 0x8024a105. To find out how to Reset the Software Distribution folder you can follow the steps in this guide:
How to Delete or Rename the Windows Software Distribution Folder.
Reset Catroot2 Folder.
Another handy yet somewhat complicated fix for Windows Update errors is to reset the Catroot2 folder. This folder is similar to the Software Distribution Folder as it contains update components and can be found at C:\Windows\System32\Catroot2.
Important: Do not delete or rename the Catroot folder. The Catroot2 folder is automatically recreated by Windows if it is deleted or renamed, but the Catroot folder is not.
To reset this folder follow the below steps.
Press Windows Key + X and open Command Prompt as administrator.
In the Command Prompt window Run the following commands:
md %systemroot%\system32\catroot2.old

xcopy %systemroot%\system32\catroot2 %systemroot%\system32\catroot2.old /s

After running those commands, delete everything in the Catroot2 folder.
Then, run the following command:
Finally, Restart your computer and update windows. Hopefully, error 0x8024a105 should be a thing of the past.
Repair Corrupt System Files.
If you are still receiving Windows update error messages, you can run SFC and DISM commands, to repair corrupt system files. This should get rid of update error 0x8024a105.
Fix using the SFC Command.
Before starting these steps, make sure you have a backup of your data, in case something goes wrong. You should also have a restore point set. If you aren't 100% sure how to create a restore point, open the start menu, type Restore, then select Create a Restore Point when it shows on the list. From the new window that appears click Create in the bottom right section of the screen, then follow the instructions given by Windows. Once you have successfully made a restore point you can continue with the steps below.
Press Windows Key + X and open Command Prompt as administrator.
In the Command Prompt window type sfc /scannow and press Enter (You'll have to wait some time for the process to finish)

If your PC is in full working order, without any corrupt or missing system files, the scan will show the message: Windows Resource Protection did not find any integrity violations. (If this is the message you see restart your computer and try to update windows, everything should be working fine)
If there are problems the message will be: Windows Resource Protection found corrupt files but was unable to fix some of them. (If this is the message you see continue with the steps below)
Boot your computer into safe mode. If you are running Windows 7 or older, restart your computer and continuously press F8. The Advanced boot will display when it boots. Select Safe Mode with command prompt and press enter. If you are using Windows 8 or 10 you will need to use a different method which can be found here:

Advanced Startup options for Windows 8 and 10.
Once you are booted into Safe Mode, open command prompt as admin again and run the: sfc /scannow command another time. This will repair corrupted Windows system files.
Fix using the DISM Command.
If the SFC command didn't fix any corruption problems you can try running the DISM command to fix SFC problems.
Open Command Prompt as Administrator.
Type DISM /Online /Cleanup-Image /RestoreHealth into the window and press Enter.

Wait for it to run…………………… it takes some time……………….
Once it's finished Restart your Computer.
Now you can run the SFC command again.
Windows update should now be in working order.