If you are trying to use the Remote play features for Xbox (Xbox Remote Play) but are having some major issues with playback having a lot of audio and video stuttering. This article will show you several different things you need to do in order to fix poor performance while using the Xbox Remote Play.
Related: Solving any kind of problem in Xbox Game pass. A comprehensive list of Game Pass Guides.
Microsoft has done a pretty decent job over the last few years integrating Xbox Game Pass with PC and making Cloud Gaming more accessible and reliable than ever before. While it was pretty rough early on, it's exceptionally reliable at the moment. That said there are still some minor issues to deal with including issues using Xbox Remote Play. Xbox Remote Play is a convenient feature that allows gamers to play their favourite Xbox games on mobile devices or PCs without needing to be physically in front of their console.
This convenience and flexibility have made it a popular choice among gamers. However, as we just mentioned there are some problems with the audio and video stutter, audio lag, distortion, and even complete audio loss. While these issues are all super annoying there are some troubleshooting steps you can take to solve the problem and get things working again. So follow along as we guide you through the process.
Restart your Internet router and modem.
So! The first and most important thing to consider when using Xbox Remote Play is your wireless network connection. If you have a low-quality WiFi network this is what is essentially causing all the issues. The better the connection the fewer problems you will have. Regardless of your connection though it's a good idea to restart your Internet modem/router when your device reboots check to see if the audio and video issues you were having with Xbox Remote Play are going.
Clear the Xbox App Cache.
This is probably the most effective option on this list and one that I have used many times to solve a range of different Xbox issues. Clearing the cache of any app or browser is the best first step to take in most situations.
Open your Android settings.
Go to Apps > Xbox.
Tap on Storage.
Tap on Clear cache and Clear data for the Xbox app.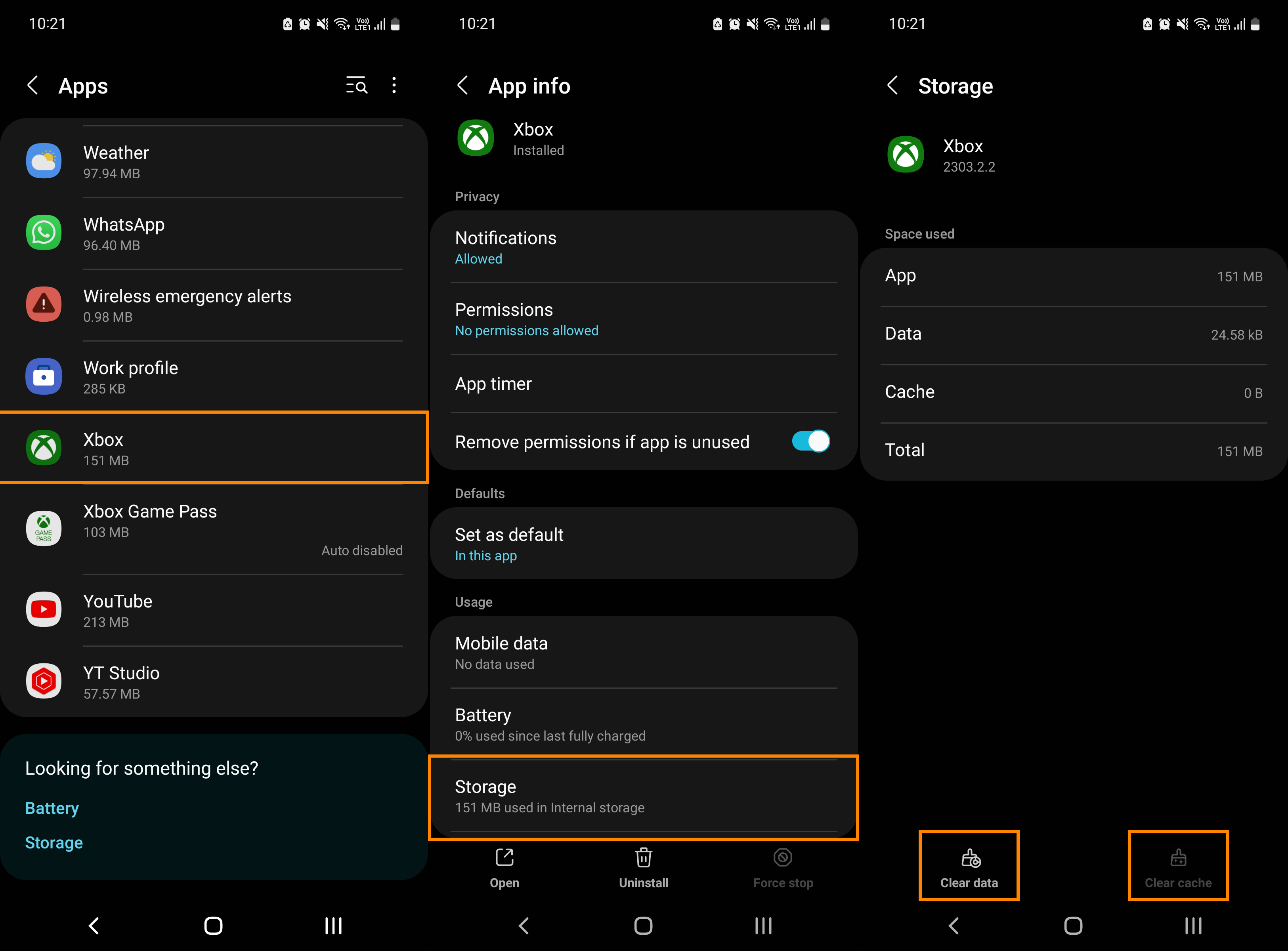 Power Cycle your Console to fix Xbox Remote Play issues.
Power cycling your console can help resolve several issues, including audio stuttering or non-functioning issues. Follow these steps to power cycle your console:
Press and hold the Xbox button until your console turns off.
Unplug the power cable from the wall socket.
Wait for 5 minutes.
Plug in the power cable.
Turn on your console.
Restart Your Xbox Using your Smartphone.
Use Xbox Remote Play to turn your consoles on and off.
Open the Xbox app on your smartphone.
Tap on the console icon located on the top right side, just before the Notifications icon.
Select your console from the list of available consoles.
Tap on the Open remote control option.
Tap on the three vertical dots located in the upper-right corner of the screen.
Tap on Turn off console.
Wait for a few minutes.
To turn on your console using Remote Play, tap on the Xbox icon on your smartphone.
Change the Name of Your Xbox Console.
Sometimes, changing the name of your Xbox console can help resolve audio stuttering or non-functioning issues. Follow these steps to change the name of your console:
Open the settings on your Xbox console.
Go to System > Console info.
Change the name of your console.
You will be prompted to restart your console.
Tap Restart to apply the changes.