If you have the WhatsApp Windows 10 client installed on your computer and would like to get a dark theme for it. Follow along as this article introduces you to a quick and easy to install dark theme add-on for the Windows 10 WhatsApp client.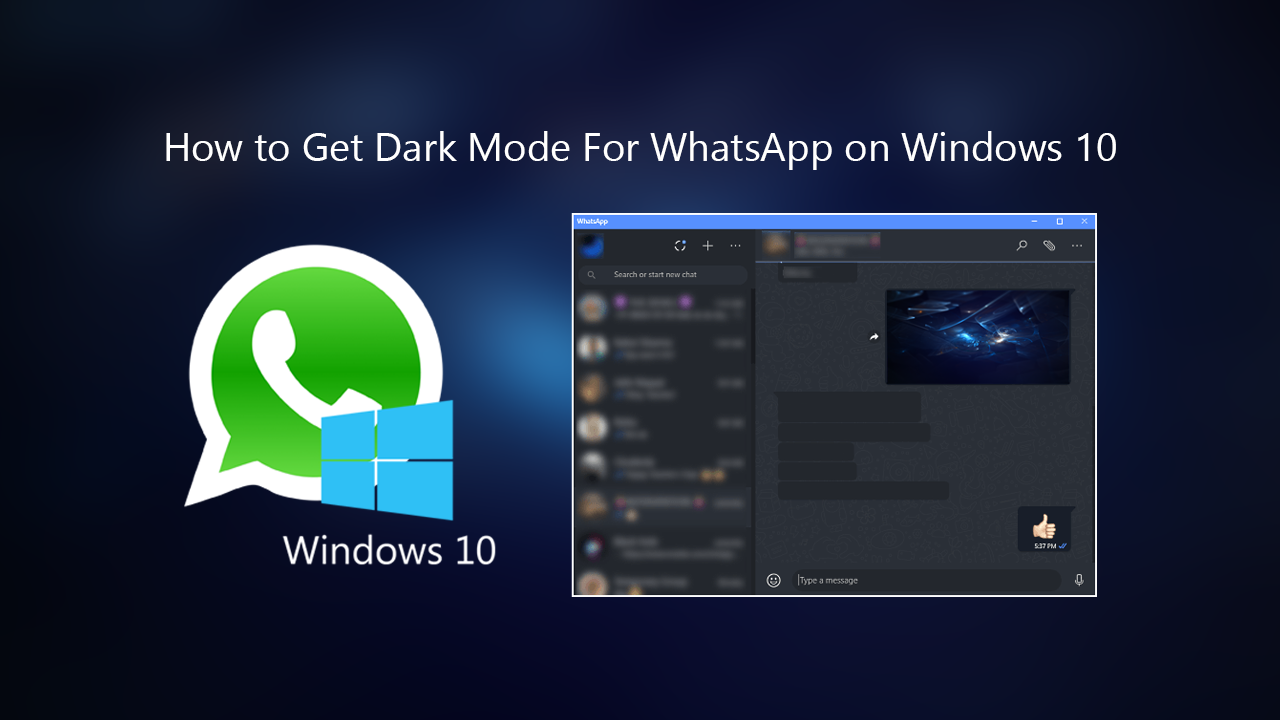 How to Fix Corsair VOID PRO WIRELESS Not Working After Updating ICUE to 3.19.120. (Corsair Wireless Headset Not Working After Update)
As dark themes and night modes become more and more popular, most app developers and companies working in the space have started to add dark themes as "standard" to their projects. And after a long, long wait Facebook has finally added the option to Facebook Messenger for both Android and iOS. So what about WhatsApp? Facebook does own them after all.
Sadly the same can't be said for WhatsApp just yet, as all possible versions including Android and iOS all still feature the standard white and green interface. Thankfully though, if you are using the Windows 10 WhatsApp client, it is possible to add and enable a fully functional dark theme to the client. So if you're pretty keen to get a dark theme working on WhatsApp, follow along as we guide you through the latest method.
Related: How to Fix Windows 10 Using Too Much CPU After Update KB4512941. (Windows 10 High CPU Usage Fix KB4512941)
How Do You Enable Dark Mode (Dark Theme) on WhatApp For Windows 10?
To begin, it's important to mention that this isn't an officially support option within the Windows 10 WhatsApp client. This method takes advantage of an open-source dark theme called whatsapp-dark-mode created by m4heshd from GitHub. If you're happy with this, head on over to GitHub using the link above, and download the latest version of WhatsApp-desktop-dark. 
Note: You'll need to make sure you are using the official WhatsApp client for Windows 10. The version found on the Microsoft Store isn't compatible. To save you some time you can download the correct version here. 
Once you have extracted the ZIP file containing the theme, make sure that the WhatsApp desktop client is running, then double click the theme exe to install it. The installation process will open a command window and make a backup of the current installation. After that is done, it will add the dark theme files to the client, replacing the standard white theme. The entire process will take a few minutes, so you will need to be patient. If everything goes according to plan and there aren't any installation problems, you'll see a message in green font stating the installation is complete.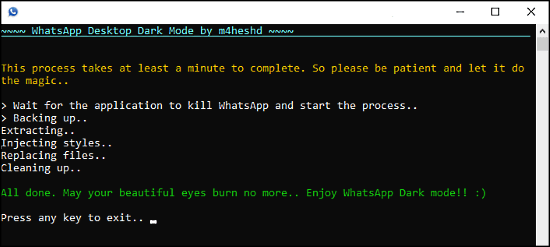 How Do You Remove WhatsApp Dark Mode Theme?
If you don't like the new WhatsApp dark theme, you can revert back to the white theme by simply running the exe file again. During this process press Y on your keyboard to confirm the reversion and the backup created during the installation will be used to restore the default theme. 
On a Side Note…
If you also use Firefox and would like to change Firefox over to a completely dark theme (not just the title bar and address bar) the following article will show you how to convert Firefox into the ultimate dark browser.How to Change Firefox to a Complete Dark Theme.