If you use Gmail as your primary email service you may or may not be open to the idea of the interface changing. Although it has been a long while since Google overhauled Gmails Interface or made any significant changes. The day has finally arrived with a new layout starting to roll out right now. If you haven't seen it yet, it isn't all too far away.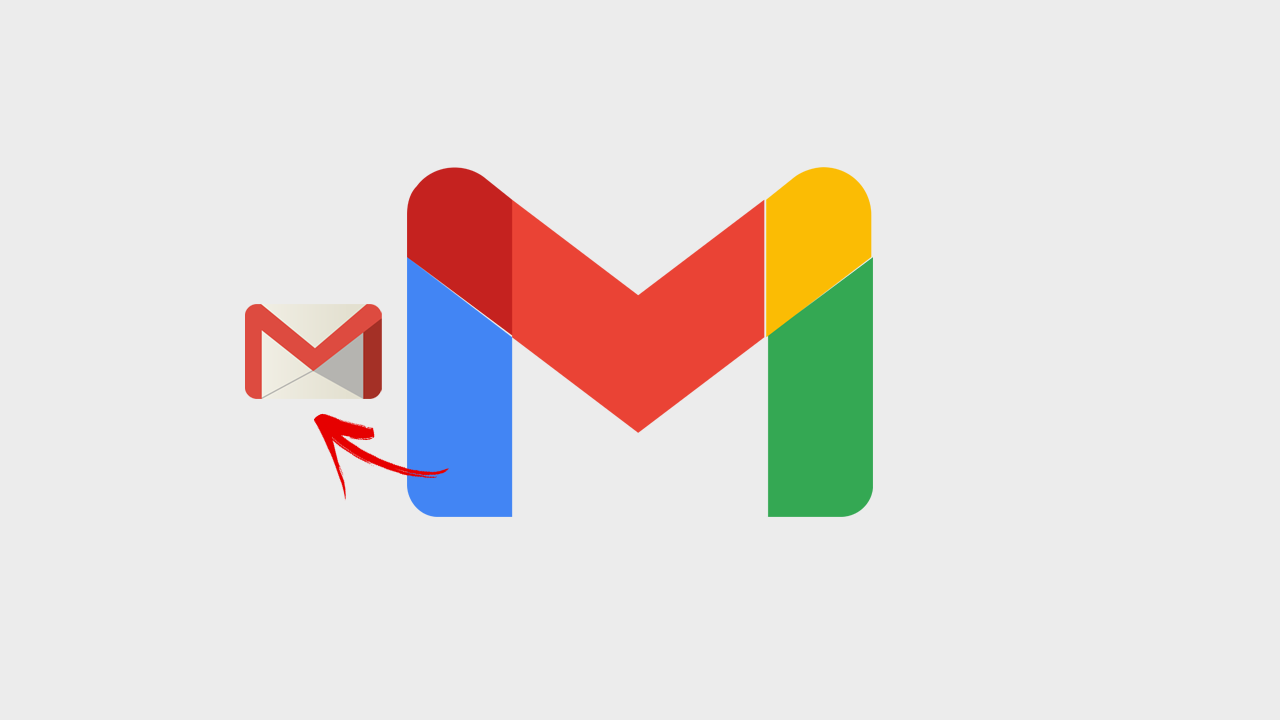 Related: How to send audio messages in Gmail. Sending audio messages from Gmail.
Gmail is the most used emailing service on the Internet and certainly one of the most feature-rich. Apart from being entirely free, it is also well thought out and has a lot of options and features users can take advantage of. One thing most people love about Gmail is the fact that Google doesn't fool around with the material design of the interface all that often. Leaving users on the same familiar design for long periods of time.
After quite a long time on the same interface, Google has finally decided to roll out their new Gmail interface in 2022. Thankfully, this time around they have included special options that allow users to disable or enable the new design as they please. Although I'm personally a fan of change (if implemented right, without any feature losses) not a lot of people have the same outlook. Why fix something that ain't broke right?
The new design looks great and is another move towards minimalism so it's easy to see why some people may be against it. The classic UI listed all your folders, chats, and "spaces" in the left sidebar. Which does look a little too stuffed full of content. On the other hand, the new Gmail interface includes a compact icon list on the left with icons that open a flyout for each tool/option: your email, Chat, Meet, and so on. It's quite a nice change though some people will find it extra clicks.
The new interface is currently rolling out so you may or may not see it in your region at the moment. When you do though, the options for disabling the new Gmail interface of 2022 are as follows.
How do you disable the new 2022 Gmail interface? Go back to the old Gmail layout.
To change back to the old Gmail layout you'll need to do the following.
Click the Settings icon (gear) in the top right-hand corner to open the Quick settings pane.
Here click the Go back to original Gmail view button to disable the new Gmail interface.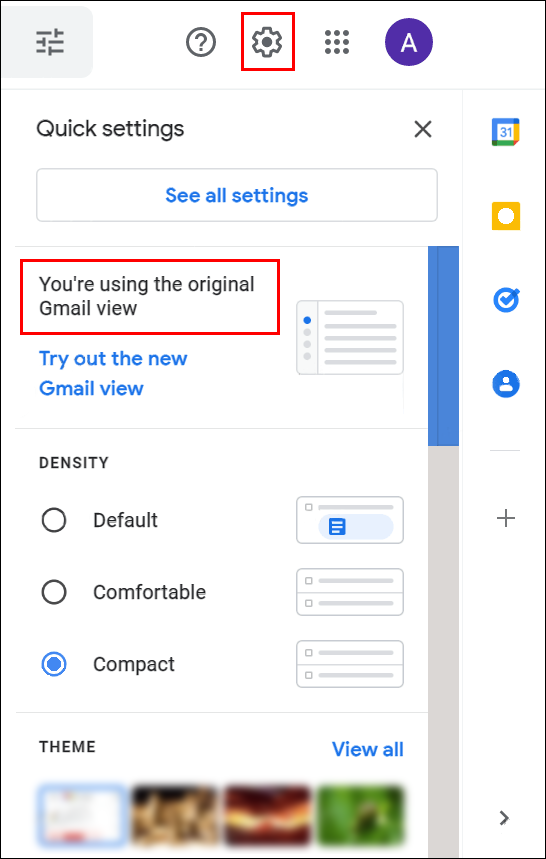 A new window will appear asking for your reasoning behind changing back to the Gmail Legacy design. You don't have to fill this section out but if you want to have your say on what you don't like about the new design, I'd take the time to fill it out.
Once you have filled out the form click Reload and you'll load back into Gmail with the old interface.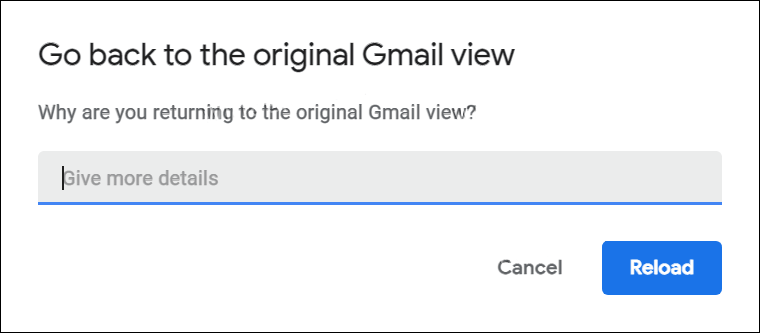 Alternatively, you can enable the new Gmail 2022 interface by following the same steps and selecting the Try out the new Gmail view. You should also be very aware that although Google is allowing you to continue using the old legacy layout in Gmail for now this probably won't last. Google has a long track recording of bumping everyone onto the new version pretty quickly. For this reason, I strongly suggest that you give as much feedback as possible during the transition period.