Just like Google Chrome and other browsers can and do restore your previous browsing session, Windows 10 can now do the same, although, it's a little different. This new session restore system allows apps to restart as they were prior to signing out. For some people, this feature will be warmly welcomed but for others, like myself, who prefer a clean slate on boot it will be bothersome. Thankfully there is a way to disable it, which this guide will show you.
How to Enable Windows 10 Fall Creators Power Throttling Advanced Battery Saver Mode.
Windows 10 has had the ability to sync and restore settings on devices since its original release, (Microsoft account users only) allowing quick and easy setup across devices. In Windows latest update, the Fall Creators update, Microsoft has expanded on this feature giving apps the ability to resume their position on sign-in. Putting it simply, it works in a very similar way to Chrome and Firefox opening your previous browser sessions.   
As good as this feature is, it isn't going to be for everyone, especially users out there who like to start Windows on a clean slate. Luckily, for now at least, Microsoft has been nice enough to include an option, allowing it to easily be turned off.
Note: leaving this feature enabled will slow system boot times (whenever apps decide to restart, which won't be every single time Windows boots). However, if you are going to open the apps/programs anyway, the trade-off might just be worth it. Ultimately, you will be the best judge of this, as each system is different.
How to Stop Apps From Re-Launching at Startup. (Windows 10 Fall Creators)
To stop apps and programs relaunching in their previous state on startup, you will need to make the following changes to your system. Don't worry it's a very easy process so let's begin. First, open the Windows Settings menu by pressing the Windows Key + I, then find and click on Accounts.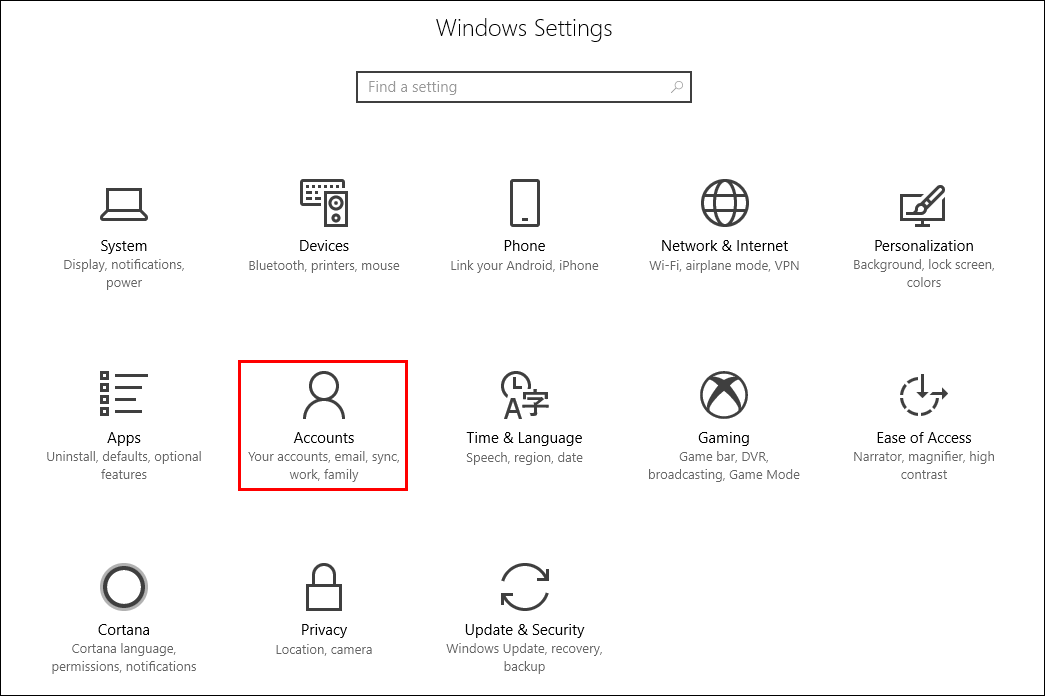 On this page, find and click on Sign-in Options in the left-hand pane. When the window updates to the new menu, bring your attention to the centre menu once again, then scroll to the very bottom of the page. Here you will see the heading Privacy with the option: Use my sign-in info to automatically finish setting up my device after an update or restart. Flipping this toggle to Off will prevent apps from resuming their previous position on system boot.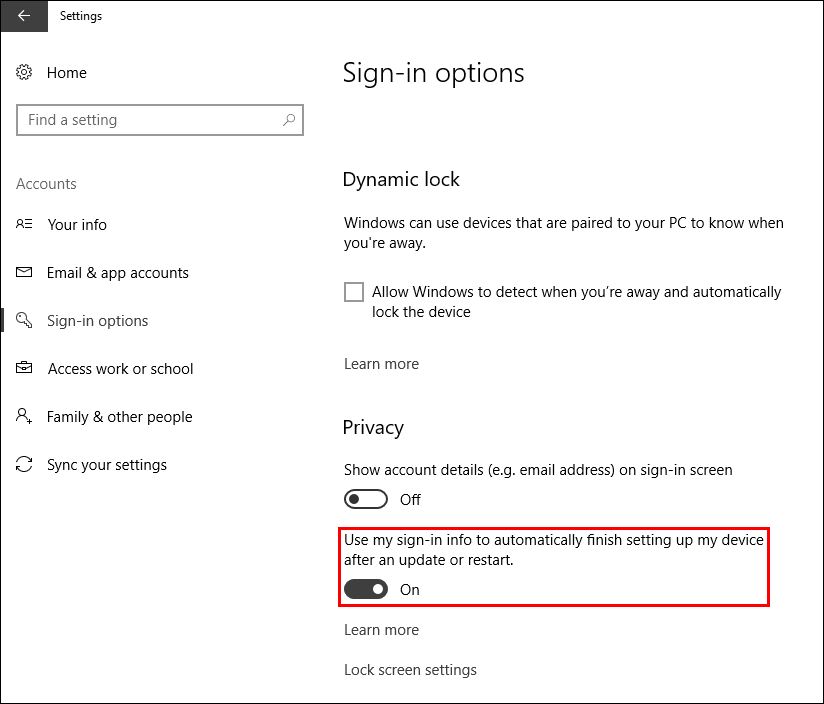 Since these additional features are relatively new, you may not notice too many apps that will make use of this function just yet. In the future though, it's highly likely a lot of apps and programs will include the ability by default. Don't forget, if you ever want to re-enable the feature at a later stage, all you have to do is go back to the same location and toggle the feature to On.