Having a Windows product key is important when you need to reinstall Windows on your system. If however, your laptop or computer is a few years old and the sticker displaying the key is worn away beyond recognition, you might think you are in trouble! Thankfully though the key can be recovered from the system, even if the system is damaged and will not start.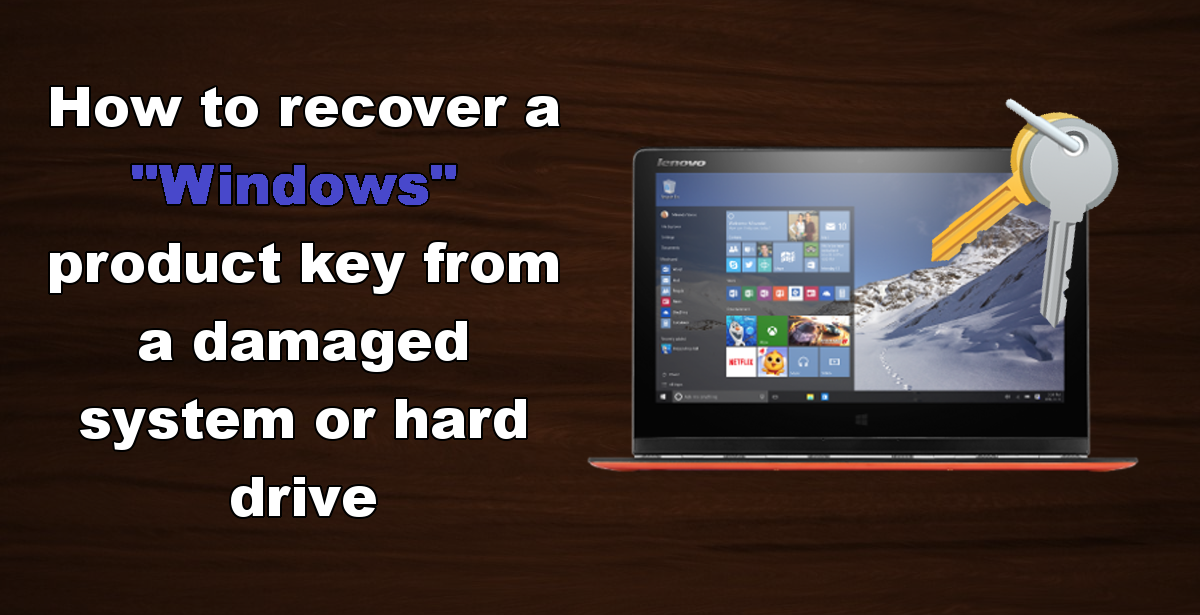 How to Set up Windows 10 to Better Safeguard Your Privacy.
If you are using Windows 10, this problem is largely avoidable, simply because the license is assigned to the Microsoft account you are using, allowing Windows to be reinstalled without a key. After logging into your account the Microsoft key will automatically be reassigned. If you are using an older version of Windows, things aren't going to be as simple as just redownloading the Operating system and patiently waiting for it to reinstall.
How to Recover A Windows Key From a Working Computer.
A great program to use for Windows Product Key recovery is called ProduKey. ProduKey allows you to view the installation codes used by some programs on your computer. The Windows Product ID and Product Key most importantly. So if your computer is working well enough to install ProduKey, simply install it and run the application. As soon as it loads up it will show you the keys being used on your system. Now it's just a matter of making a copy of them and reinstalling. (it might be a good idea to make a hard copy of it also)
Download ProduKey for Windows.

How to Recover a Windows Key From a Damaged Computer.
If you are unfortunate enough that your computer won't boot correctly and the sticker with the code has been damaged, you will have to remove the hard drive from the device. This is quite simple if you are using a desktop computer, however, can be tricky if you are using a laptop.
Note: If your device is still covered under manufacturers warranty this may not be the best idea as it could void your warranty  
Once you have the hard drive out, you will need to plug it into a working computer. Once you have the drive connected, download and install ProduKey. This time, however, the location in which ProduKey is searching will need to be changed. In ProduKey go to File > Select Source, this will open a new window, here tick the box near the top that says Load product keys from external Windows directory. In this box, you will have to select the drive you just plugged in and search for the Windows Folder within. When you find it, click Ok and ProduKey will again track down the key for you.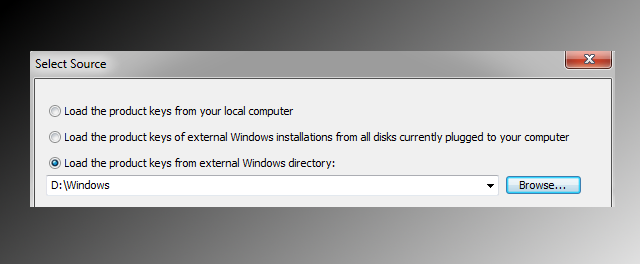 How to Recover A Windows Key From a Damaged Computer Without Removing the Hard Drive.
If you have decided you don't wish to remove your hard drive or it cannot be removed easily, there is still hope. Using a program called Lazesoft Recovery Suite Home.
Download Lazesoft Recovery Suite Home For Windows.
Lazesoft Recovery Suite is a simple utility that lets you recover data from your computer. As well as this, it can also create a bootable USB flash drive or a CD containing the most important functions of the program. This allows you to run it on a computer that has a broken system and recover the Product Key.
To begin, download the program onto another computer, then install it. After installation, start the program and select Burn CD/USB. In the new window, do not select the target version of the system, just click Next.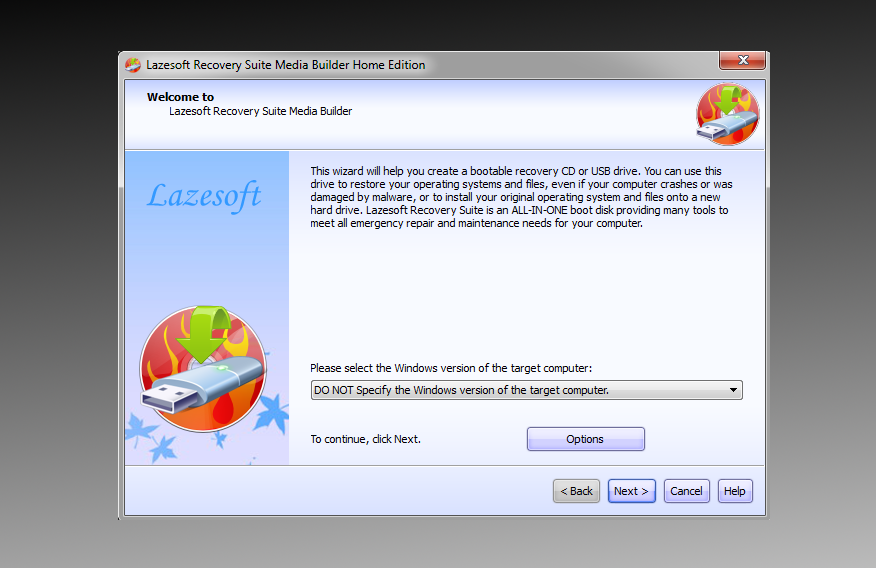 The next screen that displays will ask you to choose where you want to record the program. If you want to burn to a CD, select the first option, then select the recorder which you want to Burn with. If you do not have a burner, you can use a USB flash drive, the second and the easier choice.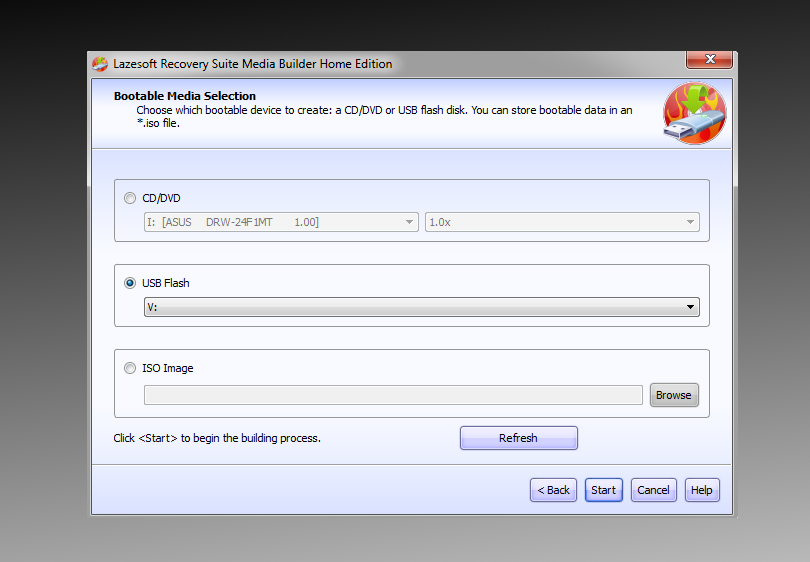 Now you have made a bootable USB or CD, go back to your computer and insert it. You can now turn on the computer and load into the boot menu (this will be different depending on your computers make and model) Typically getting to the boot menu requires you to press F10 or F12. When you are on the boot menu, set your computer to read from the USB flash drive or disk, depending on which method you chose above.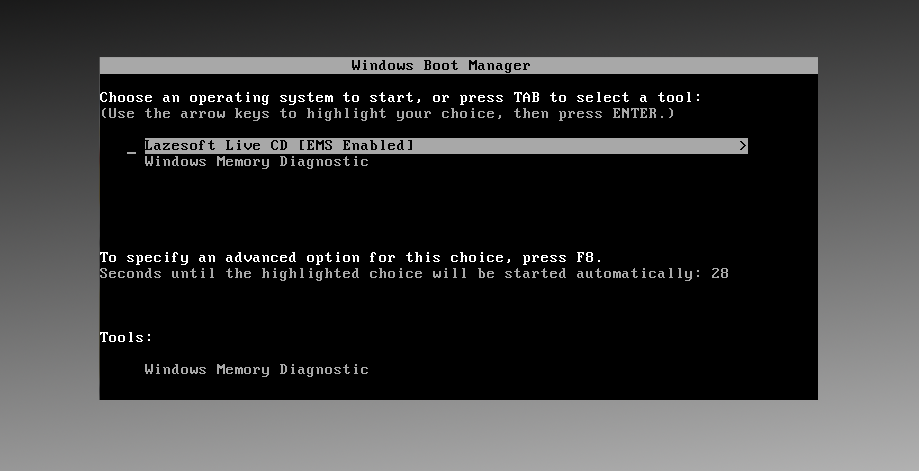 Next, select the option to run the Live CD and wait until all the software is loaded. After a while, the application will load, when it does select Password Recovery from the lower right corner. In the next window from the drop-down menu, select Find a Windows product key and click Next. If you see a message stating that the program is intended only for domestic use, select Yes. The program will search for the product key then display it. Now save your product key. (Making a hard copy is advised)