Duplicate files, especially in the case of large images, are annoying to sort through and can sometimes take up large amounts of precious space on your computer. If you are using an SSD, space is something that is an important resource. Fortunately, there are plenty of well equipped, free programs available online to take some of the hassle out of what could be a monumental task. 
Recover Mistakenly Deleted Pictures, Music, and Videos on Windows With Vecuva.
First on the list of free programs for removing duplicate files is Alldup version 4.0, if you have used it in the past it has improved quite a lot from previous versions, spouting some clever improvements. Alldup can now detect images that are visually similar in many more formats, including BMP, JPG, TIF, GIF, PNG. Even more impressive is the fact it can even find them if they have been cropped, shrunk, expanded or rotated any direction.
If you are using Alldup for removing music files, audio scanning has been improved as well and now lets you scan for FLAC and Mp3 files with different tags associated with their file. Another clever little trick is that it will also search for files with similar names, for example, Butterflypic.jpg and Butterflypic(1).jpg. 
How to Remove Duplicate Files From Your Computer.
Once you have found and downloaded Alldup 4.0, which can be done with a simple google search, install it and open it. Now that it is open, you might be a little intimidated by all the menus and tabs in front of you. Calm down the basics aren't as hard as they look. The first thing you will want to do is set your destination search folder. Which is done in the Source Folders tab. Next, jump over to the Search Method tab and select your choice of Comparison Criteria. I found for Image duplicates it was best to use the Similar Pictures option at the very bottom of the list.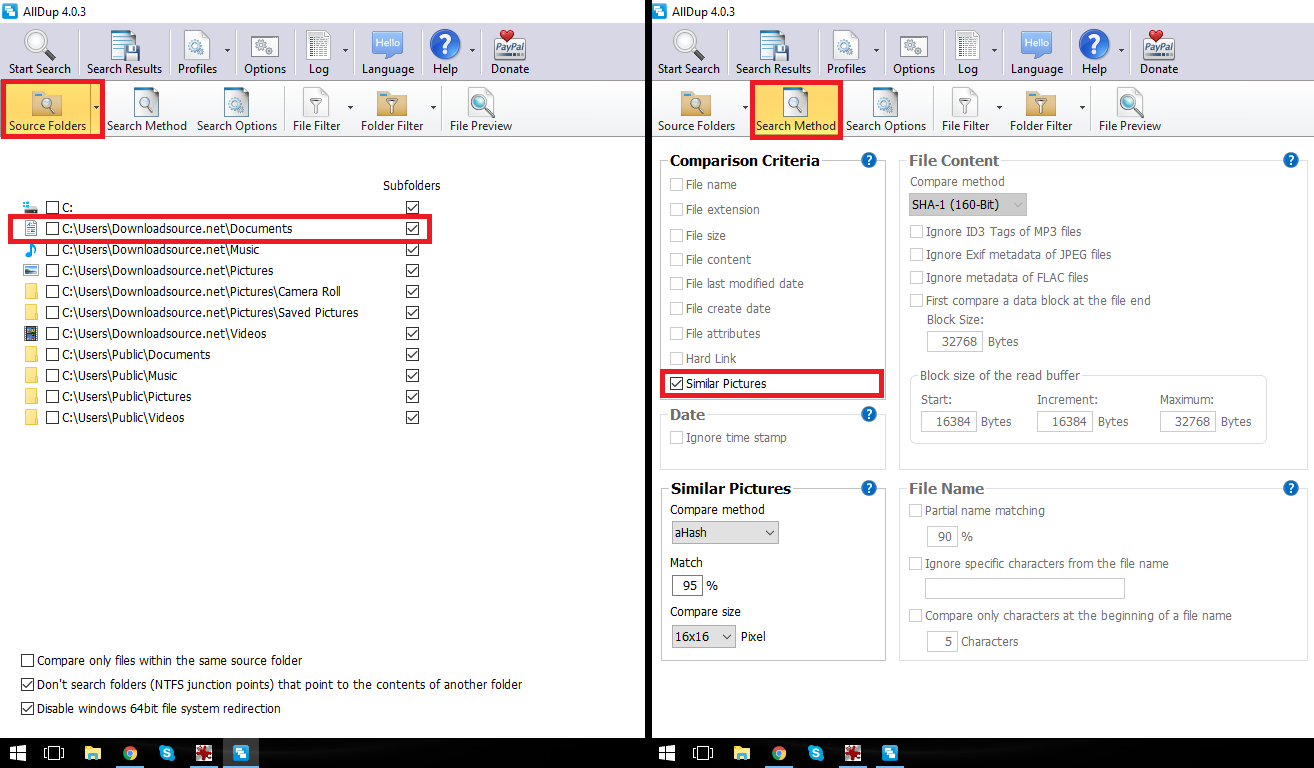 Once you have ticked this, you are ready to do your first search. Click Start Search located in the top left-hand corner. Depending on how large the area you are searching is, you might have to wait for a while. When the search is done, you will have a new screen pop up, which displays the files that are potential double ups. There is no preview by default, so you will have to go up to the toolbar and turn it on manually, it's called File Preview and it's located almost directly under the groups tab.  
Now that you can see the file duplicates, select the ones you wish to remove, then right click and select Delete. There are a lot of other options you can use to do more advanced searches, just remember to be somewhat cautious when removing files, because finding duplicates is a lot simpler than recovering deleted files.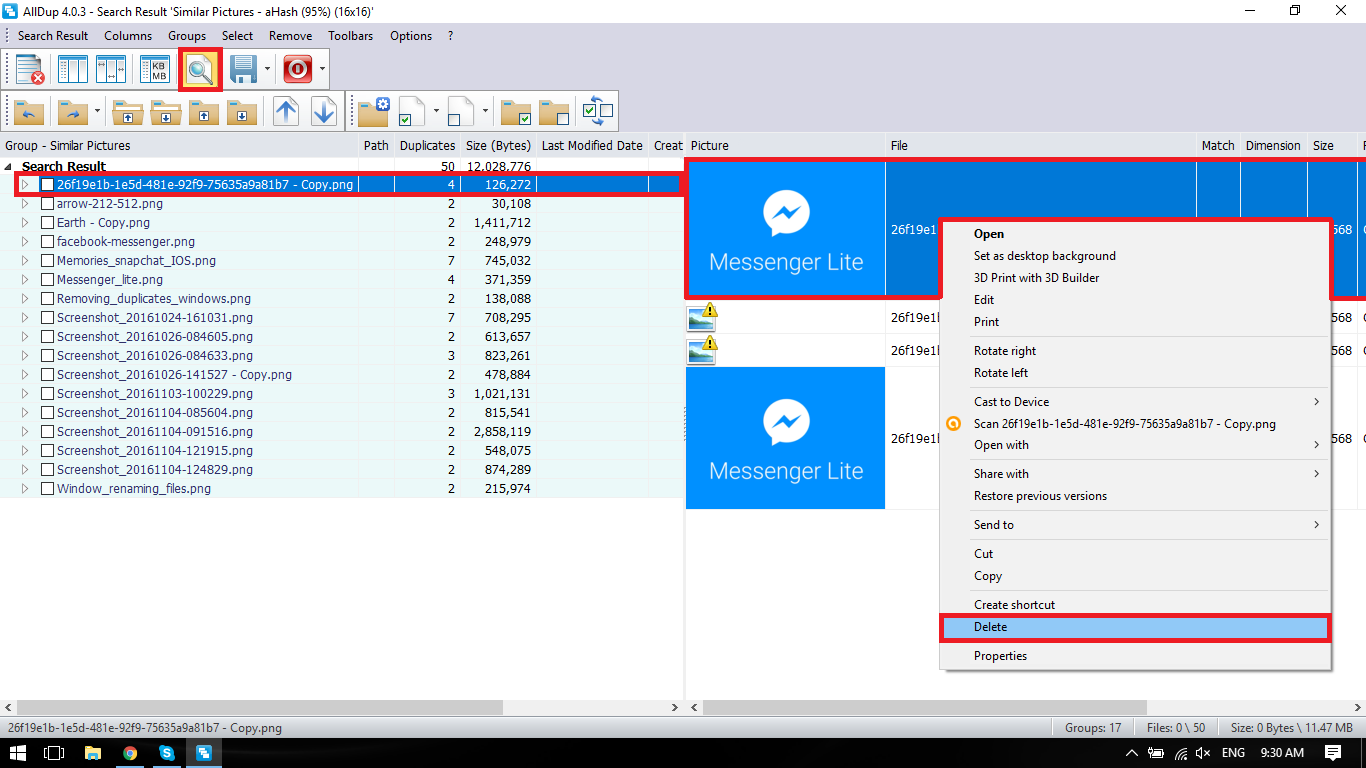 Removing File Duplicates From Your Computer Using Duplicate Cleaner Pro 4.0.3    
Digital Volcanoes Duplicate Cleaner Pro is a much simpler program to use for detecting and removing duplicates. They have a paid version and a free trial which works just as well, minus a few of the more advanced options. Duplicate Cleaner Pro works in basically the same way as Alldup, firstly select your Search Criteria from the tab at the top, then enter in what you wish to find. After that move over to the Scan Location tab and add the folder you wish to scan. Finally, select Start Scan at the top to begin the process.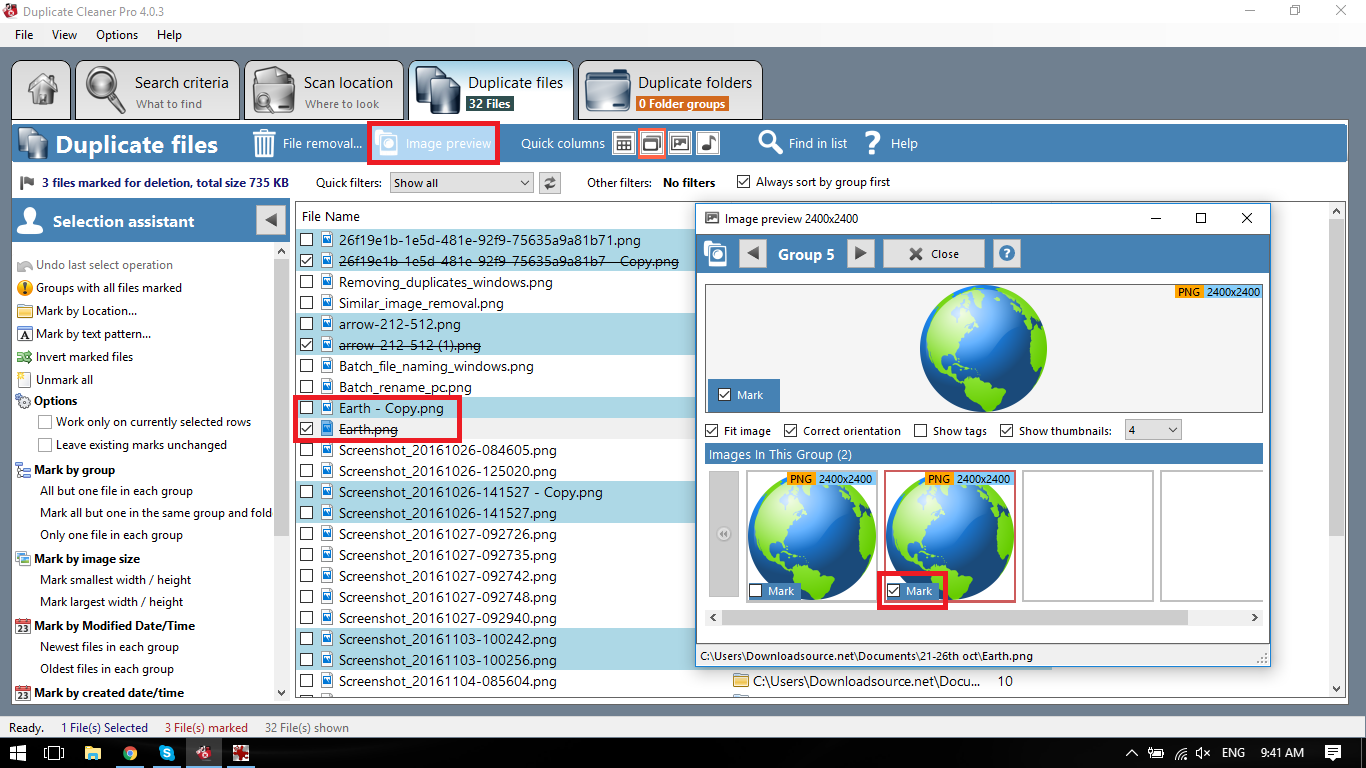 The program will perform a scan (the length will depend on how much data you are sifting through) Once completed it will show a list of duplicate files or very similar files, click the Image Preview tab to make the files visible and sort through all the double ups. (It's a simple tick untick box system) When you have finished compiling your list of files to remove, click the File Remove button at the top next to the Image Preview button, confirm and you are done.