Firefox Quantum 'aka' Firefox 57 is the latest version of Firefox and has been built from the ground up. It has a redesigned interface focusing on minimalism yet is still super practical. In addition to this, it's also quite a lot more customisable with plenty of features you'll find yourself tinkering with. For this guide will be showing you how to customise or completely remove the New Tab highlights page.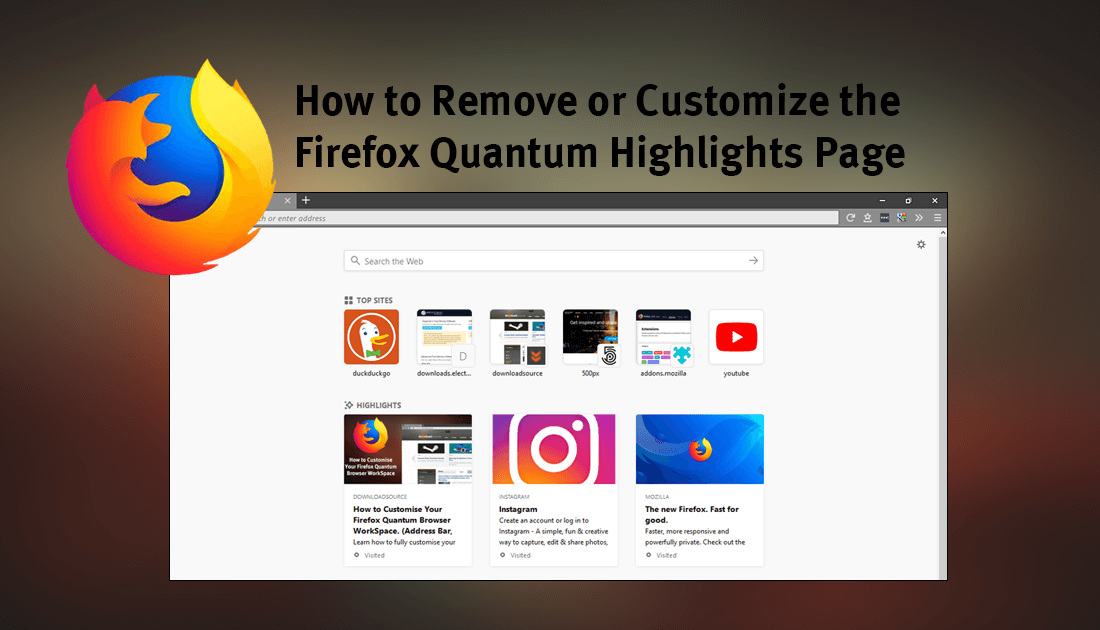 How to Import All Your Google Chrome Data to Firefox Quantum.
If you're a long time Chrome user and haven't yet checked out Firefox Quantum is definitely worth download and trailing. As well as the redesigned interface it also uses about 30% less Ram than Chrome and has a great system in place for managing bookmarks. Private Mode has also been enhanced with better tracker protection and some inbuilt ad-blocking that speeds up website load times substantially. You can check out the full brag list at the official Firefox Quantum page below.

Mozilla Firefox Quantum.
As most other Internet browsers do, Firefox Quantum also displays your recent and top websites on the main page when you open a new tab. For some people, this is going to be a good thing and for others, this is going to be a bad thing. Especially for the people who don't like to broadcast their recent history. Thankfully, Firefox was considerate enough to allow full customisation of this screen, giving you the ability to completely turn it off or change what information is shown.
Tip: On a side note, if you are looking for the Screenshot option on Firefox Quantum, you can find it by clicking the three dots at the end of the address bar.
How to Remove Individual Websites From 'Highlights' or 'Top Sites' on Firefox Quantum.
To remove individual websites from the Highlights group on Firefox Quantum, you will need to open a new tab so you can view all the highlighted websites. Once you are on the main page, hover your mouse over the website you wish to remove, then click the 3 dots that appear in the top left corner of the website. This will open a small options window where you can either Dismiss or Delete the page from your history. To remove an item from Top Sites, follow the exact same procedure.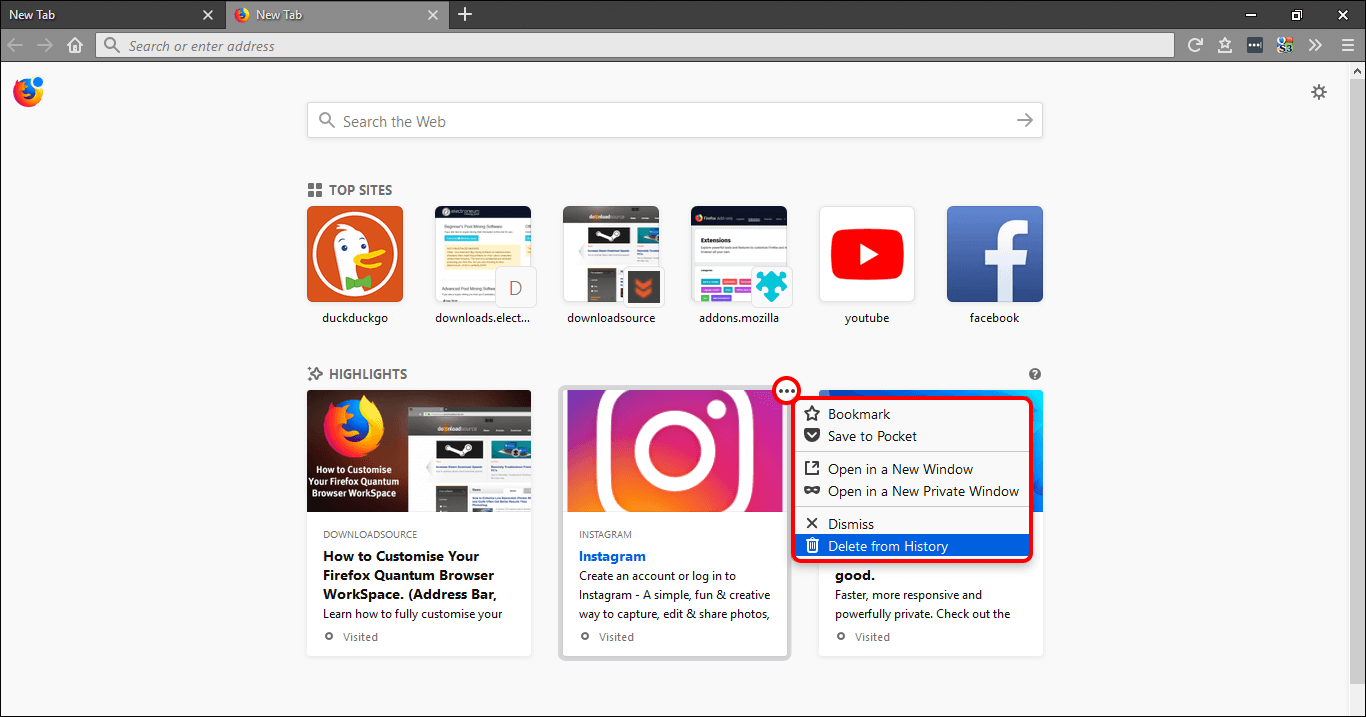 How to Remove Highlights, Search, Top Sites & Snippets From Firefox Quantum New Tabs.
If you want to completely remove highlights or another group from Firefox Quantum, open a new tab, then click the small Settings Cog in the top right-hand corner of the window. This will open a new tab with a list of different options, to disable any of the features simply uncheck the box next to the feature you want gone. Once this is done close the tab and you'll see the item removed from Firefox. If at any stage you would like to restore the option, simply place a tick back in the box. Unless you are actively using either of these options, you might as well disable them all and gain a slight speed boost to load times.