If you have recently discovered the volume icon has disappeared from your Windows taskbar, you might be a little perplexed or annoyed. There is no need to stress though, the Windows volume icon vanishing from the taskbar is quite a common error and can thankfully be fixed using a few different techniques. This guide will show you several different ways you can restore the icon if it has gone rogue on you.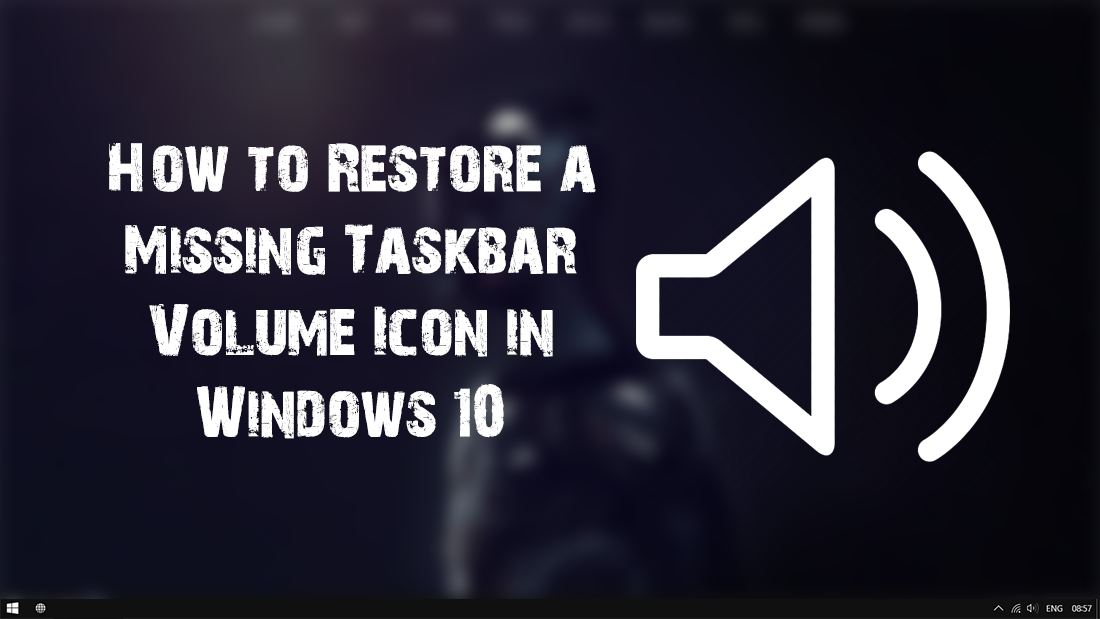 15 Super Handy Windows Run tool Commands You Should Get to Know.
If you have noticed the volume icon is no longer being displayed on your taskbar, your computer may have recently updated itself to a newer version. Sometimes Windows updates can cause the icon to disappear, then reappear at a later time. If the volume icon doesn't return after a restart, below are several things you can try to restore the icon to its rightful place on the taskbar.
Option 1: Enable the Volume Icon in Taskbar Settings.
If you haven't already noticed, Windows has an option allowing you to manage what icons you have showing on the taskbar. If you notice any other icons missing from the taskbar, you can use this method for them also. (You can also remove icons from the taskbar if you would rather get rid of some)
To restore your volume icon use the below steps:
Right-click on the Taskbar and select Taskbar Settings.
Next, scroll down to Notification Area and click Turn system icons on or off.
Here you will see all the system icons shown on the taskbar. Enable the volume icon.

If you still can't see the volume icon after doing this, proceed to option 2.
Option 2: Restart Windows Explorer.
This method is more of a quick, temporary fix, however, sometimes it is all you need to get the icon to return without having to make any drastic changes to your computer.
First, right-click on the Taskbar and select Task Manager.
Next, Expand the menu by clicking on More details. (If it is already displaying detailed view, you won't see this option)
Now, find Windows Explorer in the Active Processes.
When you find it, right-click on it and select Restart.
The volume icon should reappear pretty quickly after doing this.
Option 3: Enable Volume Icon From Group Policy.
If you are using any of the other versions of Windows 10, Pro, Enterprise, etc, you can try fixing the icon using Group Policy. Follow the steps below to do so.
First, press Windows Key + R to open the RUN tool.
Then, type gpedit.msc into the box and press Enter.
Now, go the following location: User Configuration > Administrative Templates > Start Menu and Taskbar.
Double click on Remove the volume control icon.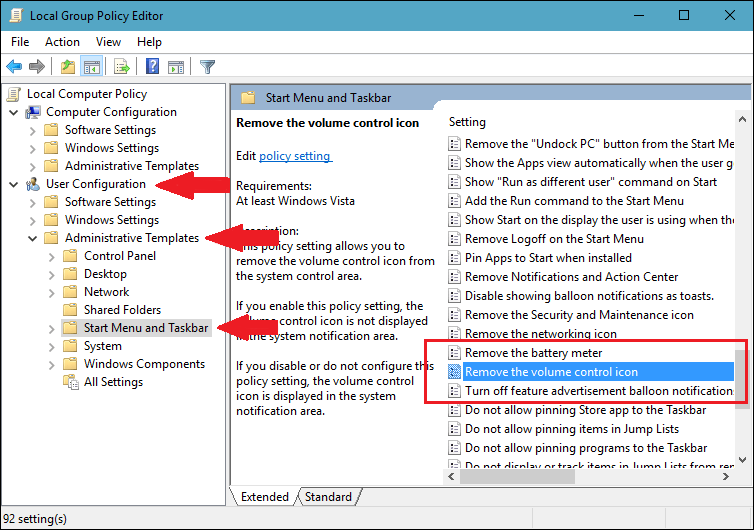 Now, change the setting to Disabled or Not Configured.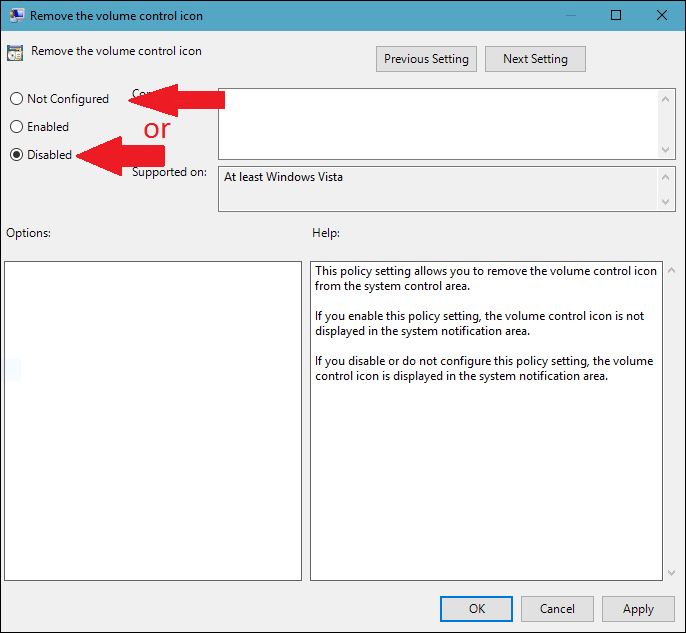 Save and Close everything, then Restart your computer.
Everything should be back in working order after the restart. On the odd chance it isn't, hopefully, Option 4 will sort things out for you.
Option 4: Get Back Volume Icon Using Registry Editor.
From here on out things are going to get more complicated, as we will be using the Windows registry editor tool. If you haven't already made a restore point, it is something you really should do, as any mistakes made when editing the registry can render your system unstable, possibly unable to boot. It's also wise to have a backup of all your other data just in case. If you follow the steps closely though you won't have any issues.
First, open the RUN tool.
Now, type regedit into the box and press Enter. (This opens the windows registry editor)
Navigate to:
HKEY_CURRENT_USER > Software > Classes > Local Settings > Software > Microsoft > Windows > CurrentVersion > TrayNotify
Now, Find and delete iconstreams and PastIconStream.
Finally, Restart your computer.
Option 5: Command Prompt Fix.
Again you are going to want to make sure you have a restore point set and a backup made. This step as with the last is considered a last-ditch fix so it's not recommended to try these unless you have used all of the steps above with no success.
Open Command Prompt as administrator by typing CMD into the start menu, then right-clicking on the icon and selecting Run as administrator.
Next enter the following commands:
reg add "HKCU\Control Panel\Desktop" /v "HungAppTimeout" /t REG_SZ /d "10000" /f
reg add "HKCU\Control Panel\Desktop" /v "WaitToKillAppTimeout" /t REG_SZ /d "20000" /f
Once they have run, you can Restart your computer. Hopefully, your volume icon is restored.