As the year draws ever closer to an end, social media sites are piling on the Christmas and holiday season spirit. After Facebook's previous hit with "your year in review" now comes the option of sending your own personal interactive cards.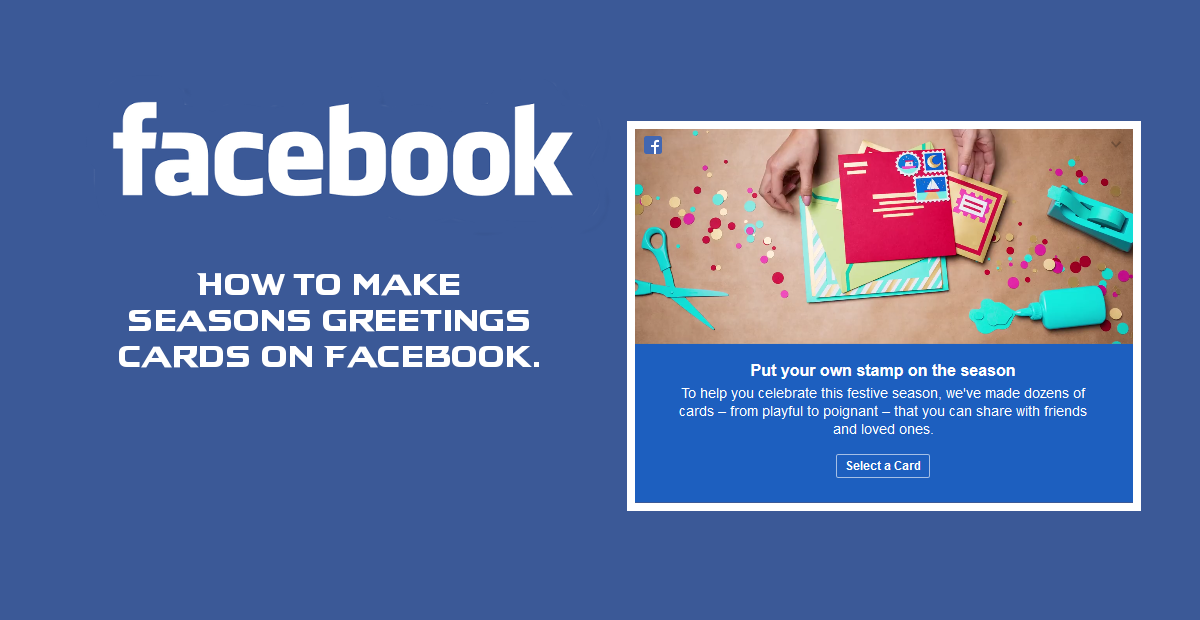 How to Disable or Remove Skype Preview From Windows 10.
This seasonal feature is being rolled out across the globe and is available directly from the home screen of your Facebook page. The pop-up message is somewhat hard to pin down and unfortunately, does not have a page or URL associated with it, which makes sending cards a little difficult. However, if you want to share interactive cards, the best and only option currently is to choose to do so whenever you see the notification.
The basic function of the card creation tool is quite simple and can be used for more than just sending your seasons greetings. You can send Christmas greetings, holiday greetings plus an assortment of other random greeting and seasonal cards, there are quite a few options to choose from. There are also random interactive .gif like cards that have seemingly nothing to do with anything, so you could even spam your friends just to be annoying.
As with all things Facebook, you will have the option to configure the privacy settings of your card and post. You can also write a lovely description and mention your friends or family members. Below you will find how to select and customize your Facebook greeting cards.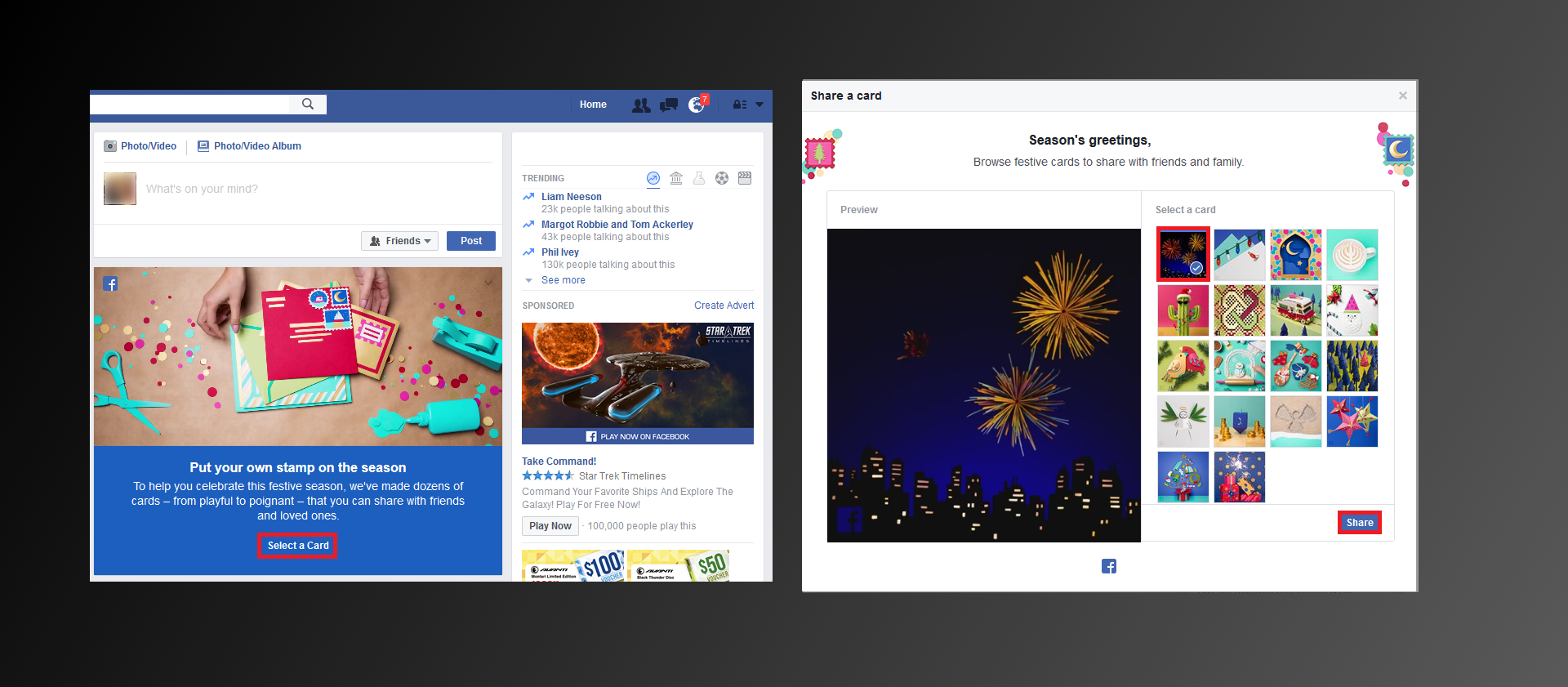 How to Create and Send Facebook Christmas Greeting Cards. (Holiday Season Cards) #FacebookCard
As we said at the very start of this post, the interactive card creation tool is a little hard to get a hold of and only appears randomly when logging into your account. You will have to wait for Facebook to show it to you, so patience is the first thing you will need. Don't worry though that is the hardest step out of the way.
When you see the button Share a Card, click it and a pop-up window showing a preview of your Facebook Christmas card will appear, along with a list of all the other available card designs. Click on a design that you like and watch the little preview of its animation, if you are happy with it, click Share. This will automatically open the Post editing window where you can write a description to send along with your card.
You can also mention one or more of your Facebook friends in the card during this step. After this, you will need to set the privacy of your card. (Who is allowed to see the card). As with all things privacy-related on facebook, you can choose to set it as only you, public or just friends. In addition to this, you can also provide a location or emoticons.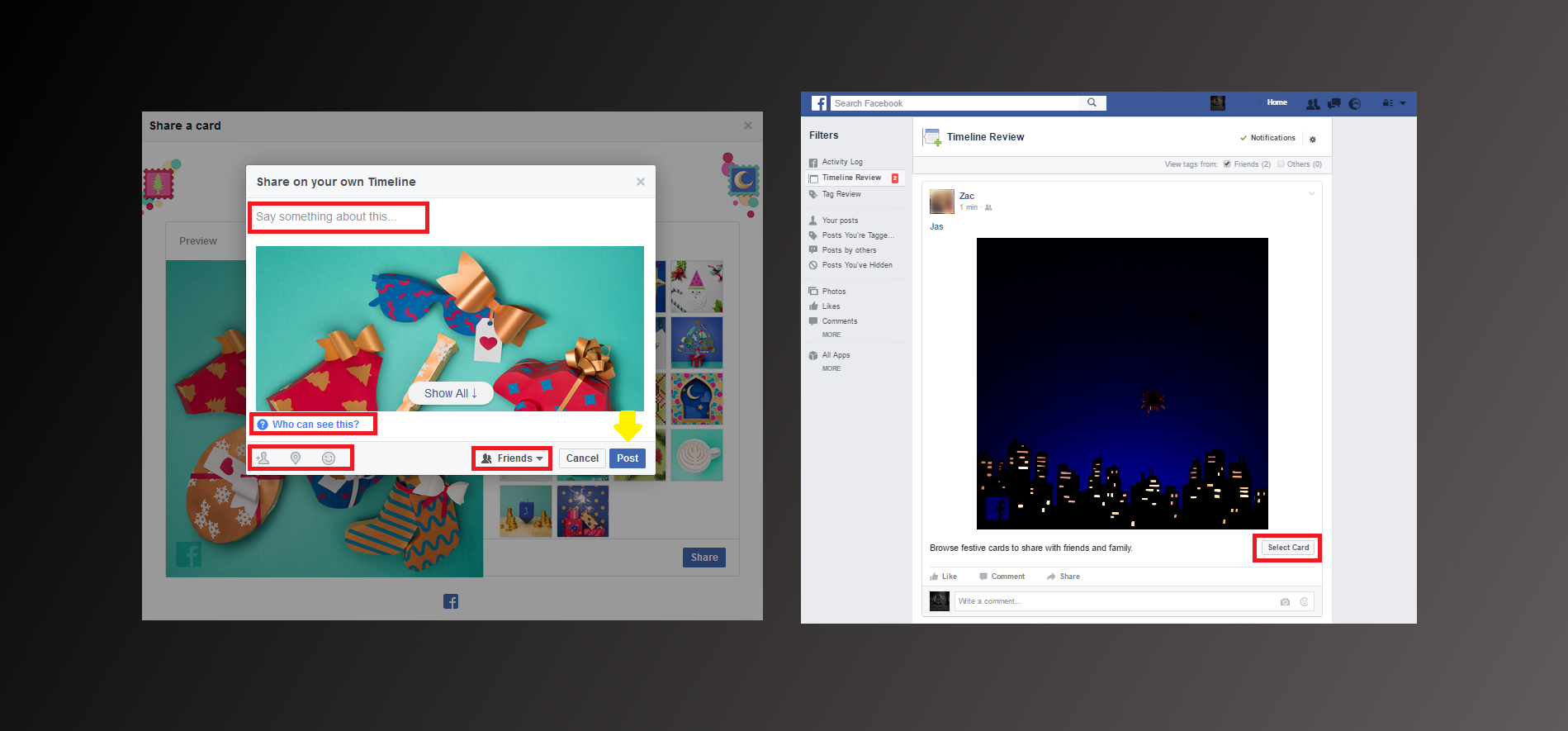 When everything is perfect, you just have to click on the button Share and Ready. The Christmas card will appear on your wall and if you mentioned a specific friend or family member, they will receive the notification and may even make it appear on your wall. Once you have been sent a card, you will have the option to make your own card available.
If you like the idea of Moments, don't forget to check out Facebook's Official Moments App.
Facebook Christmas cards are a pretty cool idea, however, I personally think if like the person you are sending the card to enough, it's way more fun sending a real Christmas card in the post. You can even fill it with glitter to make their life so much more special, just make sure its environmentally friendly glitter! Microplastics are bad!!