There was once a time not so long ago when you could send most files via email, without any issues. Now though, even trying to send a photo straight from a digital camera can be too large for a standard email. Thankfully, there is now an easy to use solution available that will allow you to send files up to 2gb, to a maximum of 20 people. What's even better is that it's available from any web browser or any Android or iOS device.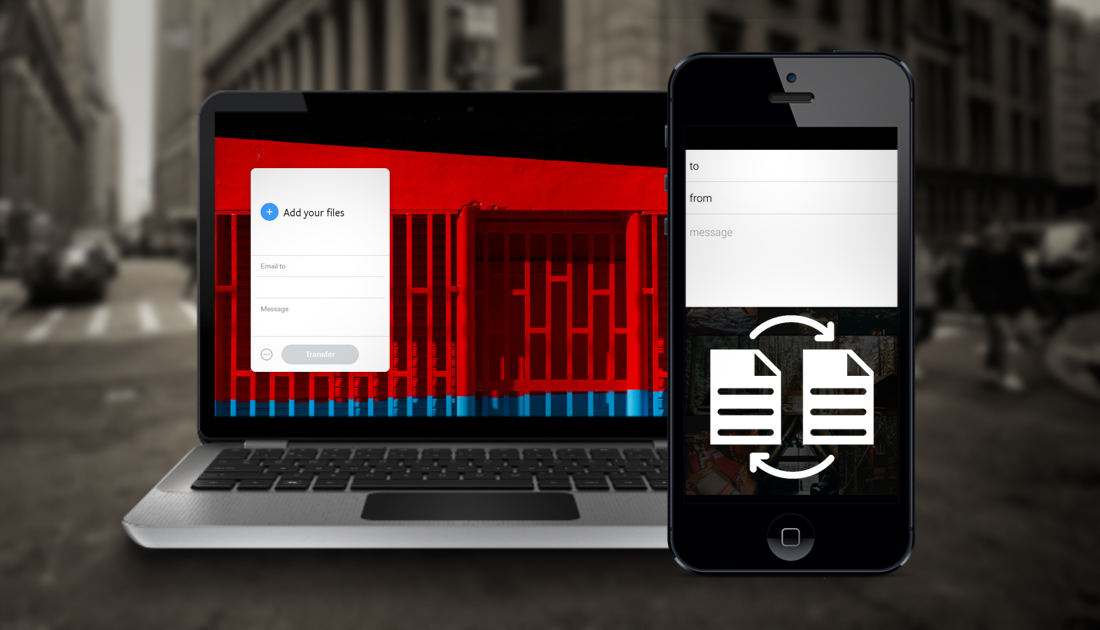 How to Use Older Versions of Adobe Software in Creative Cloud.
Admittedly there are tons of ways you can transfer files between people and devices. However, a lot of the services available only offer the ability to transfer smaller file sizes or charge a significant fee to use their basic services. If you are looking to change file sharing/sending service you use or just need a service to use for a once off large file transfer, a great new service worth trying is called WeTransfer.  
WeTransfer is a relatively new file-transferring platform that allows you to quickly and easily send large files from one place to another, completely free of charge. They do have a Plus, paid option but if you aren't trying to send anything over 2gb, you can use the service completely free of charge. What's even better is that you don't even have to register or make an account to use the service.
How to Send/Transfer Large Files For Free Using WeTransfer. (From your Browser)
Depending on the device you are using there are several different ways you can transfer files using WeTransfer. The first and most used option is from your Desktop PC or Laptop. To start a file transfer, visit the MyTransfer main page. Once you are on the main page you will see two options, use the Free service or use the Plus service. As this is your first time choose Free. If you like the service you can sign up at a later time.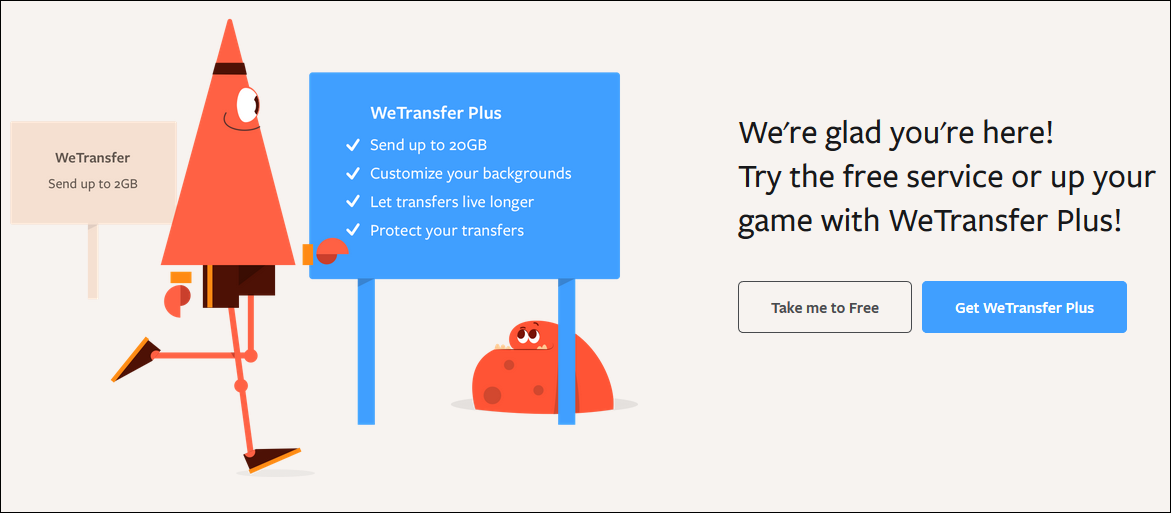 On the Next page, you will need to agree to the usual cookies and terms of use policy. Once you have read and accepted the terms, you'll be directed to a new page displaying a small white box in the left-hand corner.
On this page, using the white box, click Add your Files, then select the content you wish to transfer to another person. Once you have added your file, you will also need to fill out the remaining boxes, your email address and the email address of the recipient. You can add up to 20 different email addresses to send the file to should you require it. If you need more than 20 you can always upgrade to the Plus version.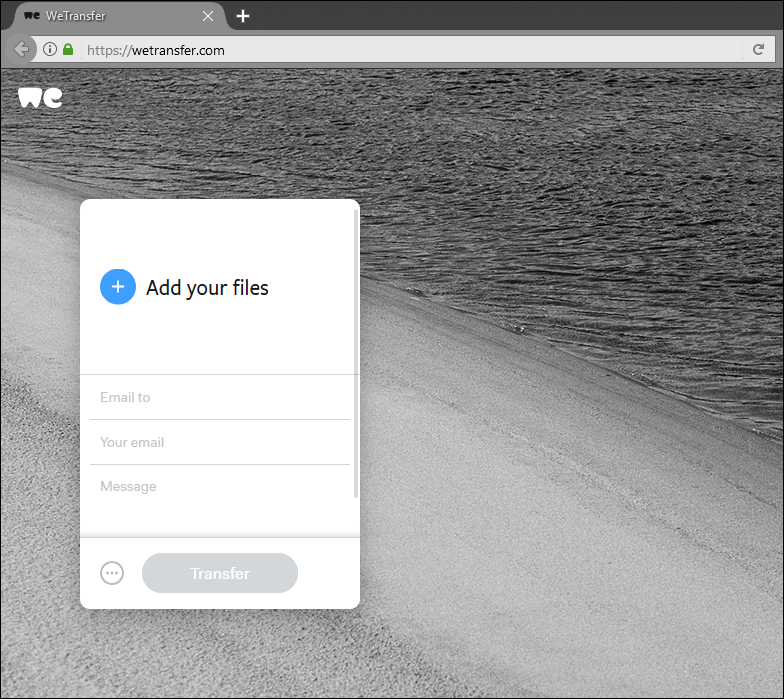 In the bottom corner, next to the blue transfer button you have an options menu. Here you can choose whether you would like the file to be sent as an email or as a link, either option works as good as the other. There are also several other options available to choose from if you are a Plus user, including password protection and file deletion time periods.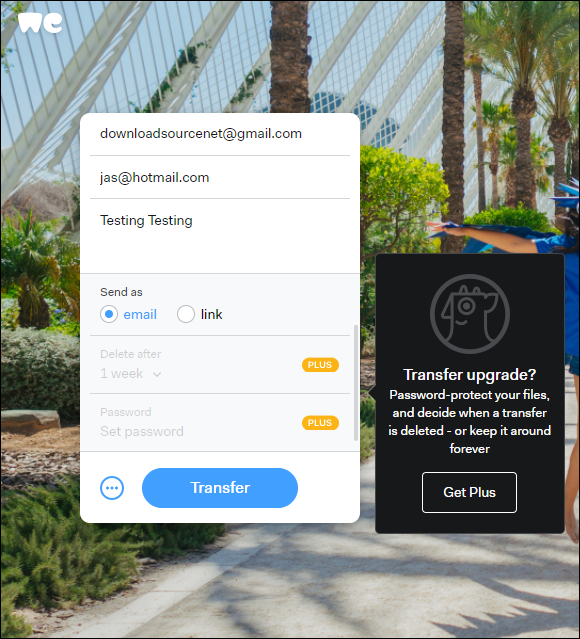 When you have uploaded your file and entered all the required information, you can click the Blue Transfer button, you will then have to wait for the file to be uploaded and sent. Obviously, how long you wait will depend on how big the file is and how good your upload speed is. As soon as the file is sent the person/persons you are sending it to will receive an email notification informing them the file is ready to retrieve.
Note: Sent files are only available to download for 7 days after the initial transfer.
How to Send/Transfer Large Files For Free Using WeTransfer. (Android & iOS)
If you need to send/transfer files from your mobile device, either Android or iOS the best way is to use the WeTransfer App, which you can download from either of the links below.
When you have the app installed on your phone, simply open it and choose the files you wish to transfer. (you may need to transfer the files into your phones Media folder, or the folder your camera stores its pictures) Next use the Share button to start the transfer process, again you will need to enter the receiver's email address as well as your own, plus a message should you choose.
Note: Sent files are only available to download for 7 days after the initial transfer.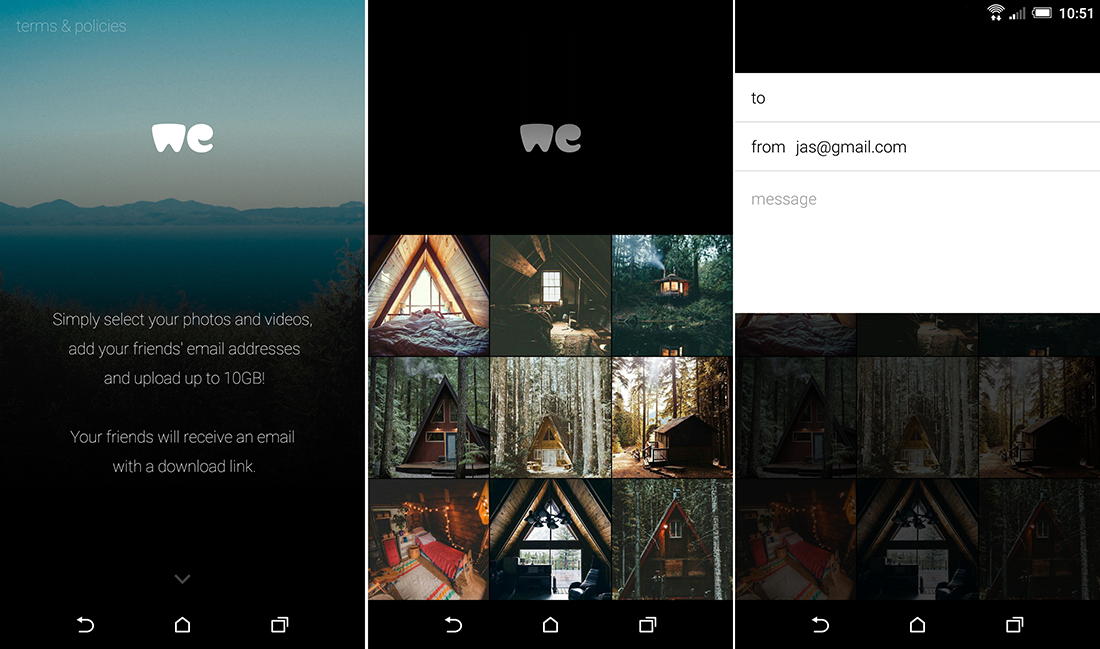 What File Formats Can you Send?
You'll be happy to know that there are no restrictions on the type of file format you can send using WeTransfer. Anything goes!
Limitations.
As for limitations, the only real issue is if you need to send files larger than 2gb. Or if you need to send files to more than 20 email addresses at one time. The free version of WeTransfer only allows you to send up to 2 GB per transfer to 20 people. (in all honesty, that's more than fair for a free service)  
The Plus Offer.
If you decide you like the service and want to upgrade to the Plus version, you will get file transfers up to 20gb and have the ability to send to 100 email addresses. You'll also get 100GB free cloud storage to use. Plus users also have the ability to modify the URLs and customize the background of the app. Other included features allow you to customize the expiration date on sent files and password protect them.
The Plus plan is on offer for 120 USD per year or 12 USD per month. Obviously, if you decide to go down this path you will need to create an account with WeTransfer.