If you like to have a ton of different tabs open in Chrome but don't want all the website audio to crowd your speakers or headphones, you're in luck. This guide will show you how to mute specific websites the tabs websites open into. There is one catch though, but we'll get to that a little further down.
How to Find and Use Instagrams 'Closest Friends' Feature. (Private Stories)
For the time being, muting individual websites in Google Chrome is a little bit more complicated than you might expect. It's not yet a simple case of finding and clicking a volume icon. This is where the catch we mentioned earlier comes in. Muting specific websites in Chrome will require you to be using Google Chrome Canary, which is Google's developer/beta test version of chrome.
It is reported to be a little unstable at times, however, I have been using it for a while now without any issues, so if you are keen to try out the Chromes latest test features, Canary is a great place to get a head start. You can find the Download link to Google Chrome Canary below. 
Download Google Chrome Canary.
How to Mute a Specific Website In Google Chrome Canary.
Once you have Google Chrome Canary installed on your computer, you will be able to start the process.
First, right-click on the desktop shortcut for Chrome Canary and select Properties. Inside the Properties window, change to the Shortcut tab.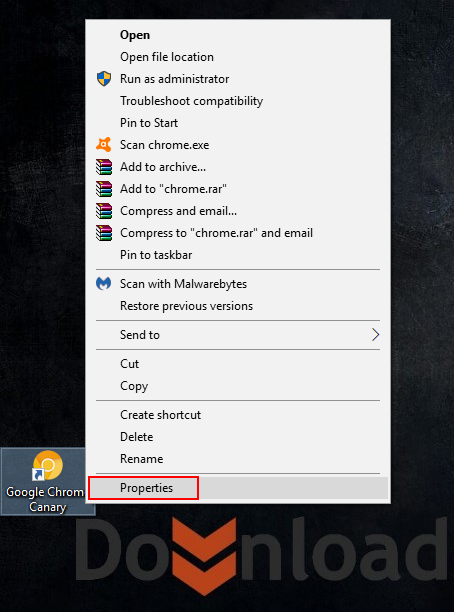 In Target field, you will see the Target for Chrome Canary, here you need to put a space at the end of the current path and add the below text to the ending.
–enable-features=SoundContentSetting 

The new path should look like the one below. (remember username is your accounts username)
C:\Users\username\AppData\Local\Google\Chrome SxS\Application\chrome.exe" --enable-features=SoundContentSetting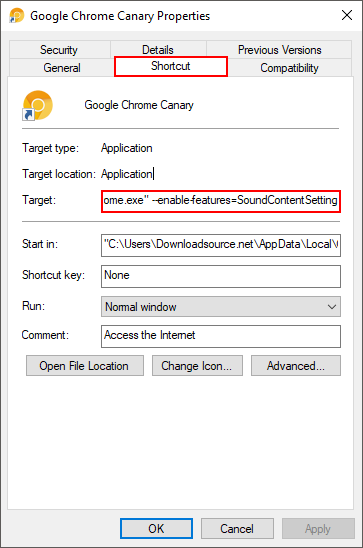 Once you have entered the text correctly, click Apply and OK to save the changes, then close Chrome Canary completely. (including any system tray activity) If you need to double check if it is completely closed, use the Windows Task Manager. If you spot anything running, end the task. Alternatively, you can just restart your computer.
Next, re-launch Chrome Canary and go to a website you want to mute. After the website has loaded click Browse content settings/View site information the icon in the far left corner of your address bar, it may say secure or display a '!' icon. A new menu will display with quite a few options, click on Sound. Inside the sound sub menu, you will see three options: Allow (default), Always allow on this site, and Always block on this site. As you can see Chrome Canary's default sound option is set to Allow for all websites. To Disable audio (Mute) for the web page you are on, select Always block on this site.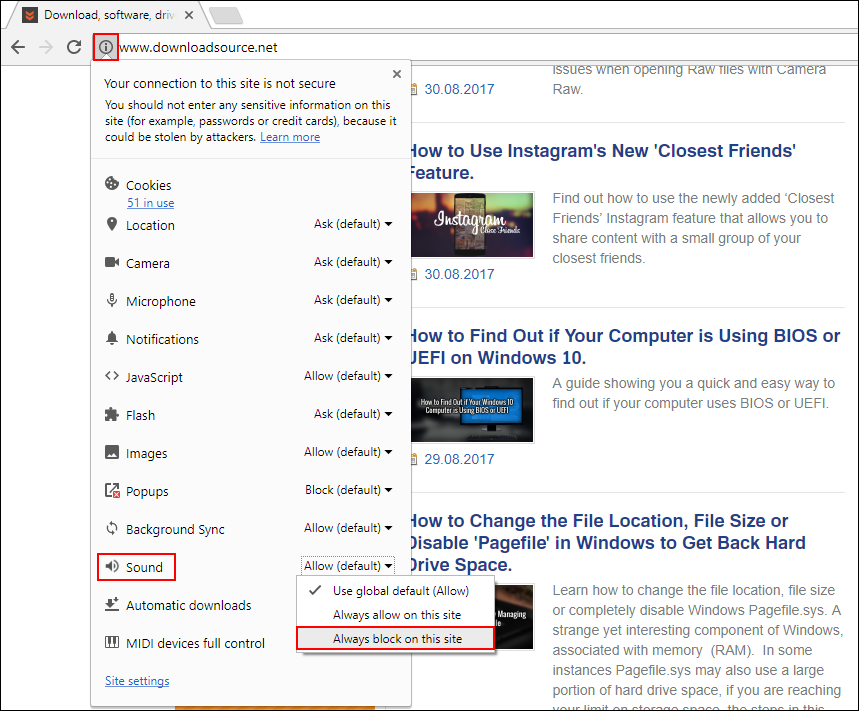 As soon as you reload the page, the settings will take effect and the site will be blocked from playing audio. Muted websites will show a Mute icon in the tab. Unfortunately, clicking the icon won't mute or unmute the website, in order to unmute a site you will need to go back into the sound settings and choose Allow.  
It's important to note also, that once a website is blocked from playing audio, it will remain muted until you manually re-enable audio again. Even after you restart your computer. The main difference between muting websites and muting tabs is that muted websites remain muted even if you open content from the same website domain in different tabs.

Although this feature is currently only available in Google Chrome Canary, it's only a matter of time before it is added to the standard version of Chrome.