Learn how to share USB flash drives across your network or over the internet. Once shared the drives will show in the exact same way they would if they were physically connected to your computer.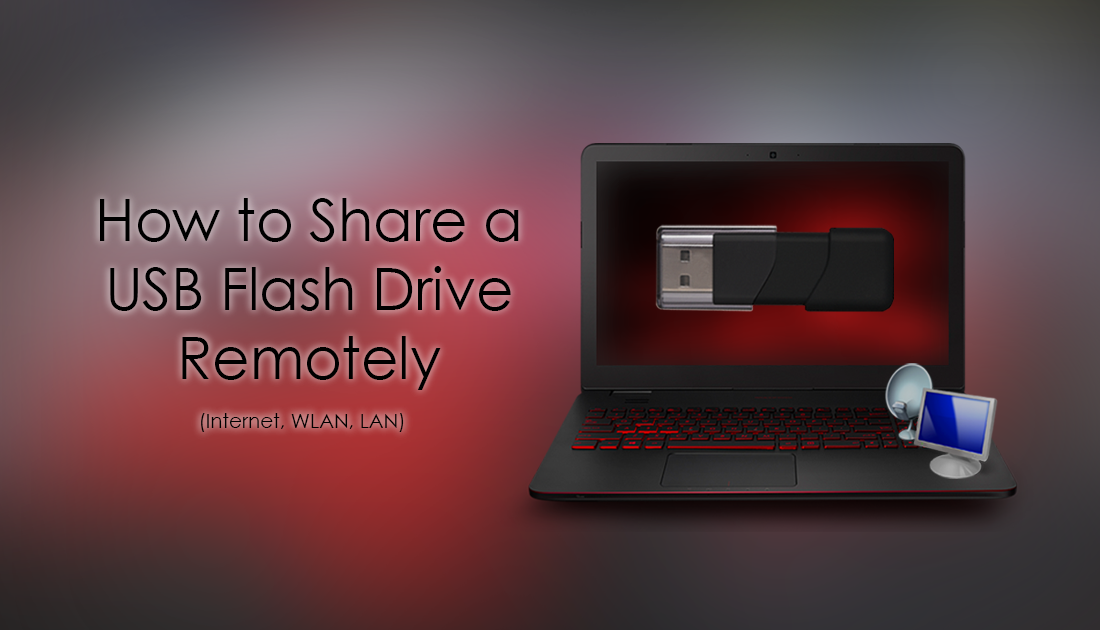 How to Change User Account Control Settings on Windows 10.
Most people use USB drives in their days to day lives, sometimes it's to move files and documents from one computer to another or simply to watch tv shows and movies from your TV. Whatever you are using your USB drives for there is now an easy way to share access to them. The steps in this guide will show you how to setup any USB drive so that it can be shared with all devices on your local WLAN/LAN or remotely to another computer at a different location.  
As this process isn't available using any of Windows built in sharing options, you will need to use a third-party program called USB Redirector. Using this program you will be able to allow other users on the same network remote access to external USB drives (and some webcams). All data on the shared device will be emulated as an exact virtual copy and will appear as if the device was attached directly to your computer. Below you can find out where to download USB Redirector from and how to setup the client to share your USB drive remotely.
USB Redirector's Features.
Allows connections between Windows 32/64 bit and Linux operating systems.
Allows you to connect to USB devices that are owned by other clients.
Allows you to share high-speed USB devices including some web cameras, audio and USB devices over networks.
Does not require you to install the USB device's driver software on the PC to share it.
Auto-connecting to remote USB devices as soon as they become available for connection.
VMware, Virtual PC, VirtualBox, Windows 10/8.1/8/7/2008/2012/Vista/XP compatible.
Note: There is one small downside to sharing your USB device using this method. You won't be able to use the device locally while it is being shared remotely. To access the device locally again, all you have to do is cancel sharing.
How to Share a USB Drive Over a Network Remotely.
To start sharing your USB drive over the internet or a network, the first thing you will need to do is download USB Redirector.
Once you have downloaded the file, install USB Redirector on your main computer, the one the USB device will be connected to. This will be the USB server. Next, you will need to install USB Redirector on the computer you wish to share with. When you have installed the software on both machines, you can begin the software setup process.  
Now that the programs are installed on your machines, connect a USB device to your main computer, the one you have designated as the server. Once the device is plugged in, select the USB device from the list shown and click Share.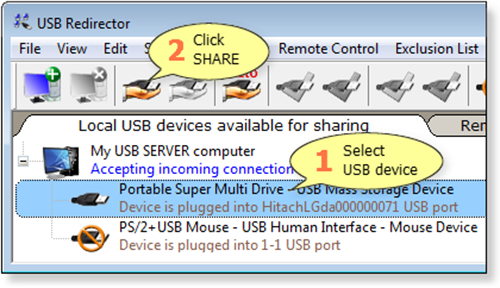 You will now need to jump over to the client computer and click Add USB Server. In the popup window that appears, enter the Server computer's name or IP address. (IP address is always the better option) With the IP address or computer name entered, click Ok.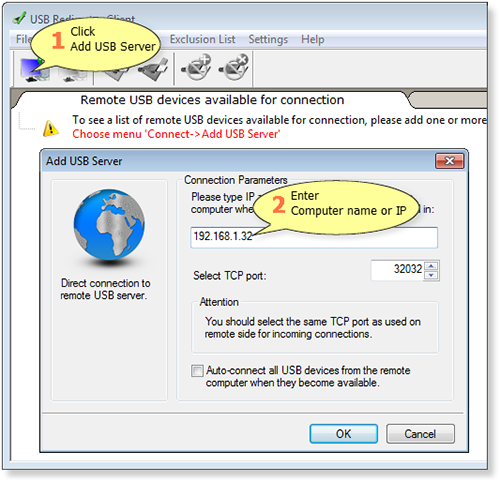 Note: if you are trying to connect to a computer over the internet you will need to use the IP address. To find the IP address of your computer, open command prompt and enter the following command ipconfig/all. Now just use the number next to Default Gateway.
For the final step, choose the USB Device you want to connect to, then click Connect.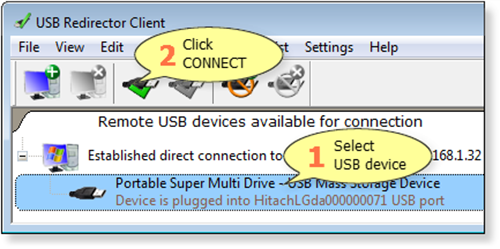 The USB device you selected will now show on your computer as if it were physically connected. USB Redirector will run in the background keeping your devices linked. If you'd like to, you can also add specific USB devices to the Exclusion List keeping those devices isolated from any sort of sharing. USB Redirector can also be setup and configured to work on multiple systems.