If you have a Corsair Wireless headset or another wireless peripheral, this article will show you how to add a battery icon for it to the Taskbar. This will finally allow you to keep an active watch on how much charge is left on your device. The best part is that the icon will change colour to red when it reaches a low battery state.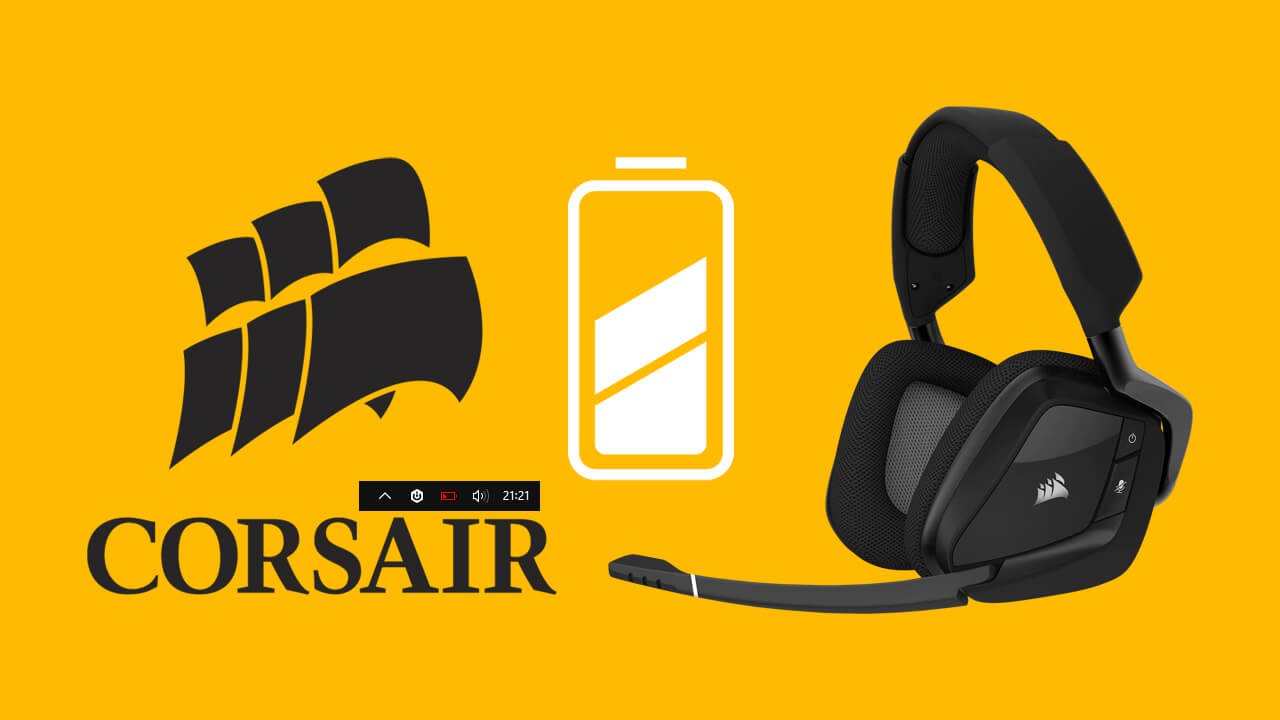 Related: How to stop disconnecting from multiplayer games in Age of Empires IV.
Most people would agree that a remaining battery charge icon for wireless devices should be a standard feature on Windows devices. However, with the exception of your laptops battery icon, no other device shows its remaining battery life by default. This is particularly annoying for Xbox controllers, wireless headsets, wireless mice, etc. Thankfully there is a solution for this, at least if you are using wireless Corsair peripherals.
If you happen to have a wireless Corsair device/s like Corsair Void Pro Wireless headphones, you now have the ability to add a battery icon to the Taskbar. This lets you view the remaining charge of your headset (or another device) straight from the Windows taskbar. By default, this feature is disabled, so you will have to manually enable it for each device, then also enable it within Windows. Thankfully, the process is quite easy, so follow along as we guide you through the process.
How do you add a battery icon to the Taskbar for Wireless Corsair peripherals? Add a Corsair Void Pro Wireless battery icon to the Taskbar.
To begin, the first thing you'll need to do is download the latest version of ICUE. Once you have downloaded and installed ICUE on your computer you'll be able to configure it to show a battery icon in the Windows Taskbar.
Now that you have ICUE installed, open it into the main window, then select your device along the top of the menu.
Once you have selected your device, change to Device Settings in the left-hand pane.
This will open a new window where you will have a selection of options to choose from. Flip the toggle next to Show battery gauge in notification area to On.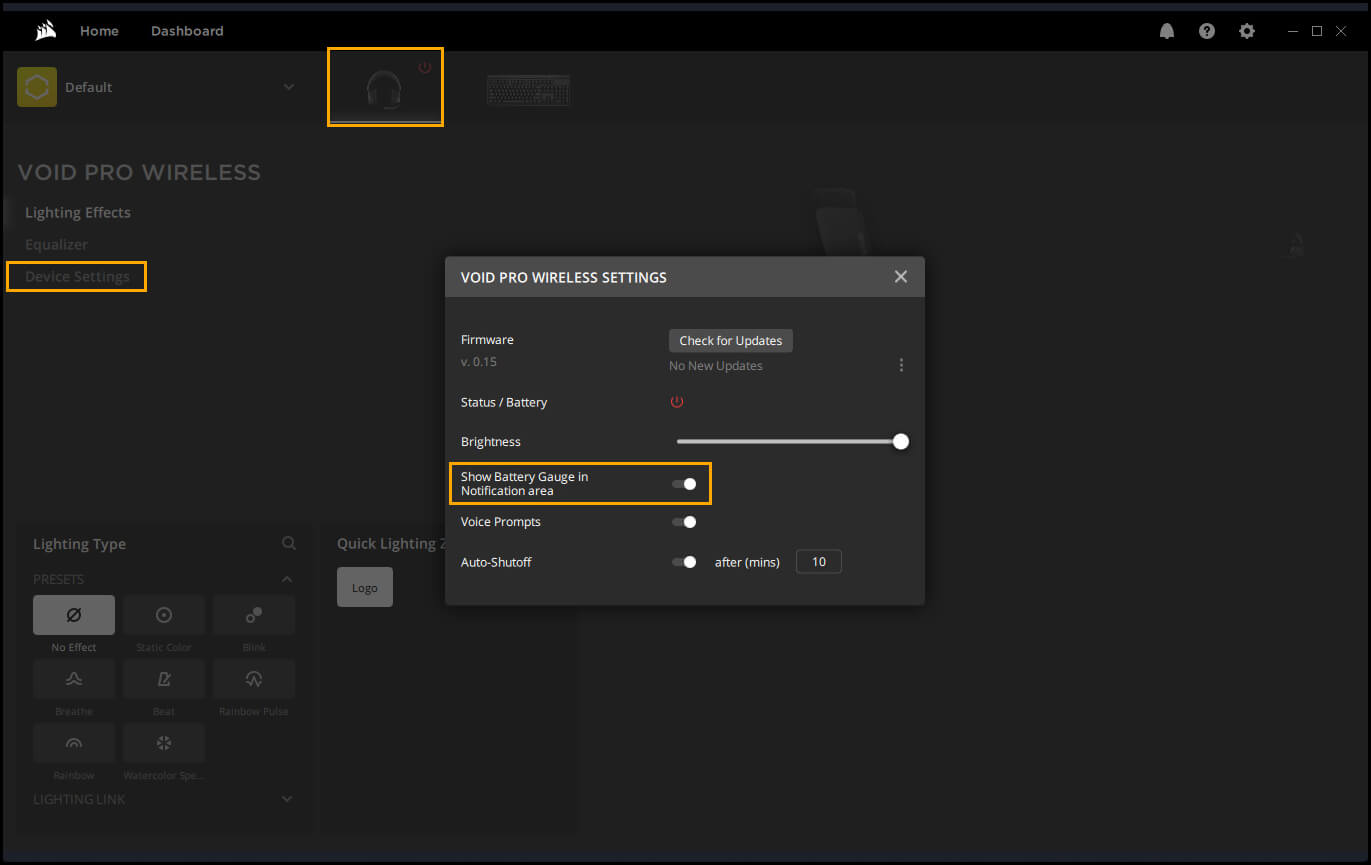 As soon as you make this change you will see the battery icon appear in the Windows Taskbar, however, it will always be accompanied by the ICUE icon, there isn't a way to change this sadly. If you don't see the battery icon appear, you'll need to change your Windows Taskbar settings as well.
How to change Windows Taskbar settings to show Corsair device Battery icons.
If you don't see the battery icon for Corsair Wireless devices in the Taskbar, you'll need to open Windows Settings and go to Personalise > Taskbar. Here scroll down and make sure that ICUE is On in the Taskbar overflow section. If you are still using Windows 10 the Setting is in a similar location.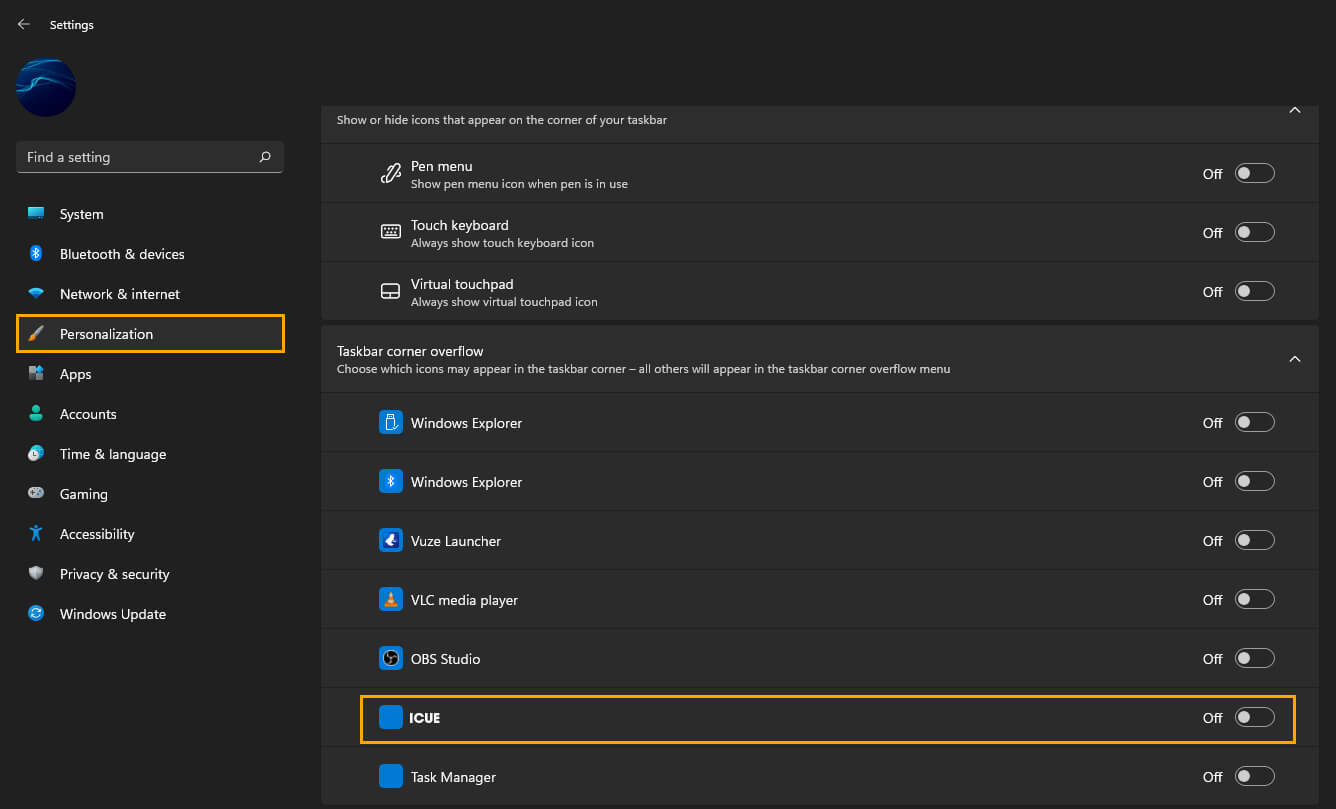 As we mentioned above, there isn't an option available that allows you to only show the battery icon alone. It will always be linked to the primary ICUE icon. I haven't tested this feature out with multiple devices, however, I get the feeling you will just see multiple battery icons that are probably indistinguishable.