If you are sick and tired of having to click through extra pages to get to a download or wait for so many seconds for a download to begin. This article will show you how to add support to your browser that will allow you to skip past these annoying ad-based download systems. Go straight to the download page and start your download instantly.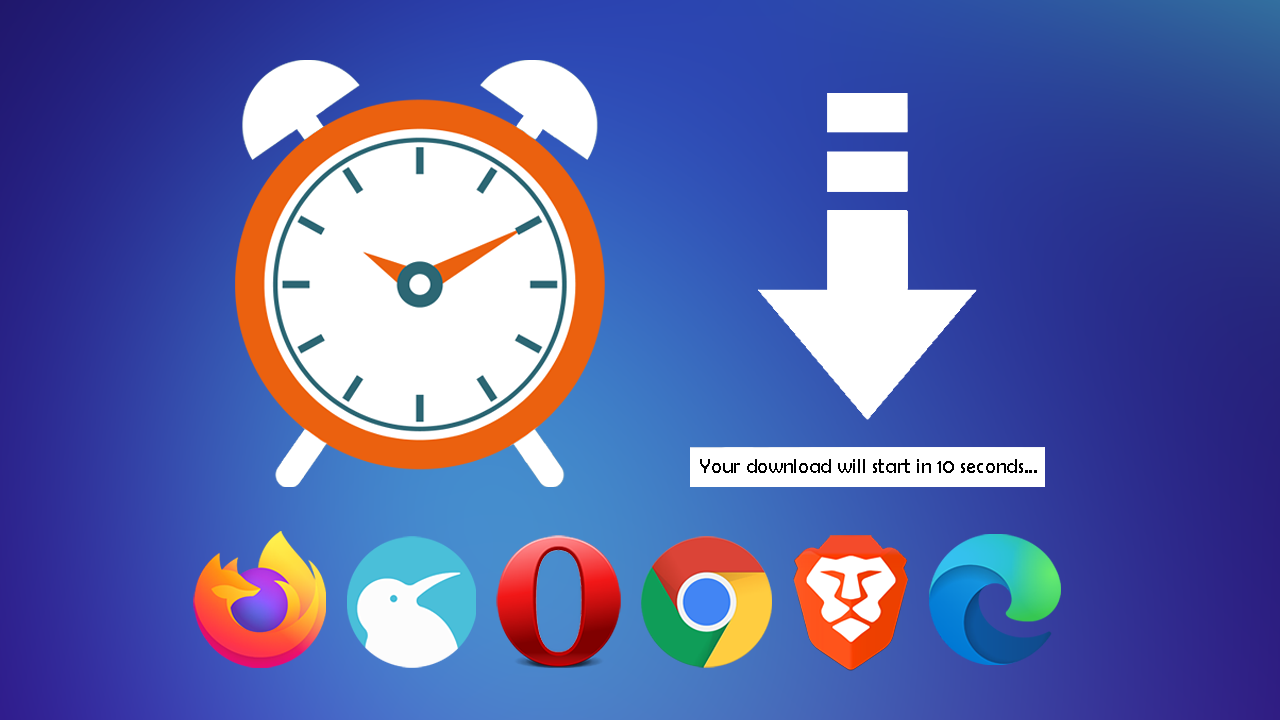 Related: How to remove the white bar down the side of Chrome Mobile. (Android & iOS)
Downloading content from the Internet can be a risky and dangerous endeavour if you don't apply some basic commonsensical knowledge to what you are doing and where you are doing it. Most viruses, malware, ransomware, and spyware find their way onto devices when people are overly trusting that content from a particular website is safe. Thankfully tools like Malwarebytes and Windows Defender (among a fair few others) catch most dodge files before they can cause damage to your system or steal your personal files. 
Depending on what you are downloading and where you are downloading content from is going to determine your entire download experience. Some websites are simple and will let you download stuff without any annoying download timers or click through adventures. Others aren't so nice, forcing you to wait up to 60 seconds for a download to begin or click through 3 pages of ads for a download to begin. 
Thankfully, there are some tools available that allow you to skip most of these tactics forcing downloads to start straight away and skip through ad-filled pages. If you haven't guessed it already, these tools are browser extensions and fall under the bypasser category. There are quite a few options available, however, we're sticking with a popular one called Auto Link Bypasser.
For Google Chrome or any other Chromium variant, add Auto Link Bypasser to your browser and the extension will kick in straight away.
For Mozilla Firefox add Universal Bypass to your browser and it will start working instantly.
How do you skip website download timers and junk pages to get to download links? Auto-bypassers.
To start skipping all these annoying download timers and the pages in between your destination add Auto Link Bypasser to your browser. ALB supports Chrome, Edge, Brave, Opera, Vivaldi and Kiwi browser. 
Once you have done so, it will automatically skip any download timers and start downloads automatically. It will also skip any junk URLs that are often used in shortened links. Unfortunately, there aren't many alternative extensions available if you would like some variety to choose from.

Note: The most popular bypasser: Universal Bypass was removed from Chrome recently because of an internal issue that was preventing logins from quite a lot of Google websites. 
What about Link Bypassers for Mozilla Firefox? 
If you are using Firefox you can still download and use Universal Bypass. The issue that was causing Google to block access when it was active has been fixed as well. As with ALB above, Universal Bypass is automatically active as soon as you add it to Firefox, so you won't have to configure anything to start using it. Universal Bypass circumvents sites which make you wait for example adf.ly, make you do something: show.co and sub2unlock.com, and some trackers such as bit.ly and t.co.