Firefox Quantum has been out for several months now and is a very pleasant browser to use. It's clean, minimalistic, fast, and uses a lot less resources than its competitor Chrome. There is one annoying feature that you may wish to disable though, Firefox's request for you to rate the browser.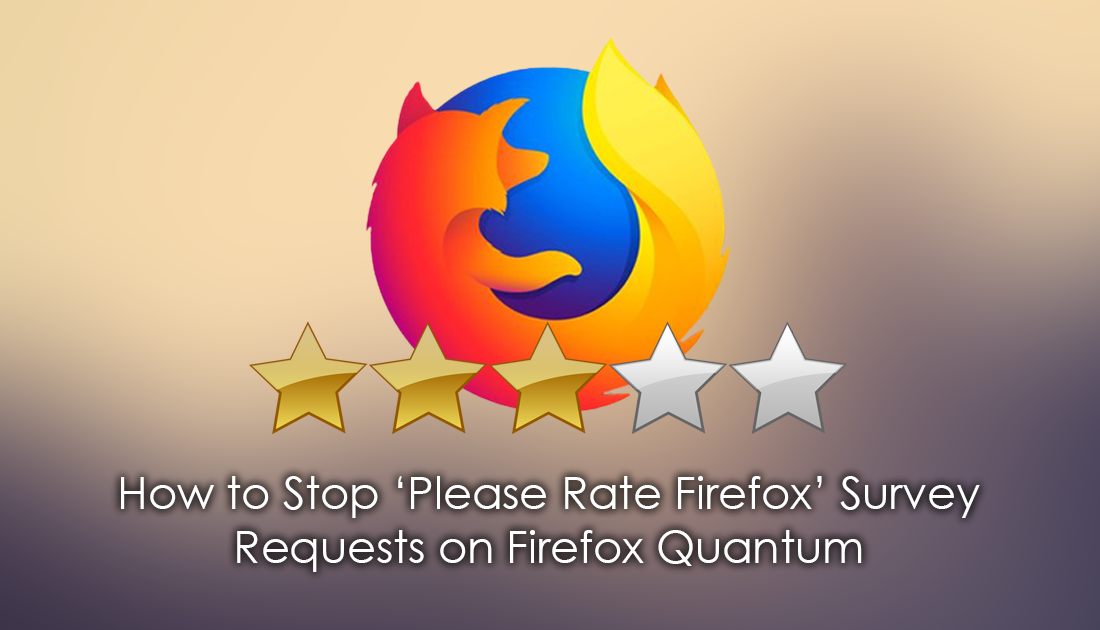 How to Fix 'Your Connection is Not Secure' Errors on Firefox Quantum.
Although it isn't all that common, Firefox Quantum will occasionally ask you to rate its performance. Nine times out of ten you will only see this request once after using the service for a few weeks or after any major updates (if you reinstall the browser at any stage, you will, of course, reset the option. Even if you are signed into your Firefox account). 
On odd occasions though, you may be seeing a request to rate Firefox far more often than normal, even if you have only just recently sent a rating. If you are in a situation where Firefox won't stop asking you to complete these surveys, this guide will show you how to completely disable them.
How to Stop Firefox Quantum Asking You to Rate it. (Please Rate Firefox Survey)
To begin, the first thing you need to do is open Firefox as you normally would, then enter about:config into the address bar and press Enter. If this is the first time you have used the about:config page, you will need to accept the warranty warning. This is just a disclaimer stating that if you make any changes Firefox may stop working as intended or you may open up potential security flaws. (it's easy enough to reset everything to default if you do make a mistake, so there's no need to worry)
Once you are on the about:config page, use the search box at the top to search for the following: extensions.shield-recipe-client.enabled. When it appears on the list, double-click on it to change it from true (on) to false (off). As soon as this is done, you can close out of about:config and start using your browser as normal.

If for any reason you would like to re-enable the feature, simply go back to the same location and change extensions.shield-recipe-client.enabled back to true.
Note: If you have made a mistake and can't remember which item you changed and need to reset everything back to factory settings, you can find out how to reset Firefox here.
Before you do close about:config though, check out the guide below which shows you how to disable telemetry data collection in Firefox Quantum. Telemetry tracking is mostly just hardware usage statistical information, however, it does occasionally contain information about your browsing history and usage.  
How to Turn Off Telemetry Data Collection on Firefox Quantum.