If you are currently looking for a quick and easy way to limit how much space on a hard drive can be used by a particular Windows user. This article will show you how to enable Windows 10 Disk Quotas. A feature that gives you complete control over user hard drive usage.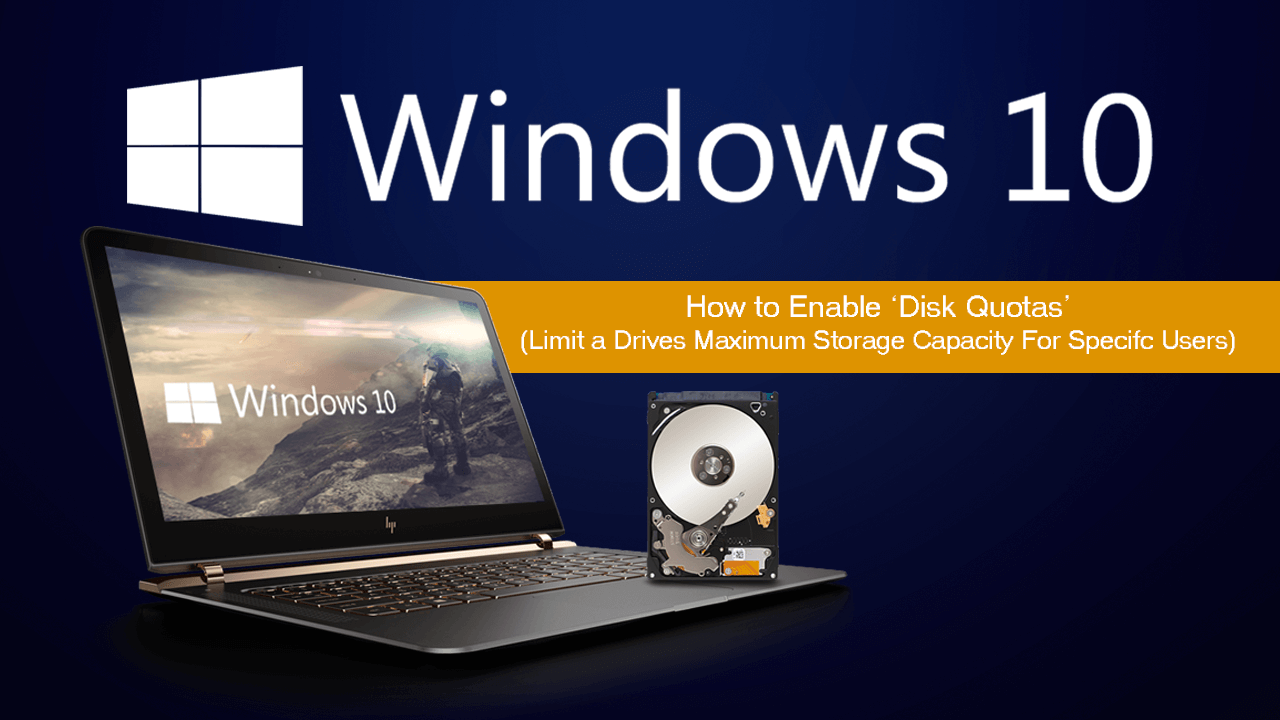 How to Get Microsoft Edge Chromium Officially. (Microsoft Edge Insider Program)
Windows 10 is a massive operating system with hundreds of features most people don't even get a chance to explore, with additional features being added each feature update. A classic and very useful feature that quite often gets overlooked by users is Disk Quotas. The Disk Quotas feature is the best way to limit the amount of hard drive space that can be used on a system drive and is particularly handy if you need to always have a certain amount of disk space free. Or if you need to allocate a certain amount of space to other users.
For example, you can limit a 1000gb (1tb) hard drive to a maximum storage capacity of 500gb. Leaving the remaining space free. Alternatively, if you have several people using one computer, you can limit each user to a specific amount of space as well. Although this all probably sounds a little complicated, it's thankfully super easy, so follow along as we guide you through the process.  
Related: How to Change USB Storage Device Defaults Between 'Better Performance' and 'Quick Removal'.
How Do You Enable Storage Quotas on Windows 10?
If you just wish to enable Disk Quotas for your entire system you'll need to do the following. First open File Explorer, then right-click the drive you wish to limit and select Properties. Next, change to the Quota tab and click Show Quota Settings.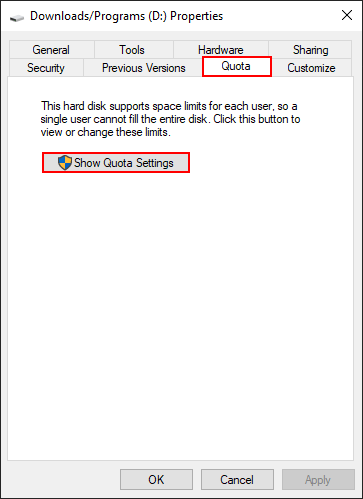 Here you have a list of very straight forward options that will allow you to customise how disk space can be used moving forward. Now all you have to do is configure everything to suit your needs and click Apply.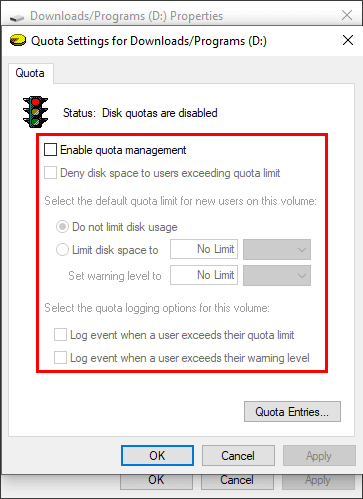 If you wish to get more advanced and restrict specific users, you'll need to continue with the steps shown below.
How Do You Limit How Much Space Individual People Can Use on a Drive on Windows 10?
If you wish to restrict a particular user or users, follow the exact same process and make sure Turn on the Enable disk quota management and Turn on the Deny disk space to users exceeding quota limit (If required) are ticked. Once you have done this, click Quota Entries.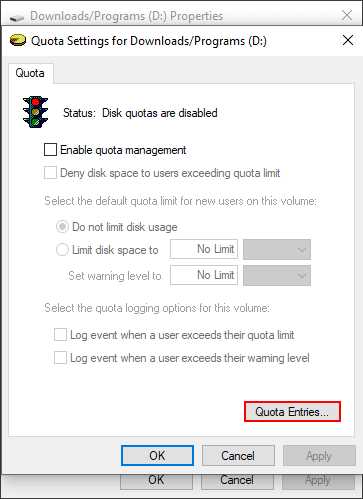 In the new window that appears, click Quota > New Quota Entry.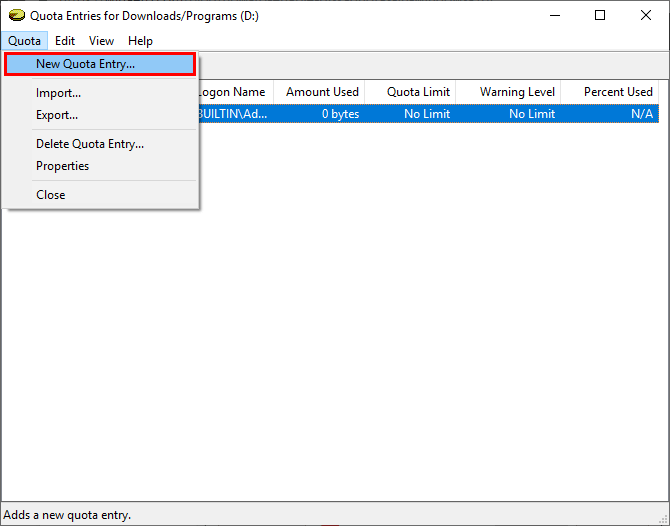 Next click Advanced.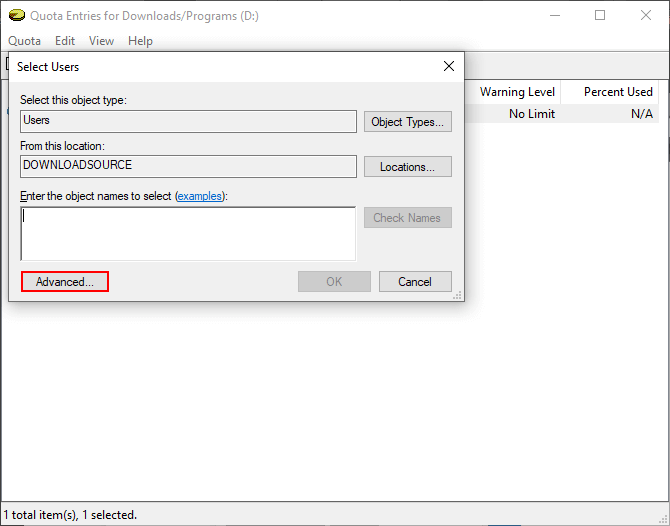 Here click Find, select the user you wish to restrict from the list, then click Ok.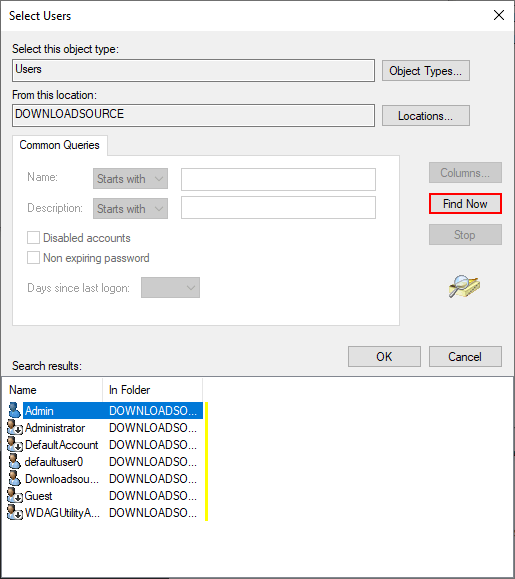 Finally, a small window will appear where you can enter the details of the quota limit you wish to apply. Again simply enter the details you require, then click Ok.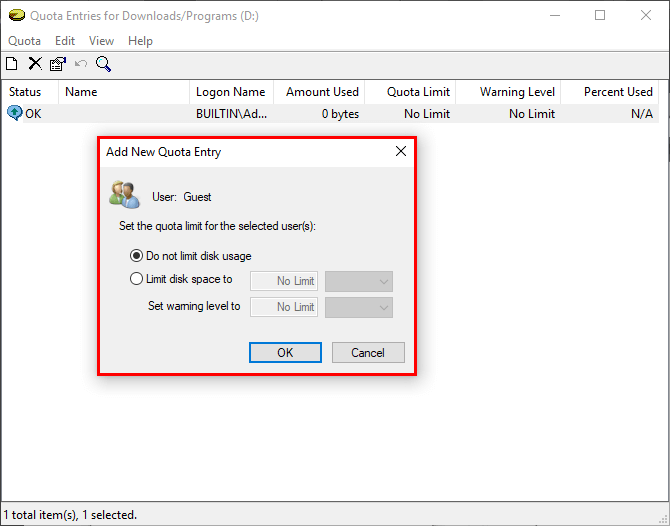 That's it, you can now exit out of the menus. From now on the user you have selected will only have access to the amount of storage space you've allocated on that particular drive. If you happen to have more than one drive, you will need to make sure you follow the same process for each.
If at any stage you wish to remove restrictions, simply return to the same location, right-click the Quota entry for a particular user, then click Delete. Just be aware that you can't delete the first entry, which is the entry for your own admin account.