Screen recording is an essential tool for seamlessly capturing and sharing screen activities for a range of different purposes. Its ease of use allows educators to craft interactive lessons, allows gamers to share content on YouTube and other social media platforms, and helps professionals seamlessly collaborate with each other when working remotely. So if you're currently looking at your screen recording options, follow along as we take a look at what Movavi has to offer.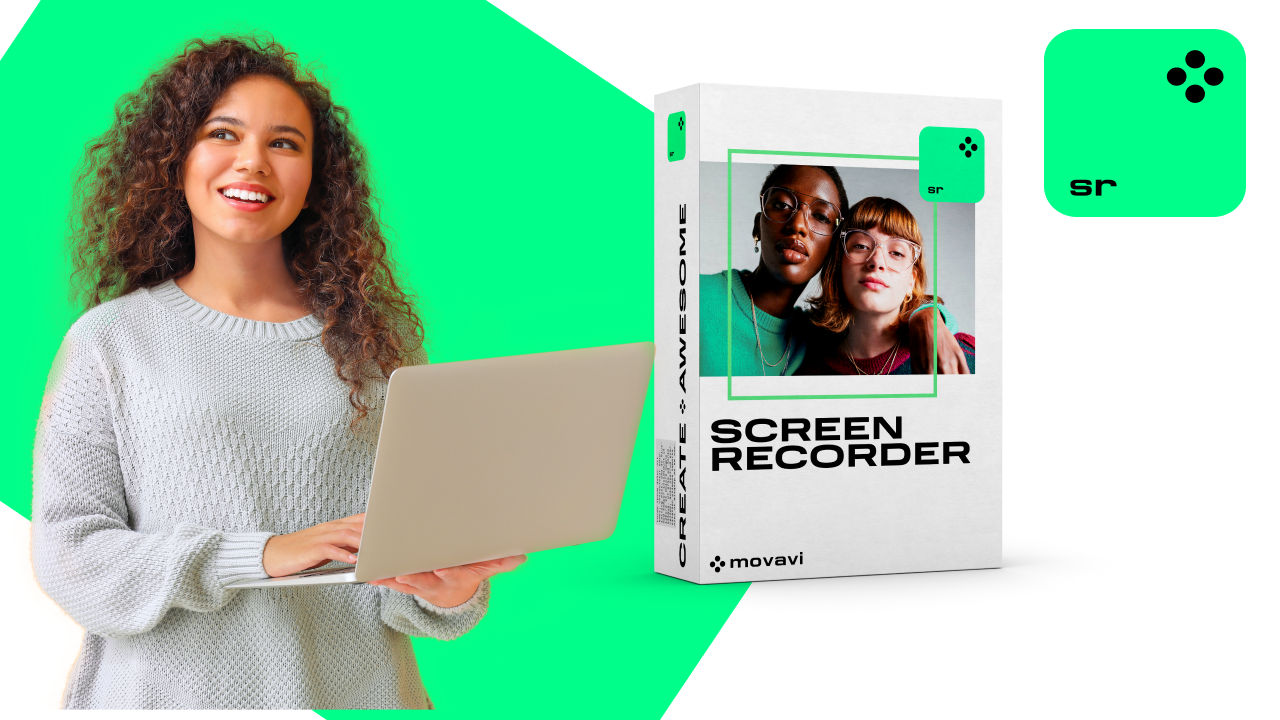 Introduction to screen recording
Over the past years, screen recording has become an indispensable tool for various purposes. Its significance lies in its ability to seamlessly capture and share screen activities, making it a vital asset for creating engaging tutorials, dynamic webinars, and so much more. Despite the underlying complexity of the technology, using a screen recorder itself should be an effortless and user-friendly experience, ensuring that anyone can take advantage of its powerful capabilities.
The demand for screen recording arises in countless scenarios across diverse fields. For educators, it opens the door to crafting interactive online lessons that resonate with their students. Gamers can leverage screen recording to share their thrilling gameplay moments with an enthusiastic audience. Meanwhile, professionals can effortlessly demonstrate complex processes to their team members, making collaboration more efficient.
The versatility of screen recording expands even further as technology advances. It now extends beyond the realm of basic video capture to encompass recording video calls and webinars for remote communication and archiving software bugs for efficient troubleshooting.
With so many screen-recording programs available, choosing the perfect one becomes crucial. Each application boasts different features, capabilities, and ease of use, prompting users to evaluate their requirements carefully.
Embracing this technology unlocks a world of possibilities limited only by our creativity and imagination.
Why use a screen recorder?
The advantages of utilizing a screen recorder are straightforward: convenience and effectiveness are at the forefront. By opting for a screen recorder, you can streamline your tasks and save valuable time. Instead of relying on text-based explanations or static screenshots, you have the power to effortlessly capture your screen in action and share it as a dynamic video. This not only ensures a more impactful and comprehensive delivery of information but also minimizes the risk of misunderstandings.
Furthermore, a screen recorder serves as a valuable productivity booster. Whether you want to revisit crucial moments from meetings or webinars, or simply monitor your team's progress, this versatile tool caters to a myriad of needs. For managers, it becomes a valuable asset for evaluating employees' performance and providing constructive feedback. Embracing the screen recording technology unlocks a world of possibilities for seamless communication and efficient collaboration.
What is Movavi Screen Recorder?
Movavi Screen Recorder is the ultimate solution for all your screen-recording demands. This innovative software offers unparalleled versatility and simplicity, making it the go-to choice for users of all levels.
Do you need to capture your screen for a presentation, record webcam footage for a video blog, or simply save important moments during a video call? Look no further than this free PC screen recorder, your reliable companion for every recording task.
Benefits of using Movavi Screen Recorder for Beginners
The array of advantages that Movavi Screen Recorder offers to beginners is extensive. Firstly, the software boasts a user-friendly and intuitive interface, making it a breeze for newcomers to venture into the world of screen recording. Unlike other complex screen-recording tools, Movavi Screen Recorder does not necessitate any technical expertise, ensuring a smooth start to the recording process.
Secondly, the flexibility it provides in terms of recording options is unparalleled. Users can effortlessly select to capture their entire screen or just specific sections of interest. Additionally, audio recording can be sourced from the system's sound or through the microphone, catering to a wide range of screen-recording needs and preferences.
Furthermore, Movavi Screen Recorder excels at producing high-quality recordings. The ability to fine-tune frame rates and resolutions guarantees that the resulting videos are both crystal clear and visually impressive. To enhance clarity and comprehension, users have the option to accentuate cursor movements, clicks, and keystrokes, making it easier for viewers to follow the content.
Lastly, the software comes equipped with a convenient built-in scheduler. This feature empowers users to record screencasts on-demand or set up automated recording sessions, which proves especially beneficial for webinars and video calls.
How do you use Movavi Screen Recorder?
This user-friendly software provides a plethora of features that elevate your recording experience to new heights. Follow these steps to make the most out of this powerful tool.
Install and launch the program
Start your screen-recording adventure by swiftly installing and launching Movavi Screen Recorder. Within moments, you'll be ready to explore its impressive capabilities. The intuitive interface ensures a smooth onboarding process, even for beginners.
Fine-tune audio settings
Audio is an integral part of any recording, and Movavi Screen Recorder has you covered. Customize your audio preferences effortlessly to capture system sounds, microphone input, or both simultaneously. This flexibility proves invaluable when recording webinars, video calls, or instructional videos with voice-overs.
Add a webcam overlay
Impress your audience by adding a webcam overlay to your recordings. Whether you're delivering a presentation, hosting a vlog, or showcasing your gaming prowess, incorporating webcam footage adds that human touch, connecting you better with your viewers.
Schedule your recordings
Life can get busy, but with Movavi Screen Recorder, you won't miss out on vital live streams or webinars. Take advantage of the scheduling feature, which enables you to capture essential content even when you're not available.
Take advantage of hotkeys
Time is a precious commodity, especially when dealing with time-sensitive content. Familiarize yourself with Movavi's hotkeys to effortlessly control the recording process. These shortcuts make starting, pausing, and stopping recordings a breeze.
Start recording
Movavi Screen Recorder caters to diverse recording needs. Whether you want to capture your entire screen, a specific region, or just a single application window, the software accommodates your preferences. Simply select the desired mode from the sidebar, adjust the recording frame as needed, and hit the Start recording button to initiate your captivating screen capture.
Draw while recording
Make your recordings more engaging by adding annotations, arrows, and shapes in real-time. Providing context and clarity has never been easier, thanks to this convenient feature.
Export and share your recording
Movavi Screen Recorder supports various formats, ensuring your content is compatible with a wide range of platforms and devices. Export your video in the desired quality and format, and effortlessly share it on social media or video-hosting platforms.
Comparing Movavi Screen Recorder to other screen-recording software
Movavi Screen Recorder truly stands out from the crowd. Offering a comprehensive set of features, it empowers users to capture their computer screens in the utmost quality and precision.
A key differentiator that sets Movavi Screen Recorder apart from its competitors is its seamless integration of audio and video recording capabilities. Users can effortlessly record both elements simultaneously, eliminating the need for separate tools or cumbersome post-processing. Moreover, the software boasts an instinctive user interface, accommodating even those new to the world of screen recording. Novice users can dive in swiftly and confidently, creating professional-grade recordings from the get-go. Advanced users, on the other hand, will revel in the abundance of customization options and special effects at their disposal, allowing them to tailor recordings to their exact specifications.
User reviews and testimonials about Movavi Screen Recorder
Movavi Screen Recorder has received positive reviews and testimonials from its users. Most users recommend the software for its user-friendly interface and high-quality recordings. They also appreciate the flexibility it offers in terms of recording options.
"Movavi screen recorder was much simpler to use than bunch of other ones I've tried using. From converting video type, video quality, fps, and even cutting the parts of video were simply few clicks away. And within preferences, you can hide/mute bunch of unnecessary sounds, notifications and popups that most other recording programs have. If you're looking for programs to record videos, this is the one you want." TJ Park, a Trust Pilot user
"Movavi Screen Recorder is the perfect tool for recording educational and recreational videos. It is simple to use yet has powerful features that have allowed me to build a library of webinars and video snippets to refer back to in the future. The emphasis here is the simplicity of the tool as the learning curve is very slight and I was able to be up to speed within just a few minutes. On the only occasion I need assistance I was able to get a response from support within 10 minutes. This is software that I will use for the foreseeable future." David Hunter, a Trust Pilot user
Conclusion
This fantastic screen recorder with free download is the ultimate pick for newcomers seeking a dependable and effortless solution. Its intuitive interface, customizable recording features, and impeccable output ensure it meets all your screen-recording requirements. Whatever your domain – be it teaching, gaming, or working – Movavi Screen Recorder has got you covered! Don't delay any further; embark on your screen-recording venture right away with Movavi Screen Recorder, and experience a world of possibilities!