For the last six months, Firefox Focus has only been available for iOS devices, leaving the Android community hungering for a lite, fast and private browser. The good news is that as of yesterday Firefox Focus has been released for Android devices and it's everything you want from a privacy focused, mobile based, web browser.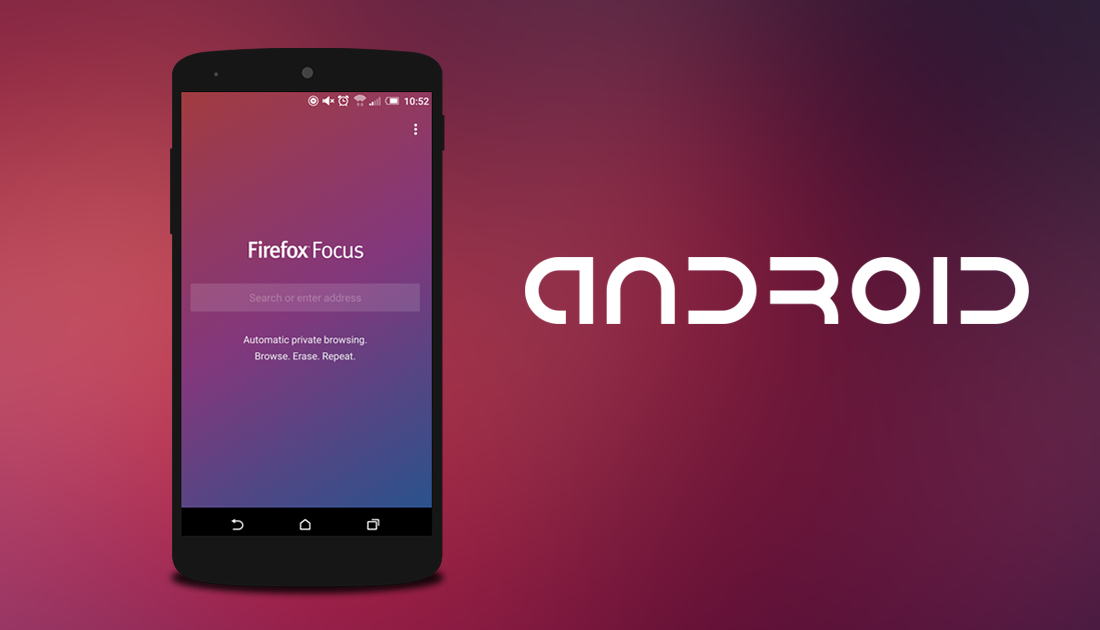 How to Use Snap Map, the Newest Feature Added to Snapchat.
It may have taken 6 months or so to finally arrive on Android, but the wait has been well worth it. Having switched between Chrome and the standard version of Firefox countless times, it's a pleasure to try a new mobile Internet browser that isn't resource hungry, doesn't chew through storage space, and offers privacy settings that make you feel a lot less watched.
If you have used FireFox Focus on iOS, you will be used to how simple the interface is, with very few distractions, even the options menu is streamlined. It's great to see the Android version of Firefox Focus has remained very much the same, although, Mozilla has tweaked it a little and added a few small features that enhance its usability. All of which are rumored to be heading towards iOS in the very near future. Below we have listed each of these small additions and what they do.
All the Additional Features of Firefox Focus on Android. 
Ad tracker counter – Lists the number of ads blocked on each site, during use. It's quite interesting to see how much information is being blocked.
Disable tracker blocker – You now have the option to disable the tracker blocker if it is causing certain websites to load incorrectly or bug out.
Notification reminder – This lets you know when Firefox Focus is running in the background, you can also use this same notification to erase your browsing history.
Firefox Focus: Privacy at its Core.
On top of the features listed above, the main aim of Firefox Focus is to protect a user's privacy whilst browsing the internet. All of this is done by default and cannot be interfered with, every form of web tracker is blocked, including analytics, social types and of course advertising. Firefox Focus also erases everything about you when you close the browser, cookies, passwords, and of course your browsing history.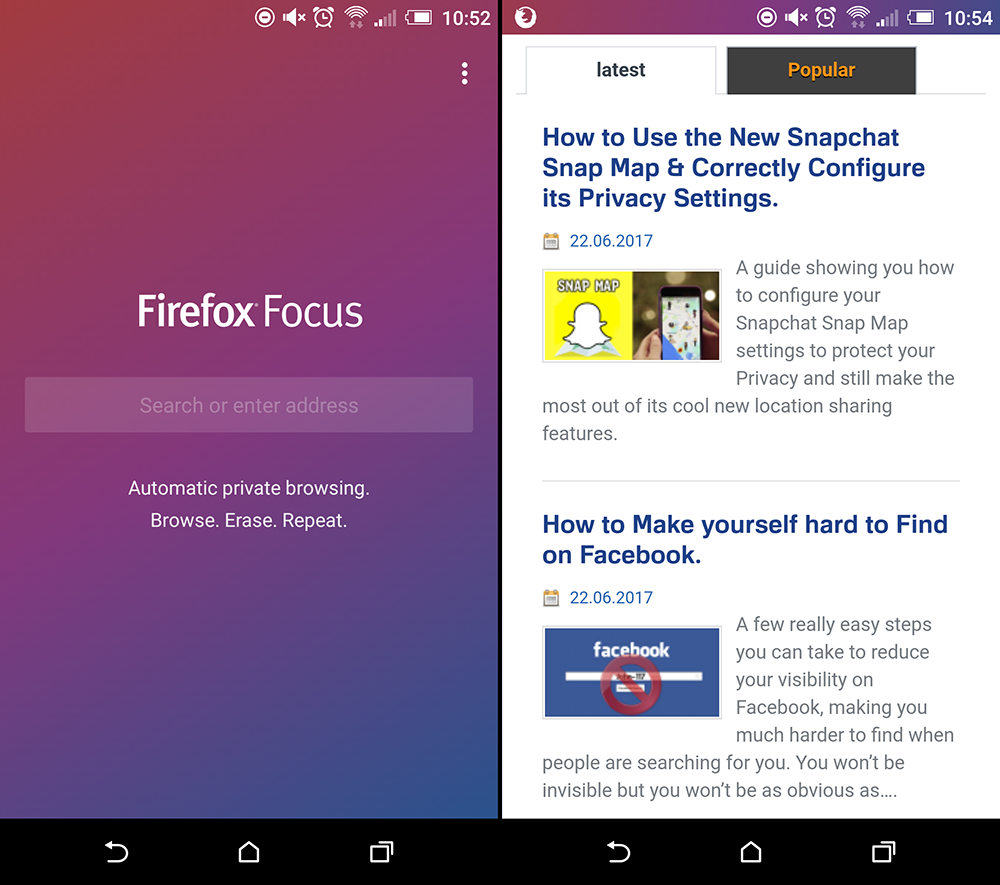 What Else Makes Firefox Focus Worth Using?
As well as privacy-focused browsing, you also get the benefit of a clutter-free interface, easy to use options, an app that barely uses any space on your device and of course, most importantly, super fast browsing. In comparison between Chrome and the standard version of Firefox, the speeds are quite noticeable.
It makes sense considering a lot of tracking content and ads aren't being loaded along with the content you are looking for. If you are using an older Android device this speed aspect alone is a good reason to consider Focus as your main browser.
Note: The space each browser uses by default (without any cached data) is quite interesting. Chrome uses 65mb, Firefox (standard) uses 38mb and Firefox Focus uses 3.5mb.
In the settings menu, you will also find the option to change which search engine Focus uses: Google, Yahoo, Amazon, DuckDuckGo, Twitter, and Wikipedia are the options you can choose from. If you are really into your privacy DuckDuckGo is the search engine of choice, as it also doesn't track or store any information about your searches.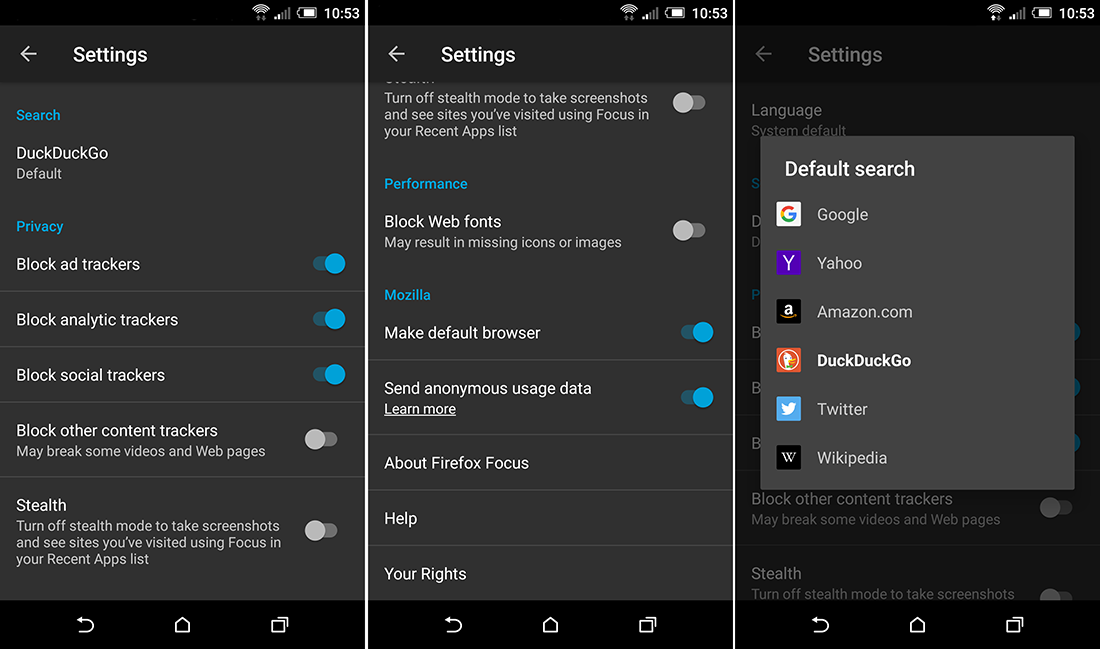 The only real downside to the browser is that you can't set up a small bookmark list for sites you frequent. It isn't a big deal but if you constantly visit specific websites you may grow tired of entering the URL or searching for it each time. If you aren't convinced to try Firefox Focus or couldn't be bothered installing a new app. It's worth mentioning that the original Android version of Firefox also contains a Privacy Mode, which can be activated at your choosing.
Unsurprisingly Firefox Focus has launched onto the Google Play Store with exceptionally good reviews and a star rating that is currently sitting on 4.6. You can download Firefox Focus below or just search for it on the Play Store.

Download Firefox Focus for Android Devices.