If you are someone who likes to do their fair share of online shopping, be it ordering a pizza, gaming peripherals or just the weekly grocery shopping, there is a clever way you can potentially save a lot of money. Simply using this Chrome extension you can automatically get discount coupons for countless online stores.
How to Listen to Music Based on Your Mood.
You are probably used to all the cons and dodgy discounts online claiming they can save tons of money on things like Ray Bans, Gucci etc. The difference with this method is that it's passed Googles authenticity test and the only catch is that the app uses Google analytics which Google uses to tailor its advertising programs. This is already something that is being done anyway so it's not much of an impact.
The Chrome extension goes by the name of Honey and it's quite a simple concept. When you visit a website to purchase something, Honey will automatically track down and apply a coupon/sales codes that may reduce the price of your purchase. For example, if you are ordering a Pizza from Pizza Hut online and your total is 16.99 Honey will find a coupon code (if there is one available) and apply it to the sale, lowering the price by the coupons set figure. On some occasions, the code may offer you a free garlic bread etc.
How to Use Honey to Save Money By Automatically Applying Coupon Codes to Your Purchase.
Using honey is pretty simple, first, you will need to download the Honey Extension for Chrome Browser (unfortunately it isn't available on Firefox, Edge etc) You can grab it from the official link below or find it yourself another way.
Download Honey Extension For Google Chrome.
Once you have the extension downloaded, you will need to sign in with your Facebook account or sign up using an email address. Either one is fine. From there Honey will guide you through the process of how it works. After the quick introduction, you are free to use the extension.
From now on whenever you are checking out at an online store, click on the Honey button during the checkout process and Honey will automatically apply coupon codes to your shopping cart, double stacking discounts if the specific store allows for it to do so.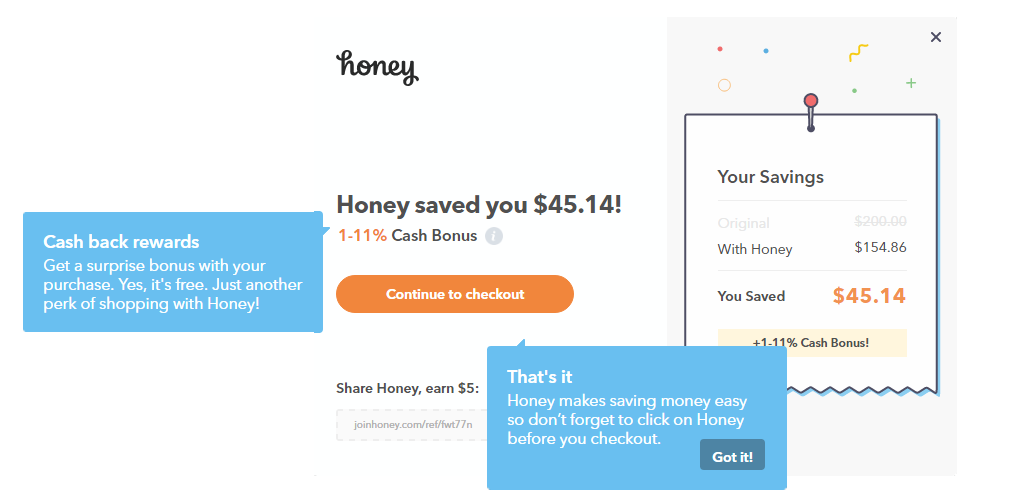 Honey is currently only supported for sites in the United States, Canada, Australia, United Kingdom, and India. As popularity grows though, more countries will be added to the list. It's also worth mentioning that not every single website that features a couple code system is going to be supported.
There is an email address listed on the extensions download page if you wish to email the developers and request a specific site to be added. Hopefully, by using Honey you can save yourself a few dollars on future online purchases, as well as a lot of time you would normally spend tracking down working coupon codes.