Even if you consider yourself an advanced Windows 10 user and have checked and disabled all the tracking and data collection settings and features, there's a good chance you've missed more than a few, I know I did. If you want to double check you've got them all, there's an easy way to semi-automate the process and disable the rest of the hard to get features that aren't listed in Windows settings.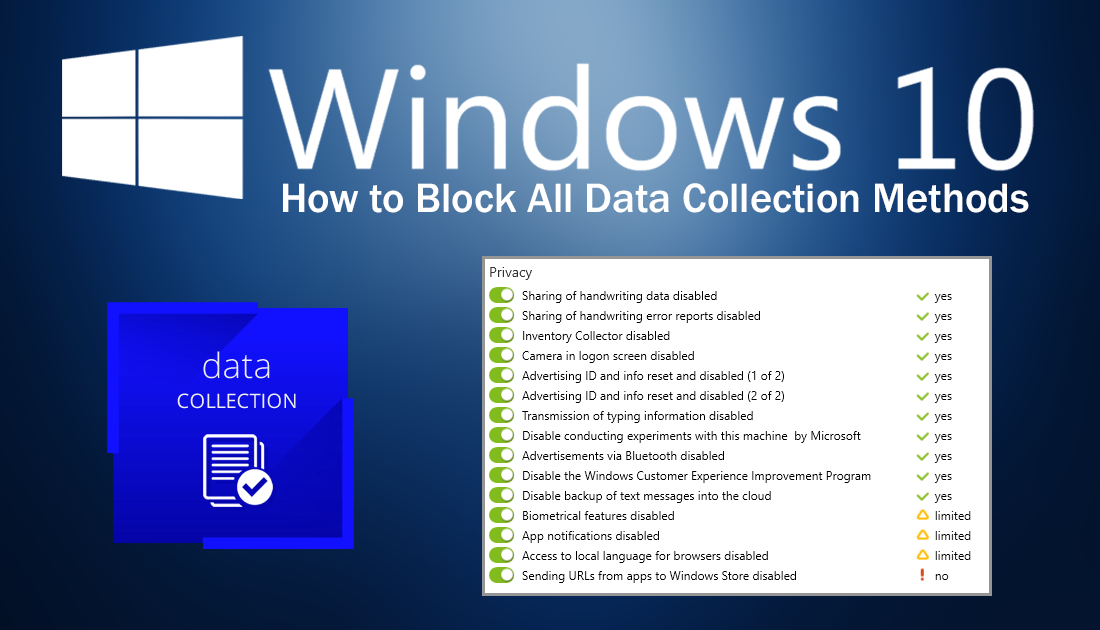 How to Chat Anonymously Over the TOR Network.
It's no secret that Microsoft collects huge amounts of data about how you use your Windows 10 devices. Officially, most of this data is supposedly used to improve your overall internal operating system experience, however, as we have all seen recently, major data leaks are becoming more and more common.
If you're a little paranoid thinking about the kind of profile that could be compiled about you using data collected from your Windows device, this guide will show you one of the best ways to disable all the Windows 10 tracking, data collection, and telemetry features. Including the ones that aren't listed in the settings menus.
How Do You Stop Windows 10 Spying on You?
When Windows 10 was first released we wrote several articles on how to prevent the operating system from collecting data and sending it to Microsoft. Since then Windows has undergone plenty of updates, with new features adding more data collection opportunities for Microsoft and old features being moved to different locations, tweaked and reset to default settings. If it has been a while since you checked these settings, there's now a far easier way to do so, without having to navigate through dozens of screens and menus.
Using a tool called ShutUp10 by O&O you can quickly and easily identify and change Windows settings that are compromising your right to privacy. The tool is easy to use and doesn't require you to install it on your PC, simply download the file, open it, then wait a few moments for it to check your system settings.
As a long time Windows 10 user I considered my Windows settings to be optimal, with all possible data collection methods blocked. However, once using ShutUp10 I found quite a few flaws with my current settings, which I was quickly able to fix.
Once you have downloaded ShutUp10, using it is really easy, open the .exe file then wait for the program to scan your settings. When this has finished, you'll see a huge list of options, categorized into groups, Privacy, App Privacy, Security, etc. On the left, you will green and red toggles, red meaning you aren't protected and green meaning protected.
On the right you will see three different symbols:
Green Tick (Recommended to block)
Orange Triangle (Depends on your system needs/personal preference)
Red Exclamation Mark (Not recommended to block)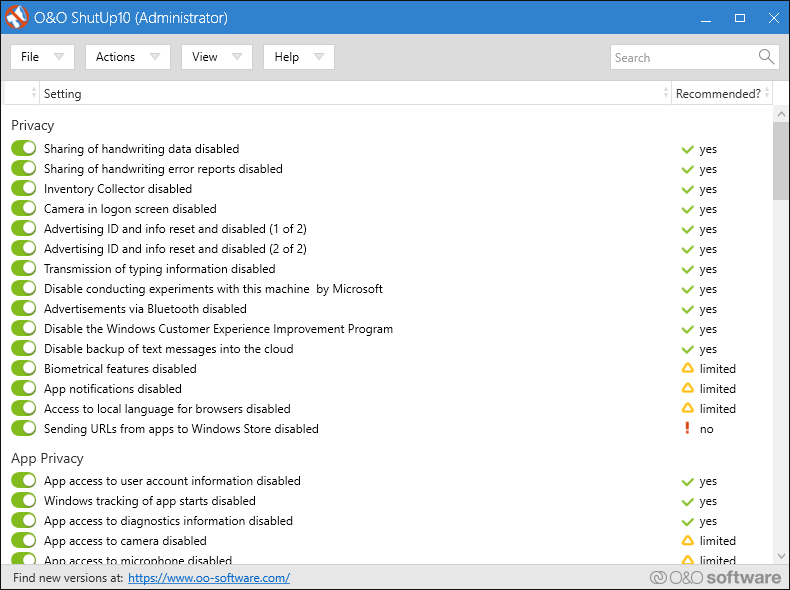 If you click on the text describing a feature, it will show you a full description of what it does so you know exactly what you are enabling or disabling. I went ahead and blocked everything except Windows Update features, Windows Defender features, and the final box, Network Connectivity.
Note: Before making any changes, ShutUp10 will suggest that you make a Restore Point in case you wish to revert back to your current settings, which is a good idea but not required.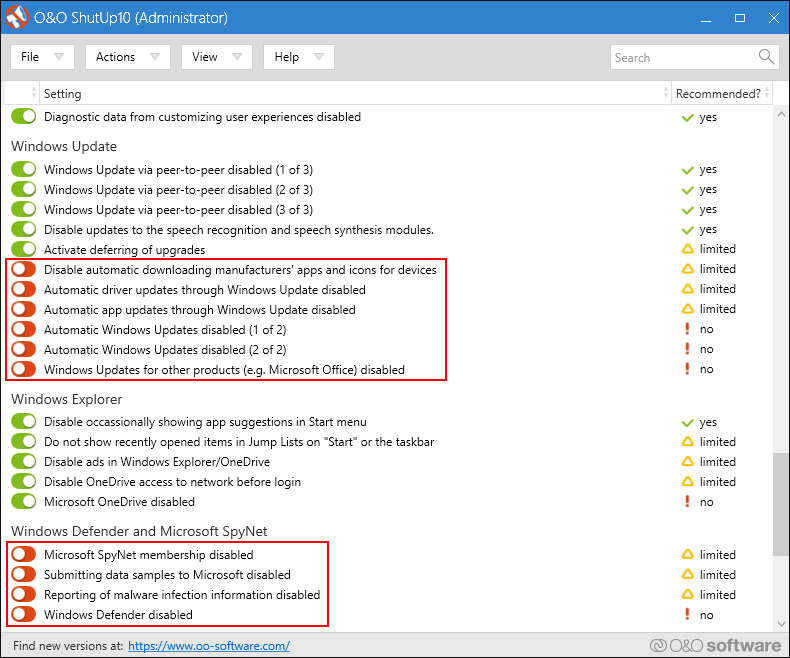 After you have made adjustments you'll have to Restart your computer for some of the changes to take effect. It's also important to take note that you will have to run the program after major Windows updates to ensure new settings haven't been added and old settings haven't been reset to default. Something that Windows has a habit of doing, especially when they move a feature from one location to another.