If your Android devices storage space is starting to run a little low because of a massive stockpile of photos and other images, it's probably time to take action and claw back some space. However, before you start deleting content, you may wish to consider compression as a space-saving alternative.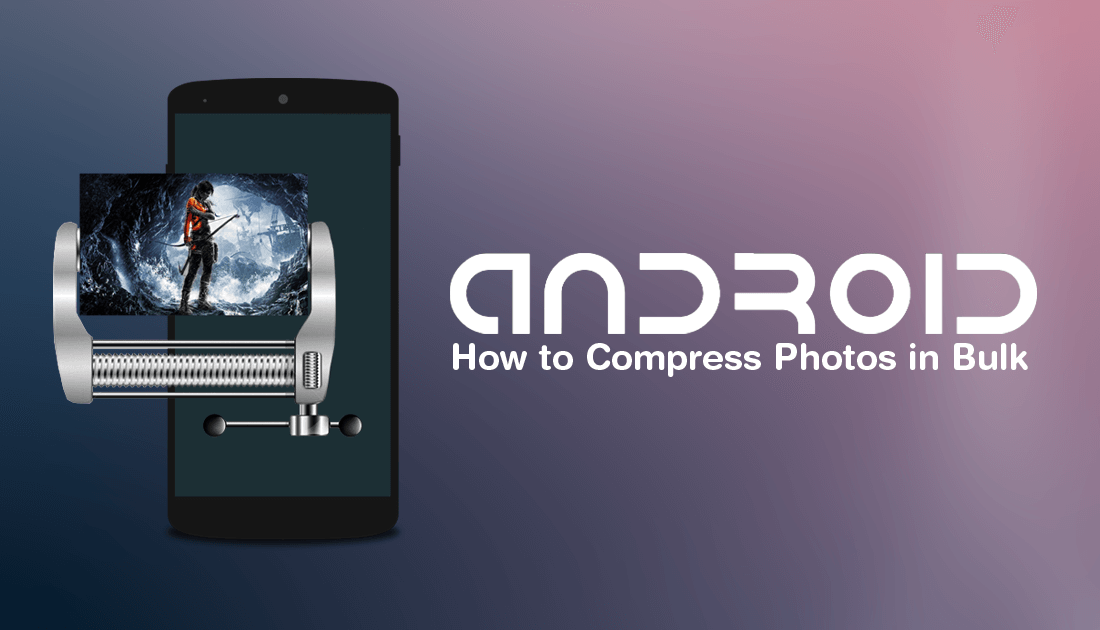 The Best Ebook Reader Available on Android Devices.
Even though phone storage space has increased considerably over the last few years, it's still a major limitation of most modern devices. As a result, users are quite often faced with tough decisions on what to erase from their devices. Typically apps will be the first to go, followed by games, then photos and videos. Although some devices allow you to add an external SD card, which is a godsend, it isn't a common feature on most devices.
As photos and images are the third biggest user of storage space on Android devices after apps and videos, they are the perfect place to start to free up space on your device. The good news is that rather than deleting images you can instead compress them. This will allow you to keep the images on your device with a reduced storage footprint.
Just like every other category on Android, there are dozens of different apps available that allow you to compress image files, some good, some bad, and some useless. So follow along as the rest of this guide reviews some of the best options available on the Play Store.
Related: How to Set Video Wallpapers on Windows 10. (Live Wallpapers on Windows 10)
Compress Photos and Images on Android Using 'Photoczip'.
First up, is Photoczip, a super easy to use, fully functional app without ads that can compress files quickly and easily. It lets you manually select the compression level and image size for output images. As well as this, it also has the ability to overwrite the original image with the newly compressed image should you choose to. You can also opt to have all files zipped and decide whether you want to keep their exif/xmp data. Finally, you can even use Photoczip to add watermarks to all compressed files. Of all the listed compression apps, Photoczip is certainly the most feature rich.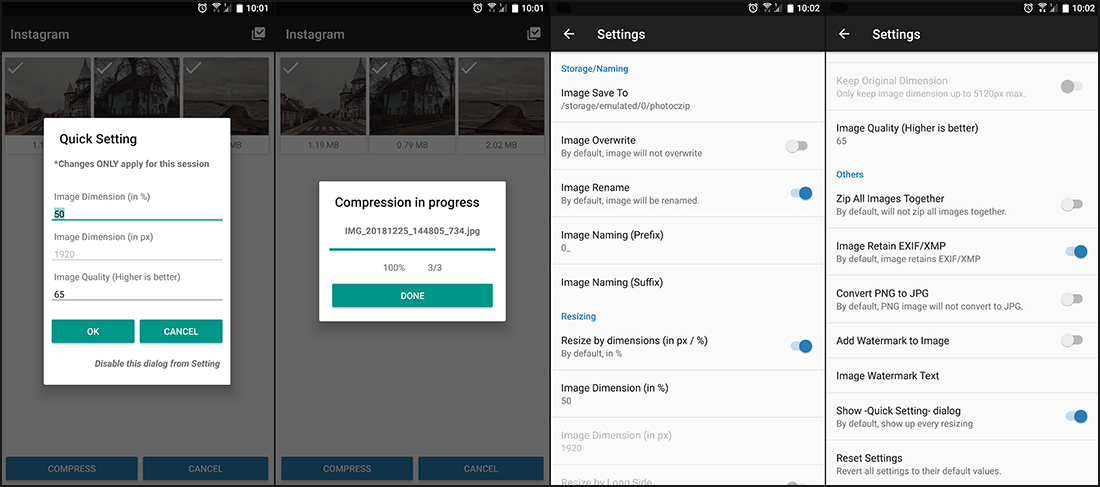 Compress Image Content on Android Using 'Photo Compress'.
Another really good Android app for compressing photos and other images is Photo Compress. It has a clean easy to follow UI (user interface) that makes the entire process a breeze. Simply select the photos you'd like to compress, select a compression amount, then confirm the process. Just like Photoczip, Photo Compress allows you to opt to overwrite the original photos from the settings menu but doesn't offer any of the other more advanced features like file zipping or watermarking. If you're just looking for compression, Photo Compress is perfect.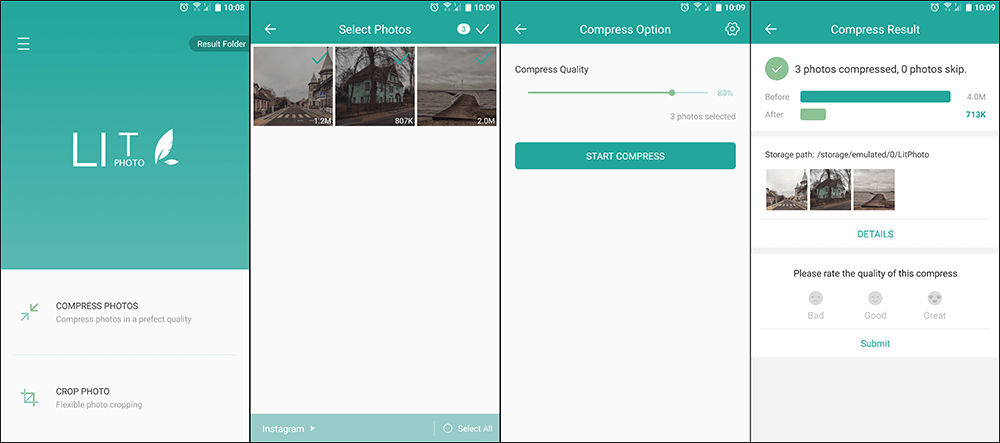 Multi Resize Compress Crop Photo in Batch PicTools.
PicTools is another decent tool you can use on Android devices to compress image files in bulk. It's full name: Multi Resize Compress Crop Photo in Batch PicTools isn't exactly user-friendly but the app is still very good. As well as compressing image files it also allows you to resize images, change image resolution, and crop and optimise content. It's somewhere between Photo Compress and Pictureczip when it comes to features.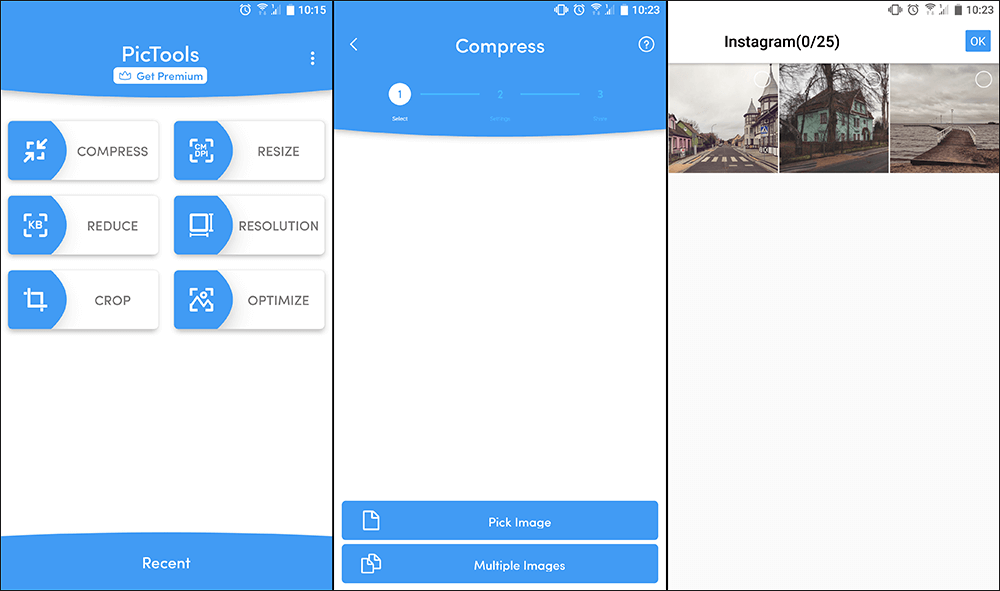 Which One Should You Use?
This is a tough call! Overall all three of these compression tools do a fantastic job of compressing files and have decent features. In the end, it will come down to what feature you need the most. If you would like to compress all your image files, then ship them off in a zip file, I'd choose Pictureczip. On the other hand, if you only need to compress and overwrite images, I'd choose Photo Compress for its minimal, efficient UI. And finally, I'd be using PicTools for quick image resizing, resolution adjustments and of course compression. At the end of the day though, you can't go wrong with any of the above image compression tools on Android devices.