If you have recently built a new computer or upgraded your current computer's existing motherboard to an Asus board that features Strix Aura RGB Lighting. This guide will show you how to stop your motherboard from cycling through its Aura RGB lighting when your computer is completely shut down, yet still connected to a power source. (Turn off Asus Motherboard Aura Lighting whilst on standby)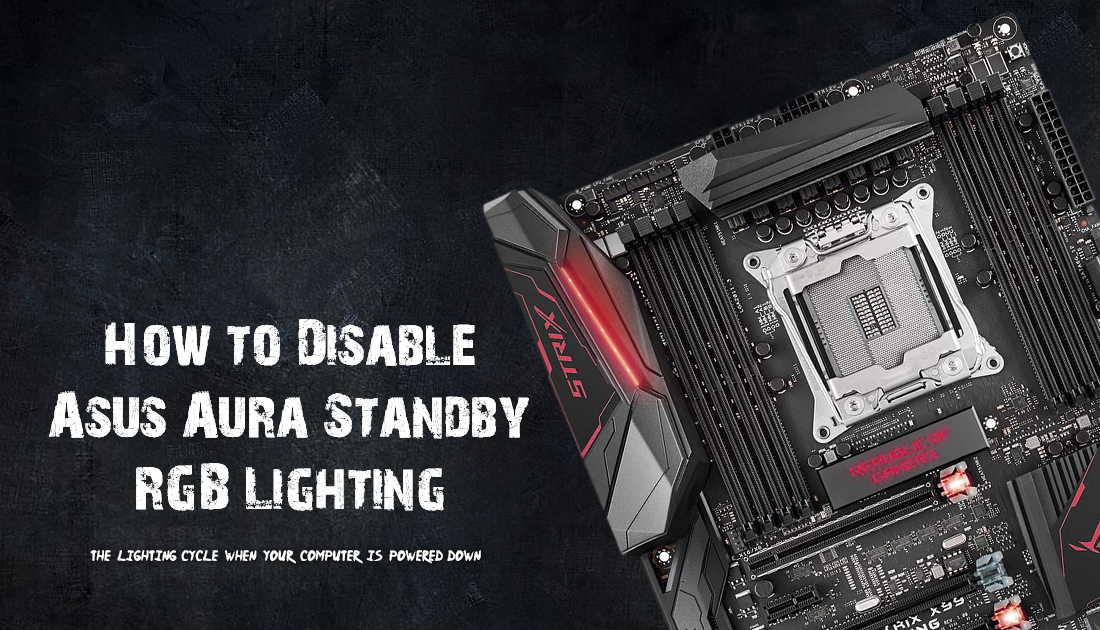 How to Uninstall/Remove Asus AI Suite III, Fan Expert III and EZ Update. 
RGB lighting is something people either love or hate. Even then those of us who love it, often have our limits. For me personally, when my computer is running, RGB lighting is great, so long as the light is static, throwing just enough ambient light to create a comfy, cool atmosphere. I find Strobing effect a little too distracting, especially when gaming. As soon as I shut my computer down though, off means off... It not only saves power, it's also easier to sleep in a dark room.
With RGB lighting really taking off in recent years, most new motherboards and graphics cards have some form lighting customization available, in the gaming sector anyway. Within this industry, one of the most prominent manufacturers of RGB lighting products is Asus, their range of ROG (Republic of Gamers) products is quite impressive. Most notably the Strix series.
How to Turn off Asus Motherboard RGB Lighting When your Computer is Shutdown.
If you have purchased an Asus motherboard and are trying to disable or customize some of the RGB features, you'll find the answer to one of the most elusive problems in this guide. How to turn off RGB lighting when your computer is powered down/shutdown.  Depending on the model of the Asus motherboard you have, will affect how you disable the lighting features, particularly the standby or powered down lighting.
If your board features ROG Aura lighting you will need to download a specific piece of software from the Asus website. (you can use the disk that came with your board if you still use a disk drive)  
You can use the below link to find the Aura software for your particular board:

Asus Republic of Gamers Motherboard Product List.
Using the above link, select your Motherboard from the list.
On the next page, click on Support in the right-hand upper section of the page.
Next, choose Drivers & Tools.
Now, select your Operating System.
Expand the Utilities section and find the Aura Download.
If you are using the Asus ROG Crosshair VI Hero you can get a direct link here. Just select your OS.
Once you have downloaded and installed the Aura software the rest of the process is quite simple. Launch the Aura program on your computer, from the main window you will see two tabs, Synchronized and Independent. Under synchronized all your connected ROG products will be listed, along with a long list of RGB lighting options. On this page, you can choose the lighting modes of each product be clicking on them individually, including specific lighting areas on each product. You can also choose to sync up lighting between each item.

To turn off the lighting for your Motherboard when it is shut down, you will need to change over to the Independent tab. On this screen you will see a different list of items, your Motherboard will be the default item. From the list on the left-hand side, you will see all the customizable lighting options you can select for your board when it's on standby mode/shutdown. To disable the lights, select Off at the very bottom of the list. To customize them select any of the other options. Whatever your choice, don't forget to click Apply to save the changes.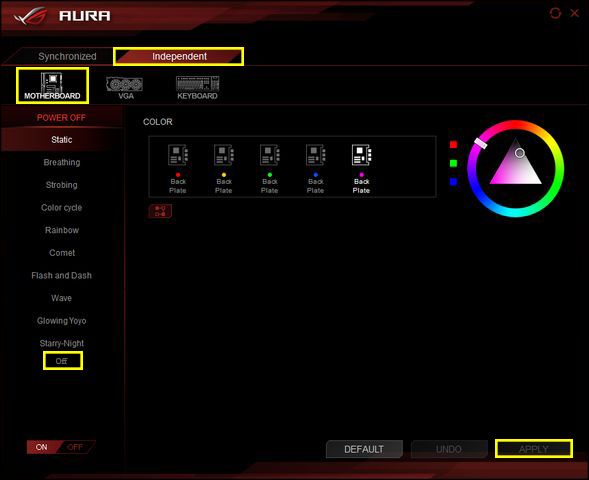 If you are like myself and a lot of other people, the first place you probably checked to disable the motherboard standby RGB lighting was the system BIOS settings. In the Asus BIOS setting there is an RGB lighting option, however, it doesn't disable the standby cycle.
You'll be happy to know that this change stays in effect even if you remove the power cord from your computer. Unlike the NZXT Kraken Cam Software, which defaults some settings back to factory as soon as power is lost. If you have any other interesting settings or tips regarding Asus ROG lighting, we'd love to hear about them in the comments section.