If you have a Windows 10 computer that is constantly crashing with Blue Screen of Death screens displaying WHEA UNCORRECTABLE ERROR (0x00000124). This article will guide you through several different troubleshooting steps you can use to prevent future crashes.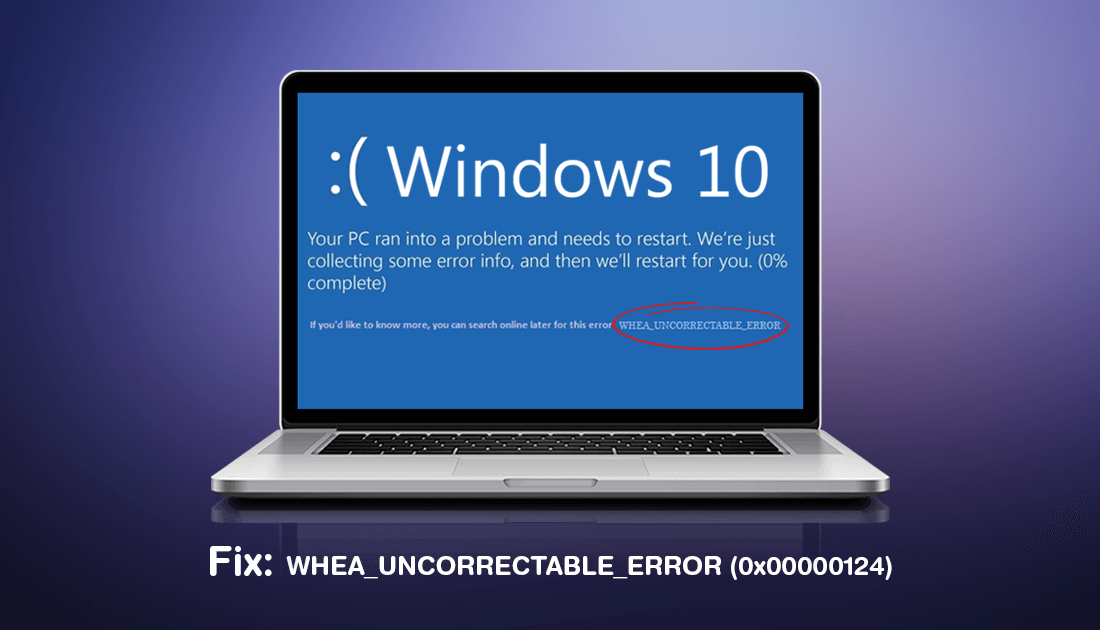 How to Stop Google Chrome Automatically Trying to Install Extensions. (Unwanted Extensions Automatically Installing on Chrome)
To kick things off, the quickest and easiest way to fix BSOD errors on Windows 10 is to use the built-in troubleshooting tool. Even though this won't guarantee a fix 100% of the time, it does have a decent track record. To find the tool open Settings go to Update & Security, select Troubleshoot in the left-hand pane, then choose BSOD in the central pane.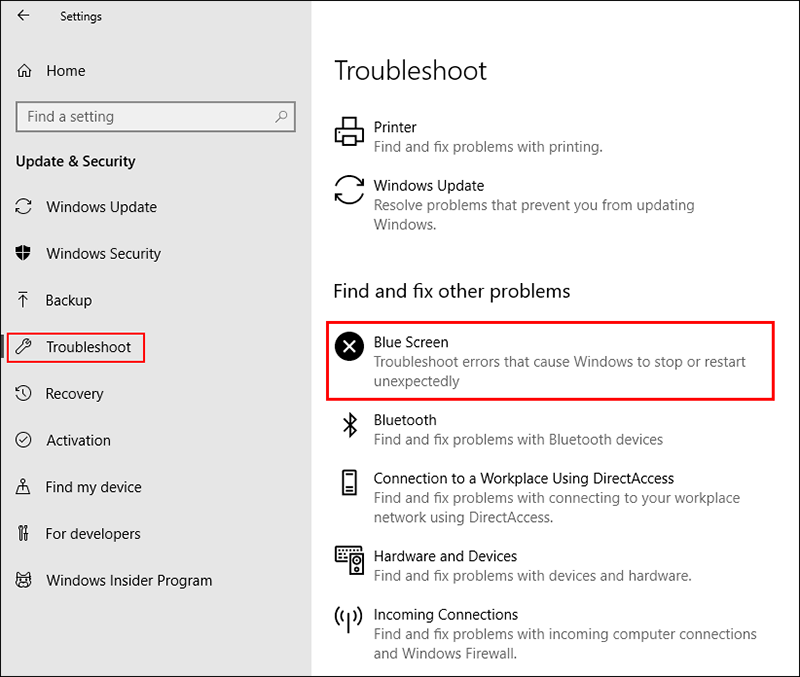 Once the tool starts it will take some time to complete its checks, so be patient. When the tool completes, follow any steps advised by Windows. If the tools results are inconclusive, proceed with the other solutions shown below.
Check Your Hardware is Connected Correctly and Disable Any Overclocking You Have Added.
If you are using a desktop PC you should make sure that all your hardware components are connected correctly, so double check everything is where it should be and installed properly. If you are using a laptop you shouldn't have to worry about this unless you have recently dropped your device. If your device has been dropped you may need to have it checked professionally. Once you have done this, you should also disable any Overclocking you may have configured.

Important: Make sure your systems cooling and airflow systems are clean and working. Vacuuming air vents regularly is something you should get in a habit of doing.
Make Sure Your Drivers Are Up to Date and Not Corrupted to Fix WHEA UNCORRECTABLE ERROR. (0x00000124) on Windows 10.
After you have run the BSOD troubleshooting tool and checked your hardware, the next thing you need to check are your systems drivers. Even though Windows 10 will automatically download and install drivers for your system, you should take the time to do this manually this time around. If you have a laptop, visit the manufacturer's website and follow the Support page to your specific model, then download all of the latest drivers for your system. If you have a custom built desktop, visit your component manufacturers support pages separately and download all the drivers you need.  
Once you have all the drivers downloaded and ready to install, open Device Manager by right-clicking the start menu and selecting Device Manager. When you have the window open, find and expand the devices you have just downloaded drivers for, then right-click on them and select Uninstall Device. When the device has been uninstalled, reinstall it using your newly downloaded drivers.
Fix WHEA UNCORRECTABLE ERROR. (0x00000124) on Windows 10 Using the 'SFC' Command.
Before starting these steps, make sure you have a backup of your data, just in case something goes wrong. The chances are low but it's always best to be safe than sorry. This is standard procedure for any repair task on Windows 10 anyway.
To begin, press the Windows Key + X to open Command Prompt (as administrator)
In the Command Prompt window type sfc /scannow, then press Enter. Now, wait for the process to finish. (which may take quite a few minutes)
If your computer is in full working order, without any corrupt or missing operating system files, the scan will show the message: Windows Resource Protection did not find any integrity violations.

Note: If sfc doesn't find any errors proceed to the next solution, skipping the 3 dot points below.
If the sfc check does find problems the message will show as: Windows Resource Protection found corrupt files but was unable to fix some of them. If this is the message you receive, continue with the next bullet point.
To start, boot your computer into Safe Mode. If you are running Windows 7 or older, Restart your computer and continuously press F8. The advanced boot menu will display when it boots. Select Safe Mode with Command Prompt and press Enter. If you are using Windows 8 or 10, you will need to use a different method which can be found here: Advanced Startup options for Windows 8 and 10.
Once have booted into Safe Mode, open Command Prompt (as admin) again and run the: sfc /scannow command another time. This will repair corrupted Windows system files.
Run the Windows 10 Memory Diagnostic Tool to Fix WHEA UNCORRECTABLE ERROR. (0x00000124) on Windows 10.
As error WHEA UNCORRECTABLE ERROR (0x00000124) on Windows 10 can sometimes be caused by a memory/ram issue, it's also a good idea to check your ram. To do this type mdsched into the start menu, then select Windows Memory Diagnostic when it appears. From the options, list choose to Restart Now and follow the prompts given by Windows during your next system boot.