If you have recently purchased Cyberpunk Pantom Liberty and are having problems with it crashing there's a good chance it's because of the new hardware requirements. So make sure your system meets the new requirements then jump into the steps shown in this guide to solve Cyberpunk Phantom Liberty crashing.
Related: How to Fix Epic Games Launcher Stuck on - Please wait while we start your update
Cyberpunk was one of the most anticipated games of all time only to flop on launch to become one of the biggest video game release fails of all time. Fast forward a few years and a lot of patches Cyberpunk is one of the best games getting around. It's finally in the state that it should have been in when it was originally released… The only problem with all of this progress is that the goalposts have moved… What do we mean by that? Well, the game's hardware requirements have changed.
This is one of the primary reasons Phantom Liberty might be crashing on your computer so check through the list of OLD and NEW hardware requirements below then work your way through the troubleshooting steps if you meet the new minimum spec requirements.
OLD CYBERPUNK RECOMMENDED HARDWARE
Requires a 64-bit processor and operating system
OS: Windows 10
Processor: Intel Core i7-4790 or AMD Ryzen 3 3200G
Memory: 12 GB RAM
Graphics: GTX 1060 6GB / GTX 1660 Super or Radeon RX 590
DirectX: Version 12
Storage: 70 GB available space
Additional Notes: SSD recommended.
NEW CYBERPUNK RECOMMENDED HARDWARE
Requires a 64-bit processor and operating system
OS: Windows 10
Processor: Intel Core i7-12700 or AMD Ryzen 7 7800X
Memory: 16 GB RAM
Graphics: GTX 2060 SUPER or Radeon RX 5700XT OR Arc A770
DirectX: Version 12
Storage: 70 GB available space
Drive Type: SSD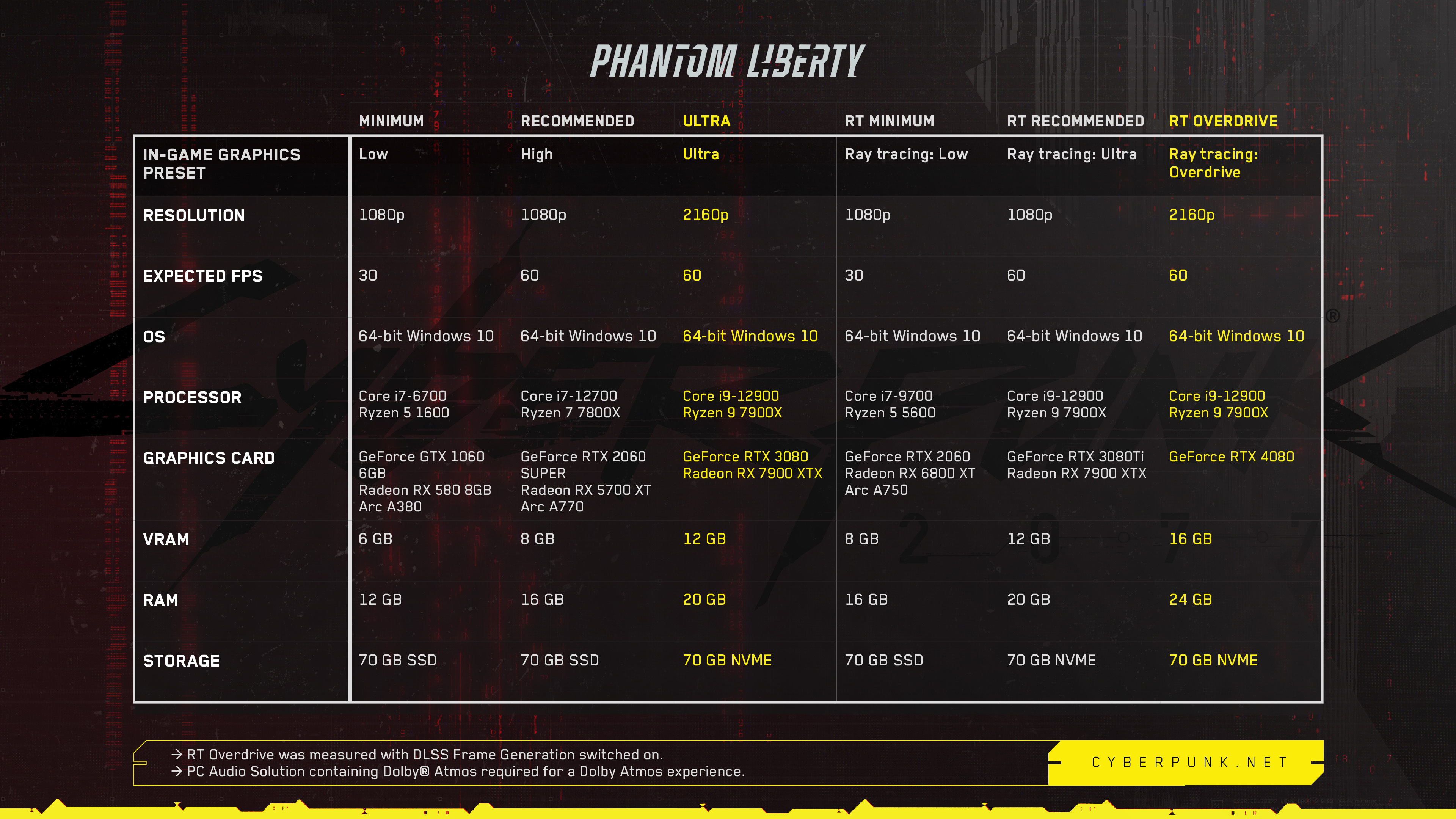 Make sure you have disabled all of your Cyberpunk Mods.
Since Phantom Liberty is an entirely new DLC for Cyberpunk and Cyberpunk has also undergone a massive patch/overhaul, you will need to disable all of your current mods. If you don't do this those mods are going to break the game and cause it to crash. You will probably have to wait a considerable amount of time before these mods are updated to work with Phantom Liberty. Sadly some of them may not ever be updated.
How do you stop Cyberpunk Phantom Liberty Crashing on Windows 11? Cyberpunk Phantom Liberty Crashing fixes.
Don't just uninstall and reinstall your drivers using the standard procedure, use Display Driver Uninstaller. DDU is the go-to software for nearly all graphical issues for both NVIDIA and AMD products.
First, download DDU Display Driver Uninstaller
Before you use DDU, make sure you have downloaded the latest graphics drivers from your computer or graphics card manufacturer's website (usually the support page). You can find the NVIDIA catalogue here. And the AMD catalogue is here.
Once you have done this, turn off your Internet connection and run DDU. Make sure that you enable the tick box next to Remove GeForce Experience (GFE) when it appears. This is important.
After a system restart, install the driver software and enable your internet connection again.
This will make sure that Windows doesn't try to install a generic driver in the background.
Once you have reinstalled GeForce Experience you'll be able to update your graphics/video drivers without any issues. If the problem returns just repeat the process again.
Disable or Reconfigure your Overclock Settings to stop Phantom Liberty from crashing.
If you are running an Overclock on your computer this is the first thing you need to disable. Once you have disabled it, check to see if Cyberpunk Phantom Liberty stops crashing. Start with your GPU overclock, then check your CPU overlock, followed by any RAM overclocking. If this does solve your crashing problem, you may need to reevaluate your overclock settings.
Lower your in-game graphics settings, then build them back up slowly.
Another very good fix is to lower your Cyberpunk Phantom Liberty in-game graphics settings. Start from the absolute lowest settings (use the resolution you want don't change this) Then slowly work your way up to higher graphical settings until you find the sweet spot where the game stops crashing.
Wait for the game to be updated/patched and optimised like it should have been before release.
Games release so poorly these days I'm surprised people still pre-order them and jump on first-day releases. 90% of games that get released these days are a hot mess on launch, yet gamers pay top dollar for the experience. In reality, you're better off waiting a couple of months for the issues to be fixed and potentially even picking the game up on sale.