If you have recently updated Microsoft Edge Chromium or Google Chrome to version 78 or newer and have Endpoint Protection enabled. This article will show you how to fix the issue causing Google Chrome and Microsoft Chromium to crash showing "Aw, Snap! Something went wrong while displaying this webpage." after updating to version 78 or newer.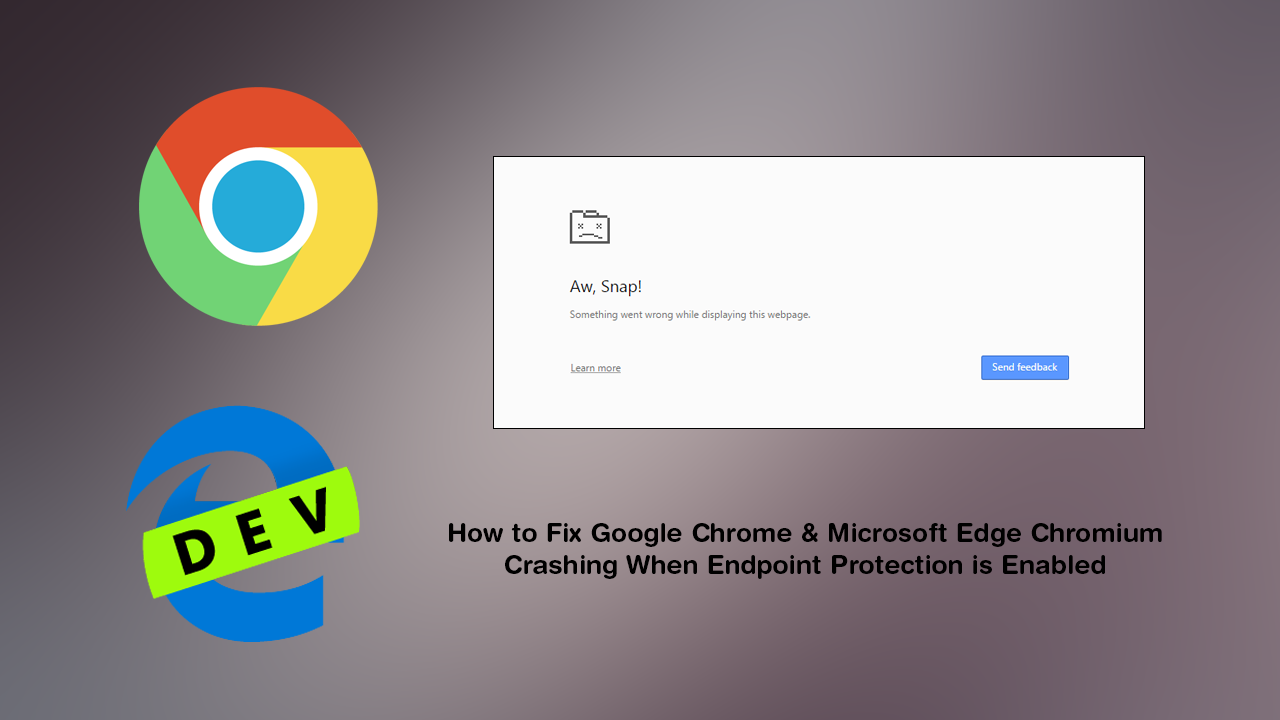 How to Screen Share From Facebook Messenger. (Share Your Phone Screen From Facebook Messenger)
Google Chrome version 79 has been one of the most problematic versions of Chrome released to date, with two major issues plaguing the latest update. The first of the issues discovered in version 79 had the potential to cause data loss from user accounts, wiping years of stored data from thousands of users. The other issue discovered thankfully isn't as bad but can be super annoying as it causes the browser to constantly crash displaying the following error message: 'Aw, Snap! Something went wrong while displaying this webpage.' Microsoft Edge Chromium users will see: 'Page Cannot be displayed.'
Although there is yet to be a solution for the data loss issue you can quickly and easily fix the crashing problem using a couple of different methods, so follow along as we guide you through the process. 
Chrome and Edge Chromium Versions Affected
Google Chrome 78.0.x (October 2019)
Google Chrome 79.0.x (December 2019)
Microsoft Edge Chromium 78.0.x
Microsoft Edge Chromium 79.0.x
Windows Server 2016 and Windows 10 RS1 with any version of SEP installed.
Any Windows OS with a SEP version older than 14.2 installed.
Related: How to Make Files and Folders Undeletable on Windows 10. (Prevent Files From Being Deleted on Windows 10)
How Do You Stop Google Chrome Crashing After Updating to Version 79? Chrome Crashing When Endpoint Protection is Enabled?
The quickest and easiest way to prevent Chrome or Edge Chromium Crashing after updating to version 78 or 79 is to update Symantec Endpoint Protection to version 14.2.x to address the incompatibility with Chrome on Windows 10 Creators Update, version 1703 or later and Windows Server 2019. 
If you are using any of the following operating systems: 
Windows 10 Anniversary Update, version 1607
Windows 10 Enterprise 2016 LTSC
Windows Server 2016
You'll need to head on over to the Symantec website and follow the configuration guide which will update Symantec Endpoint Protection to provide Code Integrity support for your system.
What if You Can't update your SEP or Operating System? 
If you can't update to fix the issue, you can disable Code Integrity within Chromes advanced options. This can be done by adding the following text to the end of the Target box for your Chrome shortcut --disable-features=RendererCodeIntegrity Once added click Apply > Ok, then use this shortcut to launch Chrome.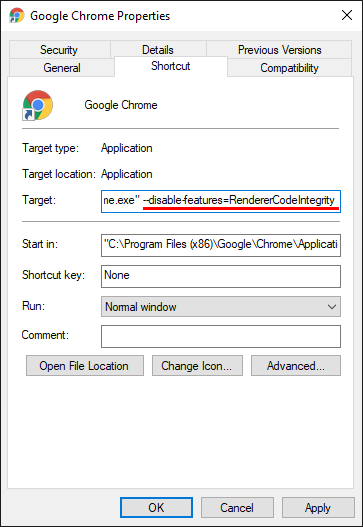 Alternatively, you can also make the following change in the Windows 10 Registry. Just make sure you create a system restore point before you do so, a backup if you make a mistake. To begin, open the registry editor by searching regedit from the Start menu and selecting the option when it appears. When the Registry Editor appears, go to the following address:
HKEY_LOCAL_MACHINE\SOFTWARE\Policies\Google\Chrome
When you get to this location change the Value of RendererCodeIntegrityEnabled to 0 by double-clicking on it. If you don't see RendererCodeIntegrityEnabled in the location, right-click, select New > DWORD (32-bit) and name the entry RendererCodeIntegrityEnabled. Once created, simply double-click on it and change the Value to 0. Now all you have to do is Restart your computer and the change will take effect.