If you are using Windows 10 or 11 and are trying to use Microsoft Defender 'aka Windows Dender' but are getting the following error message - - Security Intelligence version 0.0.0.0. This article will guide you through several different fixes you can use to solve the problem on Windows 10 and 11.
Related: How to update your HP computer BIOS. HP BIOS update for CVE-2021-3808 and CVE-2021-3809.
Of all the components that are included within Windows 10 and 11 Microsoft Defender 'aka Windows Defender' is the most stable and reliable. And so it should be! It's the most important part of the operating system. Although it is super reliable and practically never fails, there are one of two issues that do come and go from time to time. The most common being Security Intelligence version 0.0.0.0.
Most people who get this error message receive it when they are trying to update antivirus definitions. It usually appears as "Security Intelligence version 0.0.0.0." and repeats in a regular cycle. The good news is that there are quite a few different ways you can solve this problem. Though not all of them are ideal. So work your way down the list trying each solution. We've listed them in order of ease.
How do you fix Microsoft Defender error - Security Intelligence version 0.0.0.0. Windows Defender error- Security Intelligence version 0.0.0.0.
The first option you can try to solve this error message is to reset Microsoft Defender.
Right-click on Start and select PowerShell (Admin) and accept the security prompt when it appears.
In the new window, copy and paste the following command and press Enter.
Get-AppxPackage Microsoft.SecHealthUI -AllUsers | Reset-AppxPackage
Once the process completes, restart your computer and see if the issue is fixed.
Fix it using the SFC Scannow command.
You can also try using the Windows SFC command.
First type CMD into the Start menu then right-click Command Prompt and choose Run as administrator.
When you have Command Prompt open type the following command into Command Prompt and press Enter.

It may take some time to complete so be patient. If any errors are found they should be repaired automatically. If it doesn't complete properly Restart your computer in Safe Mode and repeat the process.
Fix it using the DISM tool.
If the SFC tool returned an error message, open Command Prompt as Administrator, then enter the following commands in order.
DISM /Online /Cleanup-Image /CheckHealth
DISM /Online /Cleanup-Image /ScanHealth
DISM /Online /Cleanup-Image /RestoreHealth

After a system Restart, everything should be back in working order.
Manually Update Windows 11 using the Microsoft Update Catalog.
Another good option you can use to get past this error message is to use the manual update catalogue. This allows you to find and download Windows 11 updates separately and install them as individual updates rather than letting Windows do it on its own. To do this simply visit the Microsoft Update Catalog and search for the update number you are trying to download. KB24233499 for example.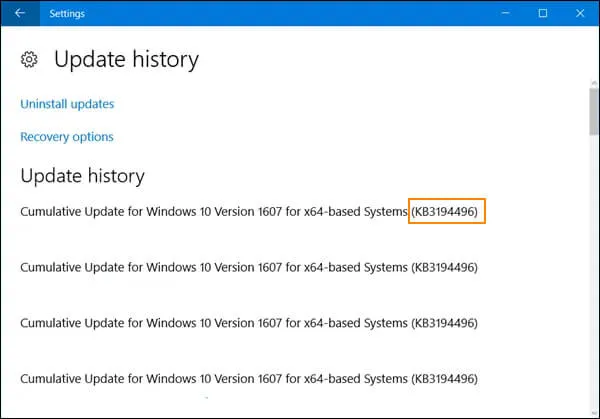 Uninstall the last Windows update.
If you recently had a Windows 11 update and suspect it may be the cause of this error you can uninstall that update and try to install the latest update instead. This is quite a common fix for a lot of Windows 11 problems.
How to uninstall a bad Windows 11 update. Rollback a Windows 11 update.