Learn how to fix Windows 10 errors: 'STOP 0XC000021A' and 'STATUS_SYSTEM_PROCESS_TERMINATED' two common Windows 10 errors that are often linked to corrupted system files preventing your system from running stable.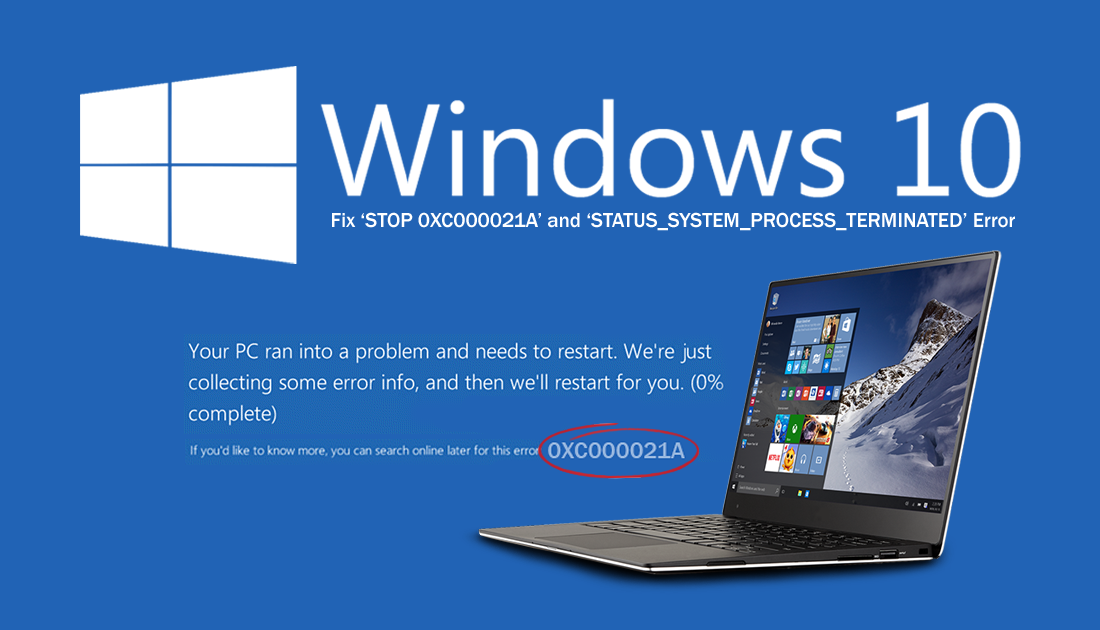 How to Shoot and Identify Food With Your Camera to Get Recipe Ideas on Android and iOS.
Windows 10 is one of the most updated operating systems on the market, barely a day goes by where there isn't some form of update being pushed out. Although a good portion of these updates are for Windows Defenders virus and malware database, there are still quite a few updates that are intended to fix annoying bugs and errors.
That being said, not all errors can be easily patched or fixed, especially ones that may quite often be user caused. Two classic examples of these kind of errors are error 'STOP 0XC000021A' and 'STATUS_SYSTEM_PROCESS_TERMINATED'. The good news is that although these two errors may be plaguing your system, there are a few things you can do to try to fix them.    
How Do You Fix 'STATUS_SYSTEM_PROCESS_TERMINATED' and 'STOP 0XC000021A' on Windows 10?
To begin, there are a few simple steps that you should always take if you suddenly start getting a new error message. First, make sure you have scanned your entire computer for viruses and malware. Then uninstall any new programs or apps that you may have installed just before the issues started. If this doesn't fix the issue you can Restore Your Computer to a slightly earlier time.
To do this type Restore into the start menu, then select the recovery option when it appears on the list. Next click Open System Restore, choose one of the two options on the system restore window. Recommended Restore will use your most recent restore point, however, you may wish to manually choose a point from earlier, if so, choose the second option then follow the system instructions.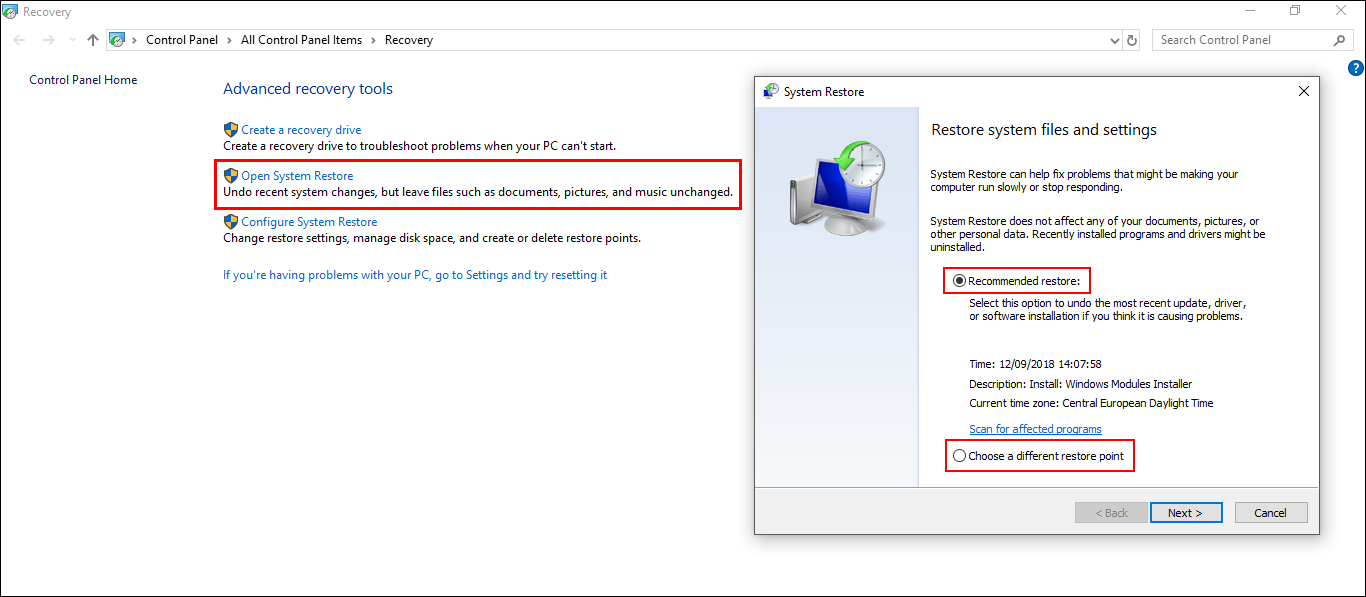 When the system restore process has finished, you should no longer receive STATUS_SYSTEM_PROCESS_TERMINATED' and 'STOP 0XC000021A' If this doesn't stop the error messages, please continue with some of the more advanced solutions below.
Fix 'STATUS_SYSTEM_PROCESS_TERMINATED' and 'STOP 0XC000021A' Using the SFC Command.
Before starting these steps, make sure you have a backup of your data, in case something goes wrong. This is standard procedure for any repair task on Windows.
To start, press Windows Key + X and open Command Prompt (as administrator)
In the Command Prompt window type sfc /scannow, then press Enter. Now wait for the process to finish. (it may take a while)
If your PC is in full working order, without any corrupt or missing system files, the scan will show the message: Windows Resource Protection did not find any integrity violations.

Note: If sfc doesn't find any errors proceed to the next solution, skipping the 3 dot points below.
If there are problems the message will be: Windows Resource Protection found corrupt files but was unable to fix some of them. If this is the message you receive, continue with next bullet point.
Boot your computer into safe mode. If you are running Windows 7 or older, restart your computer and continuously press F8. The Advanced boot will display when it boots. Select Safe Mode with command prompt and press Enter. If you are using Windows 8 or 10 you will need to use a different method which can be found here: Advanced Startup options for Windows 8 and 10.
Once you are booted into Safe Mode, open Command Prompt as admin again and run the: sfc /scannow command another time. This will repair corrupted Windows system files.
Fix 'STATUS_SYSTEM_PROCESS_TERMINATED' and 'STOP 0XC000021A' By Rebuilding BCD and Fix MBR
Another solution to fix both of these error codes is to rebuild/repair your Master Boot Record (MBR) / Boot Configuration Data (BCD) These are the components that allow Windows to find your operating system and boot Windows normally, without any errors.
How to Fix/Repair Master Boot Record (MBR) on Windows 10.
Fix 'STATUS_SYSTEM_PROCESS_TERMINATED' and 'STOP 0XC000021A' By Running chkdsk.
Although this is a bit of a long shot you can run the Windows chkdsk tool to check if there are any disk issues. To run chkdsk, open Command Prompt (as admin) then enter the following command.
What if None of the Above Works?
Unfortunately, if none of the above works, you may have to resort to reinstalling a clean copy of Windows 10. The quickest and easiest way is to do a clean install of the operating system using the Keep my Files option.