If you are using OneDrive and have it set up to sync all of your data between your local PC and the cloud. This article will show you how to deal with a common error with OneDrive sync. OneDrive sync Pending error is a very common OneDrive error that has a range of different troubleshooting steps available.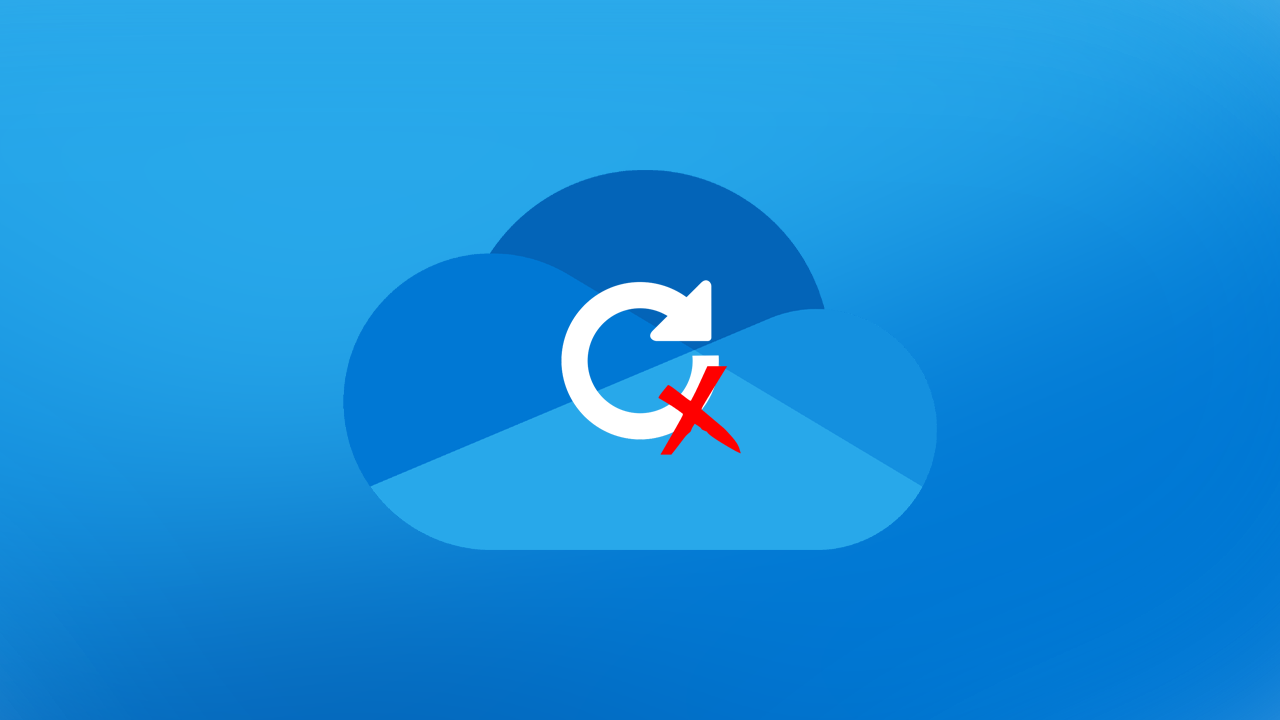 Related: How to fix OneDrive cloud sync error 0x8007017F.
OneDrive's sync feature is one of the most used features of the built-in cloud storage system on Windows 10 & 11. It can be automated to automatically sync specific files between local devices and the cloud. Unfortunately, it does occasionally suffer from sync issues, especially on Windows 11. Essentially OneDrive sync will freeze and get stuck with a Sync Pending status.
The good news is that OneDrive Sync Pending can be solved relatively easy using a variety of different solutions. As with most tech fixes, you'll need to work your way through the list until you find the one that solves the problem. Before you start the steps shown below make sure that you have restarted your Internet router/modem and your computer. If the problem still persists after doing both, please start the steps shown below.
How do you fix OneDrive Sync Pending error on Windows 10 & 11? OneDrive Sync Pending solution.
The first and most simple thing to do if you are having Sync Pending problems is to close the file that you are trying to sync (if you have it open). If you have a Word doc open save it and close Word. If you have a video file open close it and the app you were viewing it in. Once you have closed the content everywhere, OneDrive will be able to sync the file without any issues.
Pause & Unpause sync in OneDrive.
Another quick fix is to manually pause and unpause OneDrive sync. If you aren't sure how to do this the steps are shown below.
First, click the OneDrive icon on the Taskbar, then click the Gear icon in the top right corner.
Now click Pause syncing in the context menu.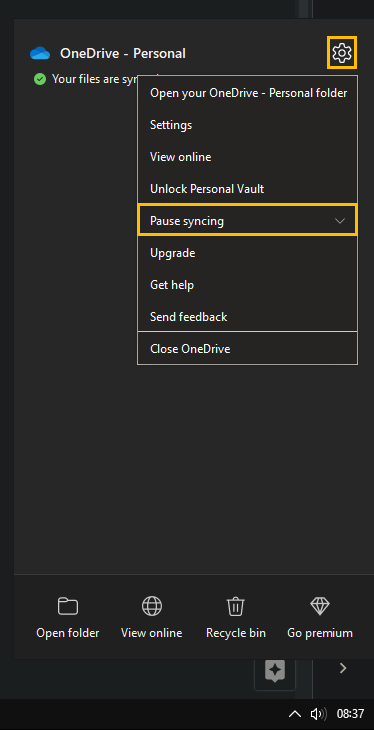 Once everything is paused, restart your system, then open OneDrive again and click Resume syncing.

Change OneDrive Sync Settings.
Disable and enable Sync from OneDrive settings to reset the way sync works on your device.
Open OneDrive from Taskbar,then click the Gear icon and choose Settings.
Now change to the Settings tab and Uncheck the Automatically pause sync when this device is in the battery saver mode (This option is found on laptops/portable devices only).Do the same for Automatically pause sync when this device is on a metered network.
Click Ok to save the changes, then restart your computer.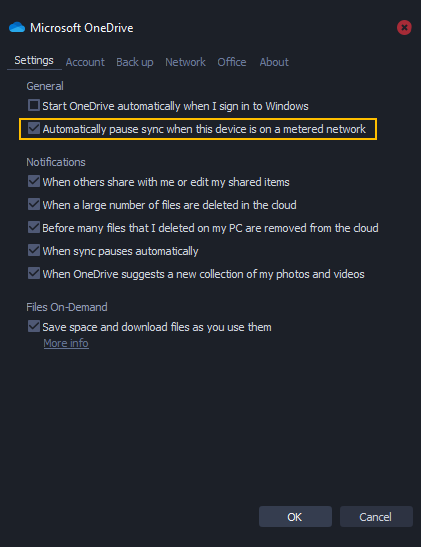 Try Disabling Files On-Demand to fix OneDrive Sync Pending problems.
Another option is to disable the Files On-Demand feature in OneDrive.
Open OneDrive from Taskbar, then click the Gear icon and choose Settings.
Now change to the Settings tab and Uncheck the Save space and download files as you use them checkbox near the bottom of the Settings window.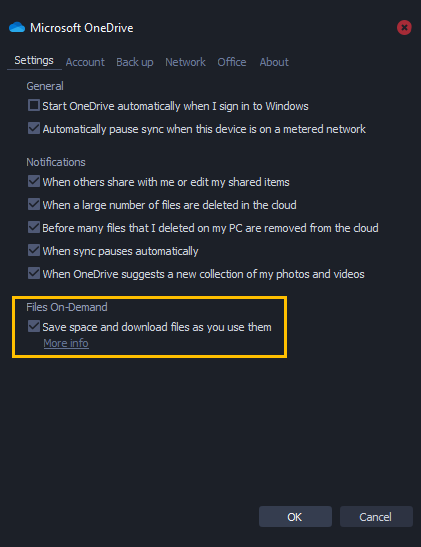 Check for Windows updates.
Another decent fix is to check for Windows updates. If Microsoft has found and fixed the bug causing this issue an update will solve the problem.
Press the Windows Key + I to open Settings.
Once you have Settings open, click Windows Update at the bottom of the left-hand column.
Now, click Check for updates and wait for the update process to complete. If updates are available, Windows will download and install them. With some luck, the latest update may solve this problem for you.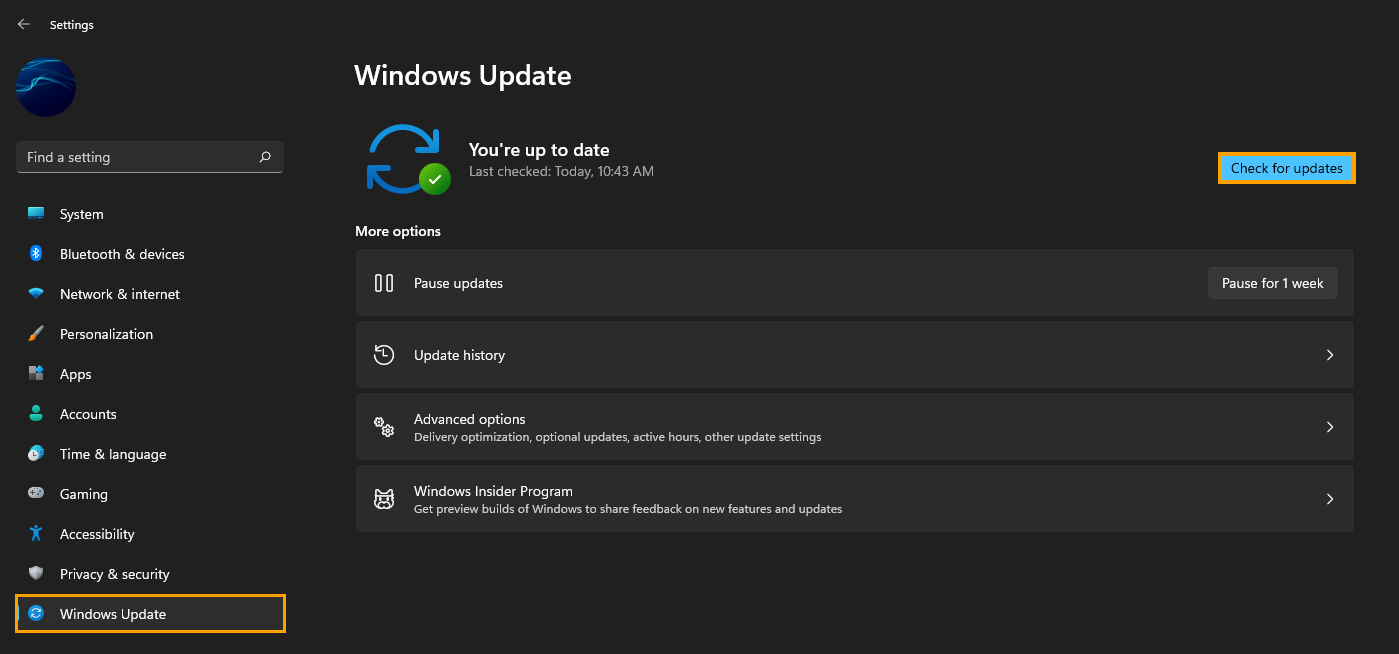 Uninstall and Reinstall OneDrive on your device.
Finally, if nothing so far has worked, just uninstall and reinstall OneDrive on your computer and you'll be able to start using OneDrive without Sync Pending errors.