If you are a Windows 10 user who is trying to update to the latest version but repeatedly keep seeing error 80244019. This article will guide you through the process of fixing the issue, following some simple, standard Windows procedures.
How to Unsend Messages in Facebook Messenger. (Delete Sent Facebook Messages)
Windows 10 has a massive collection of bugs and error messages it can and will throw at you when given the chance. Sady Windows Updates are still one of the most error-prone components of the operating system, barely an update goes by without an error message of some kind to accompany it.
The latest error code to rear its head is error 80244019 and although it isn't all that common, it can be hard to get rid of. Thankfully when you know the cause, fixing it is pretty easy, so follow along as the rest of this article takes you through a range of different troubleshooting steps.
Before you begin some of the more advanced steps shown below make sure you have performed a full system scan for malware and viruses. Once you have eliminated these as the potential causes, feel free to move onto the next set of potential fixes. You should also try to update Windows with your VPN and Proxies disabled.
Related: How to Remove the Date From the Windows 10 Taskbar Clock. (Show Only Time)
How Do You Fix Windows 10 Update Error 80244019?
Standard procedure on Windows 10 when encountering an update error is to run the Windows Troubleshooter Tool. This tool has been specifically designed to fix update errors like 80244019. To run the Windows 10 Troubleshooter, open Settings, then go to Update & Security and click on Troubleshoot in the left-hand pane. Now click Windows Update, then click Run the Troubleshooter.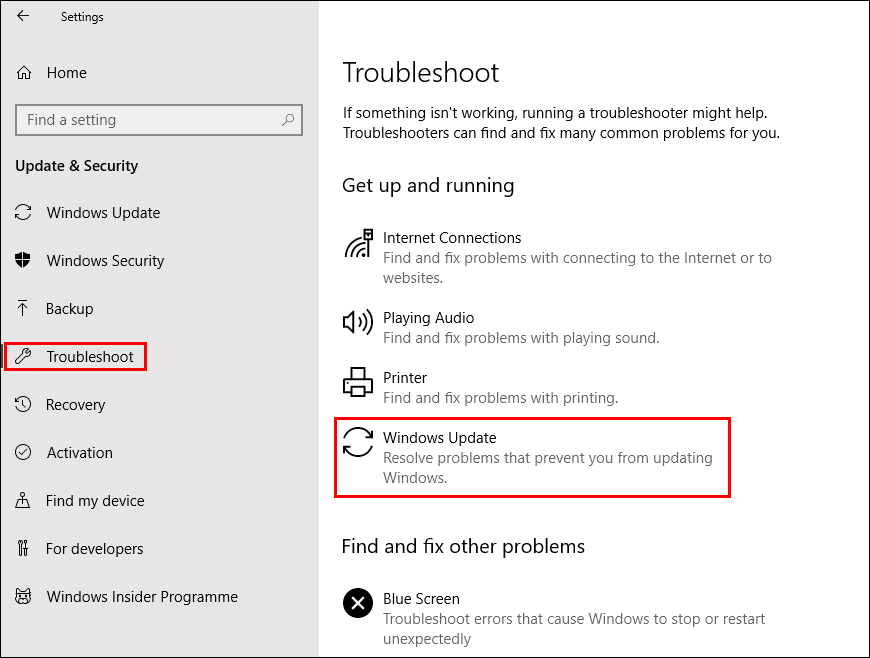 Windows will now spend some time checking your system for anything that may be causing error 80244019. If the tool finds any problems, it will try to fix them automatically. If the problem/s can't be fixed, you'll be notified and need to continue with the steps shown below.
Restart Update Related Services to Fix Windows 10 Update Error 80244019.
To begin open Command Prompt as Admin, then copy and paste the following commands into the Command window.
Once each of the above commands has finished running, all Windows Update Services will be stopped, allowing you to restart them and reset the process. To do this, enter the following commands.
When these commands finish running, close Command Prompt and try to update Windows. Hopefully, error 80244019 will now be gone. If it isn't, you can try to manually update Windows 10 using Microsoft's update catalogue.
Fix Update Error 80244019 By Manually Updating Windows 10.
If none of the above has helped, you can manually force an update using Microsoft's official update catalogue here. Simply take note of the version KB code for the failed update that is causing error 80244019 and find it using the catalogue. Once you find it, match it to your version of Windows 10, then download and install it. I've had quite a few random update error messages from Windows 10 over the years and a forced manual update using the Microsoft update catalogue hasn't failed me yet.