If you have updated your computer or surface device to Windows 11 but keep getting error 0x800704f1. This article will show you several different troubleshooting steps you can use that should solve the problem and get rid of Windows 11 update error 0x800704f1.
Related: How to fix Protection definition update failed error 2147023293 on Windows 11.
Windows update errors have been around for a long time and are some of the most annoying errors that currently appear on WIndows 11. They seem to randomly occur, don't offer much information as to why they have occurred, and are equally as annoying to get rid of. Which is pretty much everything we have been experiencing since Windows 7 and earlier.
Thankfully, nearly all the traditional troubleshooting steps and solutions that you've used over the past decade still work to solve these issues. Before you jump into the suggestions shown below, make sure you have restarted your router/modem and have restarted your computer. It's also a good idea to try updating Windows 11 without a VPN or Proxy enabled, occasionally these cause issues. Once you've done all of those, continue below.
Run the Windows Update Troubleshooter to fix update error 0x800704f1.
Unlike on Windows10 the Windows Update Troubleshooter on Windows 11 actually helps solves problems. So it's the obvious first choice when dealing with error 0x800704f1.
Open the Settings app by pressing Windows Key + I.
Next, stay on the System tab and click Troubleshooting from the central pane.
Here you will see a long list of troubleshooting options, however, the one you are looking for is near the top called Windows Update.
Simply click Run next to this entry and follow the steps shown by the tool.
After the tool completes its checks and fixes, you should be able to update your device.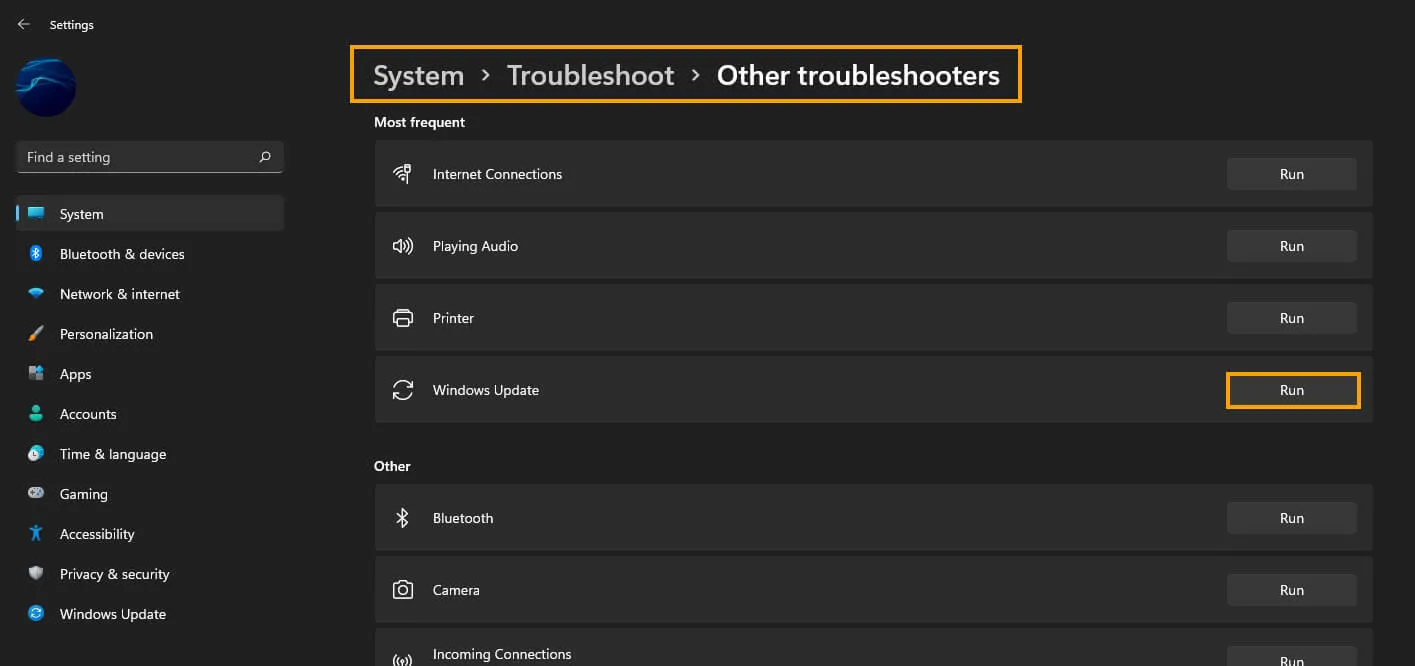 Try running the Windows SFC command.
First type CMD into the Start menu then right-click Command Prompt and choose Run as administrator.
When you have Command Prompt open type the following command into Command Prompt and press Enter.

It may take some time to complete so be patient. If any errors are found they should be repaired automatically. If it doesn't complete properly Restart your computer in Safe Mode and repeat the process.
Fix Microsoft Store error 0x800704f1 on Windows 11 using the DISM tool.
If the SFC tool returned an error message, open Command Prompt as Administrator, then enter the following commands in order.
DISM /Online /Cleanup-Image /CheckHealth
DISM /Online /Cleanup-Image /ScanHealth
DISM /Online /Cleanup-Image /RestoreHealth

Uninstall the last update. (Not always an option)
If you have only just updated your computer, you can still uninstall the last update and go back to a version of Windows 11 that doesn't have browser lag issues. If you haven't uninstalled a Windows 11 update before, check out the guide below.
How to uninstall a bad Windows 11 update. Rollback a Windows 11 update.
Manually Update Windows 11 using the Microsoft Update Catalog.
Another good option you can use to get past this error message is to use the Windows update catalogue. This allows you to find and download Windows 11 updates separately and install them as individual updates rather than letting Windows do it on its own. To do this simply visit the Microsoft Update Catalog and search for the update number you are trying to download. Kb2562397 for example.