Auto-reply messages have been around for quite some time, allowing you to configure your devices to automatically reply with preset messages. Although previous systems for auto-replying were generic and didn't offer much in the way of explanation, Google's new app called 'Reply' aims to make things a little more interesting with automatic replies based the content of incoming messages.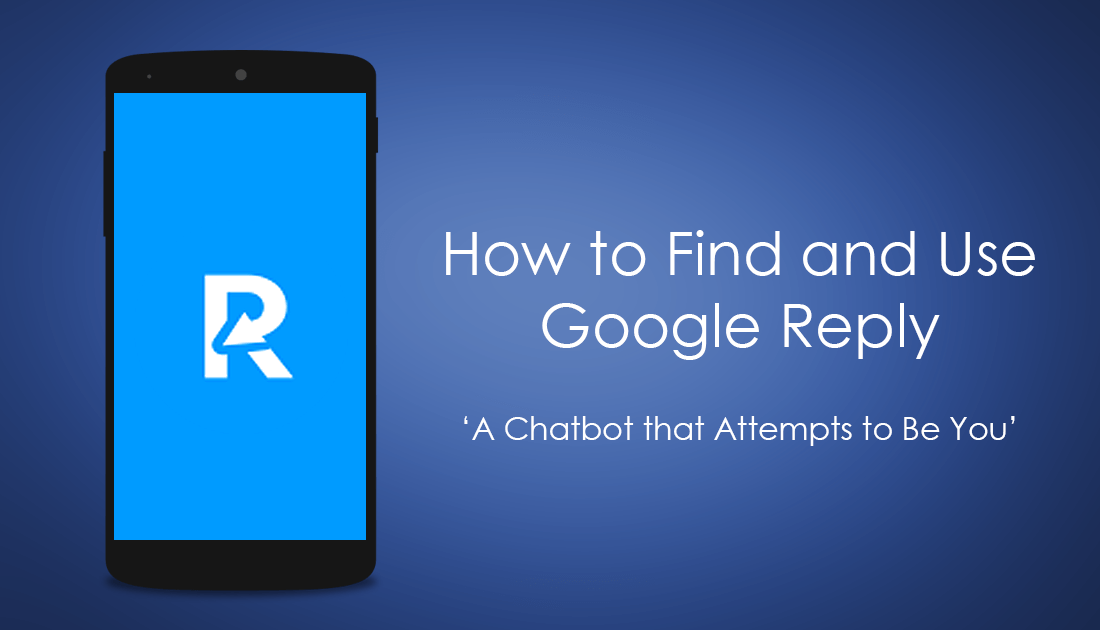 How to Prevent Wallpaper Changes on Windows 10.
If you have used any automatic reply apps or programs in the past, you will know they all require you to set pre-programmed responses which are sent to all incoming messages, regardless of their content. With Google Reply, however, things are looking to change, with chatbots taking over the task of replying. Google Reply reads the contents of incoming text-based messages from apps such as Facebook Messenger, WhatsApp, standard text apps and several other popular text-based messaging apps.
Once the Reply chatbot establishes the context of a message it will offer several replies which you can tap to send quickly and easily without typing. For example, If you are asked what time you finish work, Google Reply will check your calendar and generate a response to send. If you like one of the responses, tap once on it and it will be sent. Alternatively, if you are trusting or don't really care, you can hand the reins over to Reply and let all messages be responded to without your input with the most likely response.
For the time being the service is currently only available in beta on Android but is easy enough to download and use. If you would like to get in early and start using Google Reply, below you will find all the information you need on where to download, how to set up and how to use Google Reply.
How to Download and use Google Reply. (Multi-app Automatic Message Replies) 
The first thing you are going to need to do is download and install Google Reply, which you can do using APK Mirror. Below is a direct link to the download page for Google Reply. If you aren't sure how to install APK files click here for a full guide.
Download Google Reply From APK Mirror.
Once you have Google Reply on your device, using it is relatively easy as the app has a very good introduction process. The first thing you need to do is sign in using your Google account, then give the app permission to access your notifications. After this, you have the option to give Google Reply access to your location which will allow Reply to respond to messages based on your location, for example, if you are at home, work, driving, etc.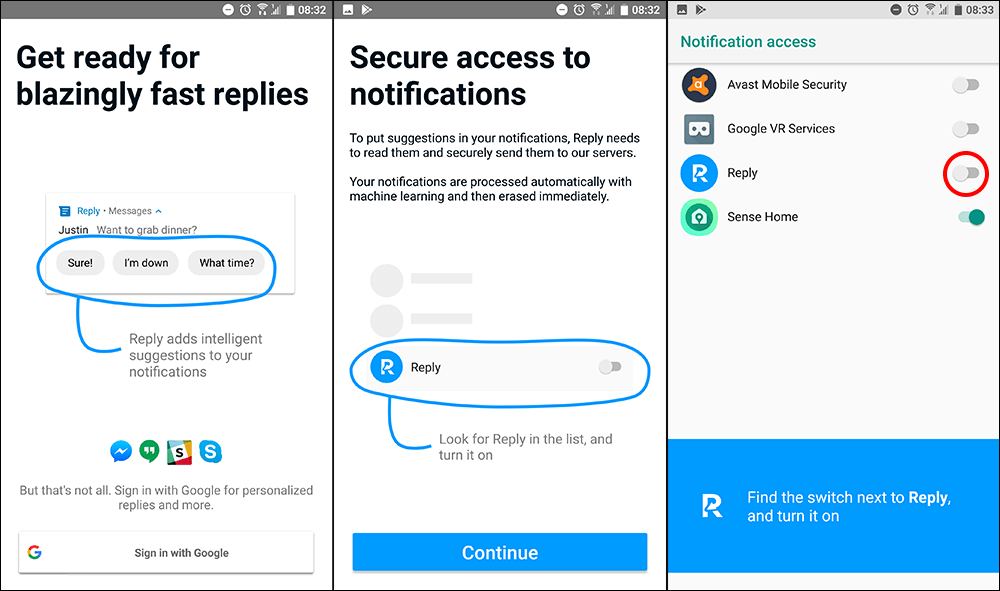 After the main introduction process, tap the Hamburger icon (top left corner) and browse through each of the options and enable or disable the ones that best suits your situation and use. The main option you will want to check if you didn't adjust it in the original intro is automatic replies, which can be found under Automatic Replies…. If you want the bot to reply to all messages automatically leave the box unticked.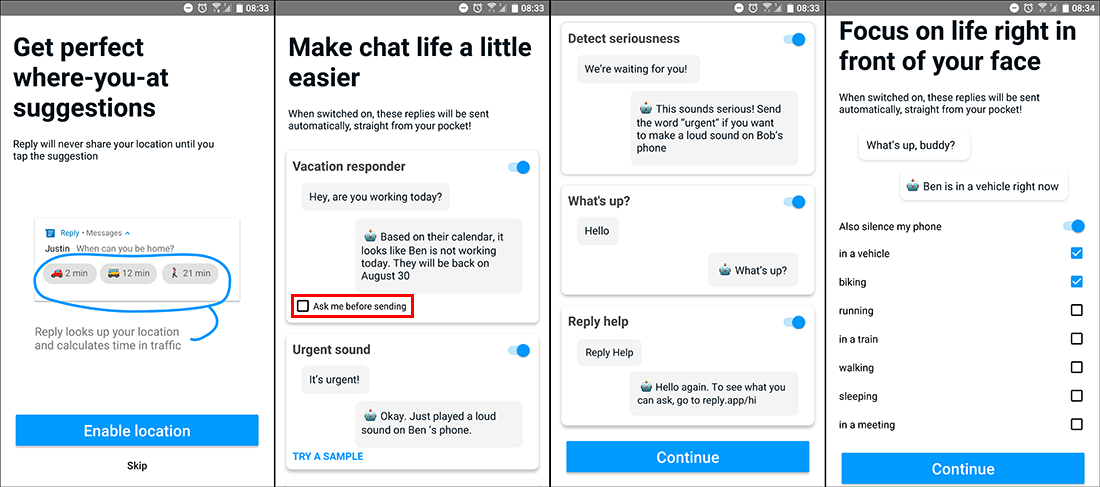 During my testing of Reply, it only worked to its full potential on WhatsApp, with all features working without any issue. Facebook Messenger only worked for manual options, with auto reply failing to respond to every message. Skype didn't work at all, with reply not picking up on any notification activity. The app is in early beta testing, so none of these issues are really a surprise, keep an eye out for later releases though, Google aren't one to leave an app with this kind of potential unfinished.