With the price of computer monitors coming down in recent years, it's becoming more and more common for users to adopt an extra screen or two. The practicality of extra screens is unmatched, whether your gaming, programming or doing multimedia work, your productivity will increase. That being said, Windows doesn't really include many options for multiscreen setups, so this guide will show you how you can really make the most out of your system.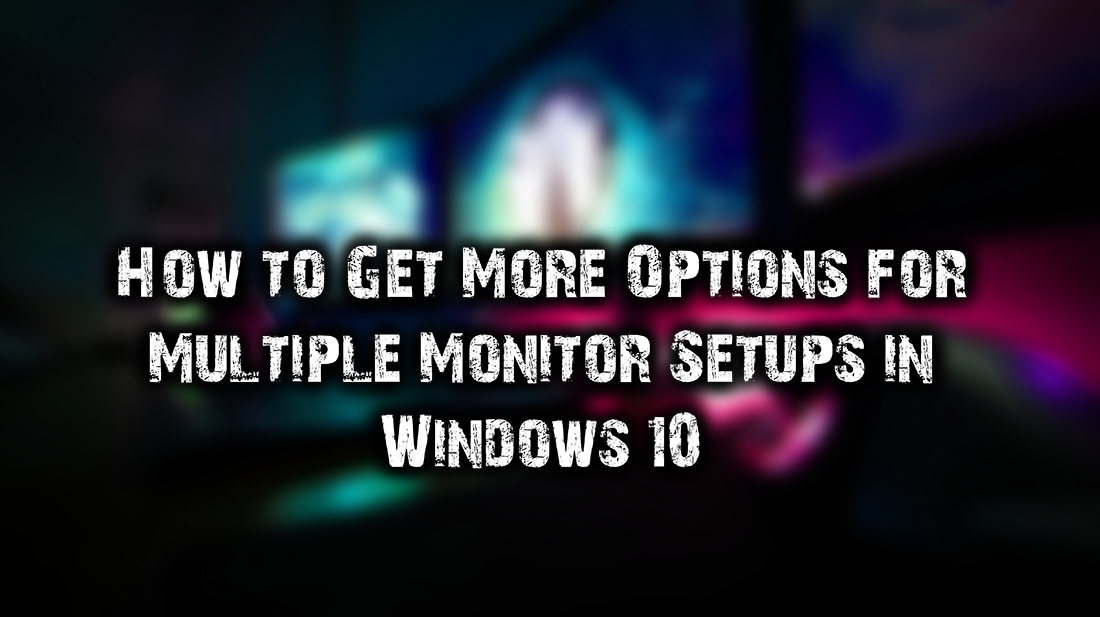 What is Dynamic Lock? And How Do You Set it Up on Windows 10?
There are a couple of different tools you can use to manage your multi-monitor setup. From a customization/personalization perspective a program called DisplayFusion is recommended:
"DisplayFusion will make your multi-monitor life much easier! With powerful features like Multi-Monitor Taskbars, TitleBar Buttons, and fully customizable HotKeys, DisplayFusion will make managing your multiple monitors easy." - DisplayFusion Website.
Having had a multiple monitor setup for many years I highly recommend DisplayFusion, it is a must-have program that allows huge amounts of customization. Especially in the area of wallpapers, hotkeys, and shortcuts. The main reason you will want to try DisplayFusion is if you wish to have separate wallpapers per screen or if you wish to stretch one large wallpaper across each. It also has some pretty cool settings for Screensavers as well. Although Windows 10 does allow you to use different wallpapers per screen, DisplayFusion has way more customization options. 
How to Set Different Wallpapers Per Screen on Windows 10 Without Third-Party Tools.
DisplayFusion isn't free, however, there is a 30-day trial available if you wish to test it out. By the time 30 days is up though, I don't think you will mind parting with a few dollars to continue using the program.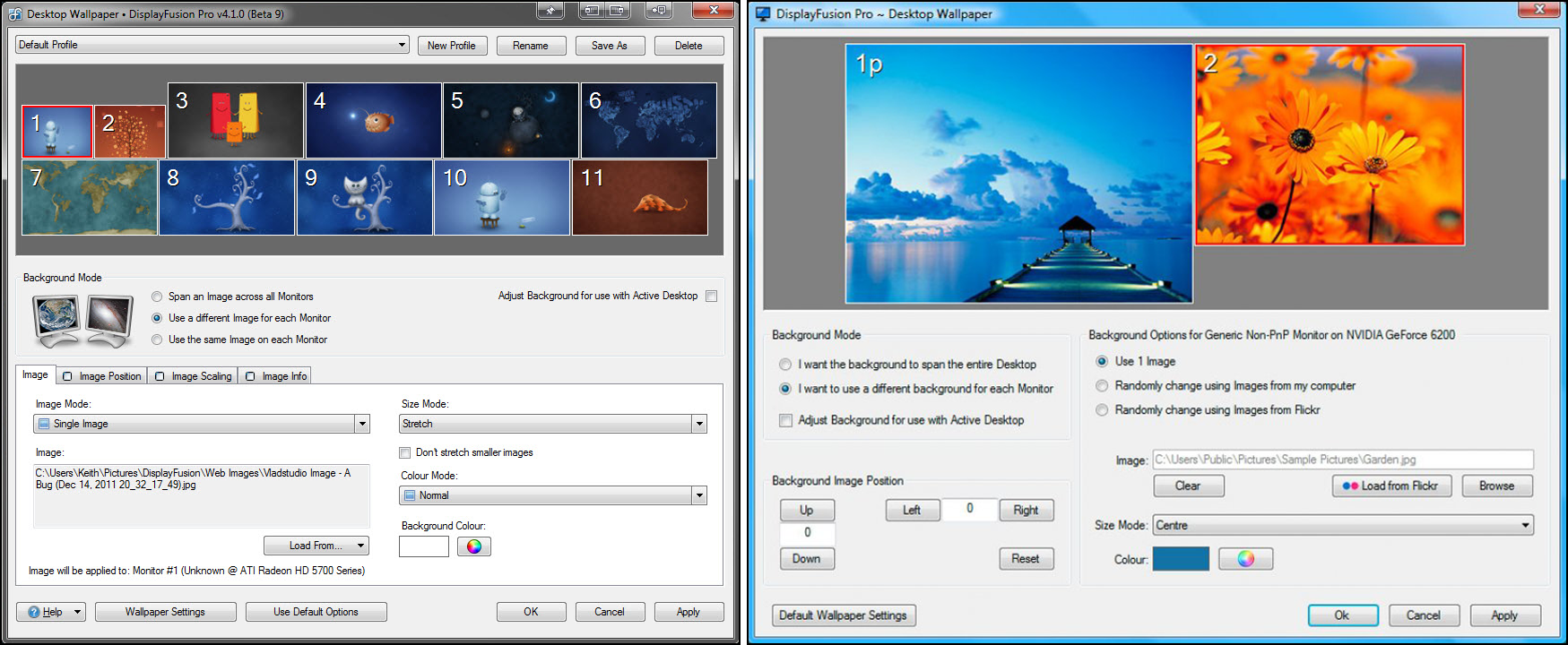 Another really good program you can use to manage multi-monitor setups is Dual Monitor Tools. Dual Monitor Tools is a little different to DisplayFusion, it's main function is usability and customizing the core functions of your monitors, rather than the aesthetic parts. It offers a lot of features that are not inbuilt into Windows, things like cursor settings, screen swapping, and some basic wallpaper settings.
Cursor Settings.
Gives you access to settings that will make changes to your cursor. Hotkeys are at the core of this function. You can set it up so that the cursor will lock to a particular screen, meaning it won't jump over to the one next to it. (Super handy if you are running games in fullscreen windowed mode) It's also great if you can't quite grab the scroll bar on web pages and programs sometimes. There are quite a few other hotkeys you can mess around with too, should you feel the need.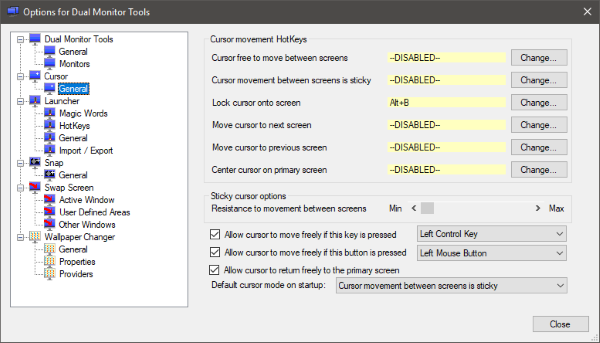 Wallpaper Options.
This tool is pretty self-explanatory and contains many similar features as Displayfusion. You can set a wallpaper from your local disk, Flickr or any URL if you please. You also have the option to stretch the image over multiple monitors or just set the same image across all screens.
Snap Options.
This option is also pretty cool and unique, it allows you to take up a Snapshot of your primary screen and display it on another screen. It's kind of like a screenshot tool that allows you to paste directly into the screen nearby, you can even set a number of snapshots you want to keep in the history. There is also an option to resize and optimize any snapshots you take. The snap function also features its own customizable Hotkey list.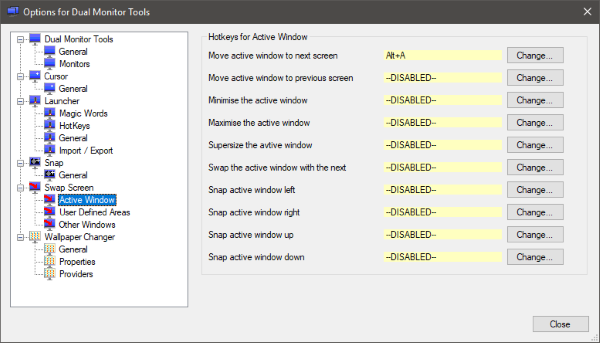 Swap Screen Options.
The Swap Screen option is probably the coolest feature in the program. It allows you to de-clutter your main screen by sending all apps and programs to another monitor. As well as this you can minimize/maximize these active windows. Dual Monitor Tools is much more basic than DisplayFusion so if you don't need all the crazy customization and personalization tools this is the program for you. It's pretty much focused on more professional uses.