If you are still using Windows 7 and have absolutely no intention of updating to Windows 10. This article will show you how to hide the annoying notification stating that Windows 7 is nearing 'End of Support'.
How to Fix System Restore, Windows Update, and Backup Error 0x80070013 on Windows 10.
On January 14, 2020, Microsoft will officially be ending support for Windows 7. Which means that after this date Windows 7 will no longer be receiving any security updates or patches. Although this won't render your computer useless, it will in time make it vulnerable to security risks, thus exposing you and your data to potential hackers and/or intrusions. The official end of support notice reads as follows:
"After 10 years, support for Windows 7 is nearing the end.
January 14, 2020, is the last day Microsoft will offer security updates and technical support for computers running Windows 7. We known can be difficult, that's why we're reaching out early to help you backup your files and prepare for what's next."
Even though Windows 7 has been a superb operating system for the past 10 years, everything good must eventually come to an end, so as reluctant as you may be, updating to Windows 10 is ultimately in your best interest. However, if you are adamant to stick it out until the very last moment, you can disable to notification using the following steps.
Related: How to Make File Explorer Use the Same Column Layout For All Folders on Windows 10.
How Do You Disable the End of  Support Notification on Windows 7?
The quickest and easiest way to hide this notification is to simply use the Do not remind me again option in the bottom left-hand corner of the notification window. However, that doesn't mean the notification won't pop up and annoy you a little further down the track.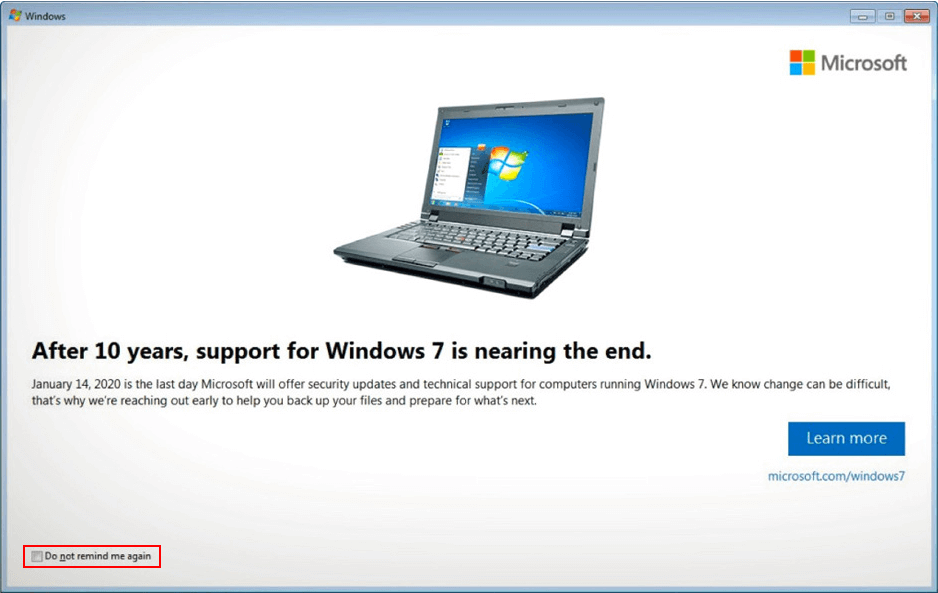 If You Haven't Already Installed Update KB4493132 on Your Computer.
In order to completely block the notification, you will need to block the update it comes with. To do this you'll need to do the following. First, open the Control Panel, find Windows Update, then track down update KB4493132. When you find the entry right-click on it and select Hide Update. This will prevent the update from being installed on your Windows 7 computer, thus preventing the notification.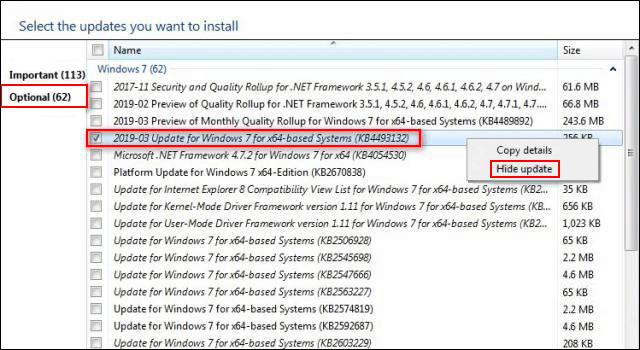 What If You Have Already Installed KB4493132 on Your Computer?
If you have already installed update KB4493132 on your computer, you'll need to remove it in order to stop the notification completely. To do this, open the Control Panel, go to Programs > Uninstall, then select View Installed Updates in the menu on the left. Now simply search for update KB4493132, then select it and uninstall it.
You can also uninstall the update using Command Prompt. To do this open Command Prompt (as Administrator), then type the following command into the window and press Enter. After the command runs, the update will be removed from your computer.
wusa /uninstall /kb:4493132

Information: Wusa.exe is the Windows Update Standalone Installer and can be found in the %windir%\System32 folder. The Windows Update Standalone Installer uses the Windows Update Agent API to install and remove update packages.