If you spend a lot of time using PDF files either for your work or just reading Ebooks, you are probably sick and tired of having to manually return to the last page you were on before closing.  If so, you may like to learn how to force PDF files to load from your last viewed position or page.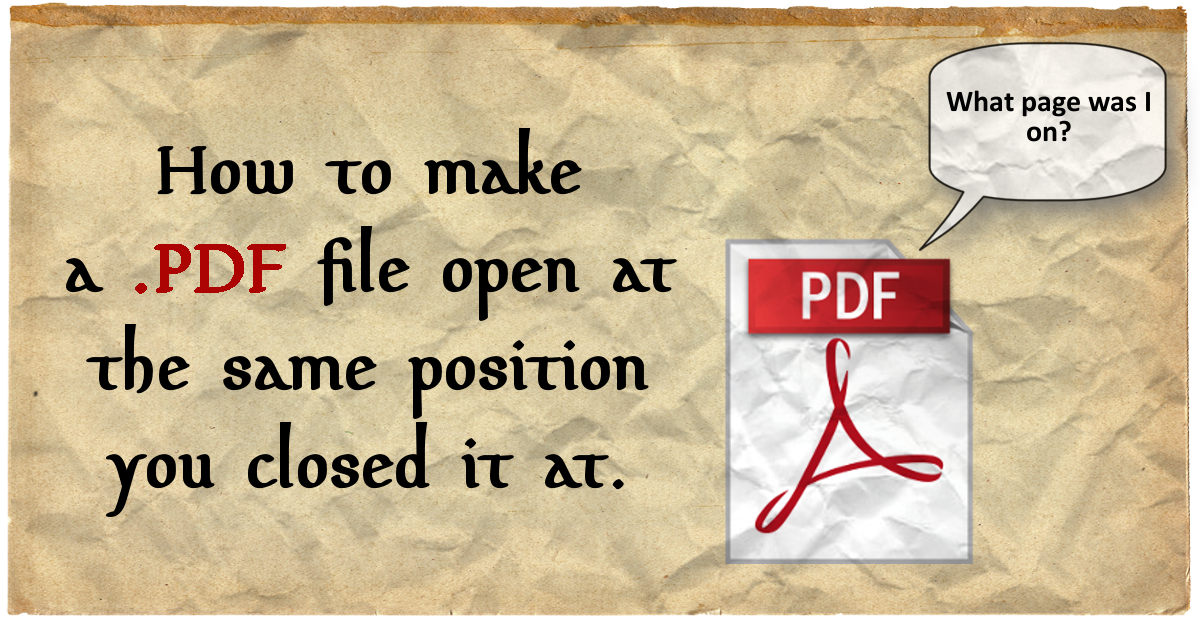 How to Add a Windows Control Panel Shortcut to the Windows Context Menu (Right-Click Menu) 
To save you some time, if you are generally only using your Internet browser to read PDF files you won't be able to make any changes that will allow you to start from where you left off. All three of the big name players in the Internet browser market, Google Chrome, Microsoft, Edge and Mozilla Firefox don't support the option. It might be possible to do via a browser extension, however, to this date we haven't been able to find one.
In order to set up a PDF file to remember the last position you were on, you will need to make sure you are using a dedicated program. Not all dedicated PDF reader programs will include this option either, so it is best to do a little research beforehand. If you are like most people though, there is a good chance that you already have Adobe Acrobat Reader installed on your device, which has full support for this feature.
Make Adobe Acrobat Reader Remember the Last Page You Were on in a PDF file.
To start the process, you will obviously have to open Adobe Acrobat, if you do not have Adobe Acrobat, you can get it from the official site here: https://get.adobe.com/reader/ or alternatively, you can just Google search it. When you have Adobe open, go to Edit then Preferences (found in the top left-hand corner). Don't worry about opening a PDF file into the window before hand. From the Preferences box, click on Documents, which can be found in the Categories section. Finally, check the Restore last view settings when reopening documents box.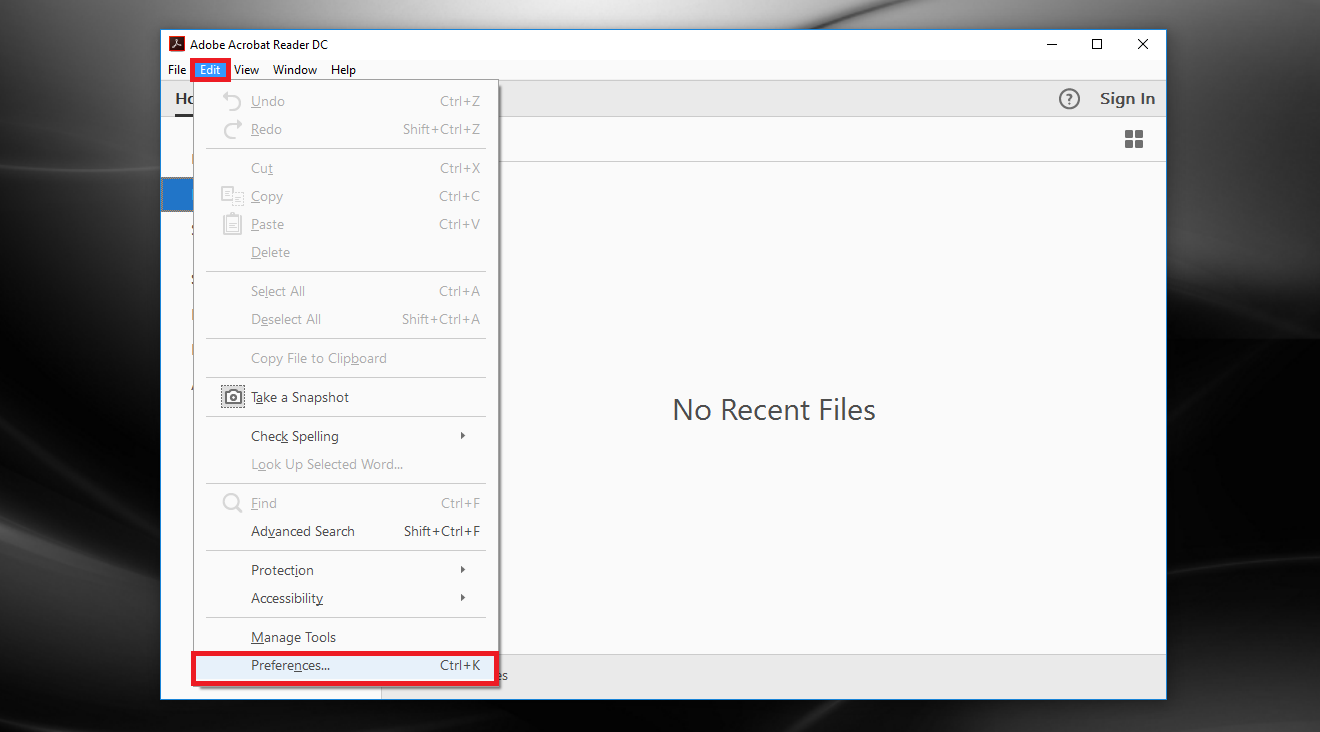 With the restore last view settings when reopening documents box ticked, you can click Ok to accept the changes. From now on whenever you reopen a PDF file you have been viewing, Adobe Acrobat Reader will automatically go to the page and position you were on at the time you clicked close.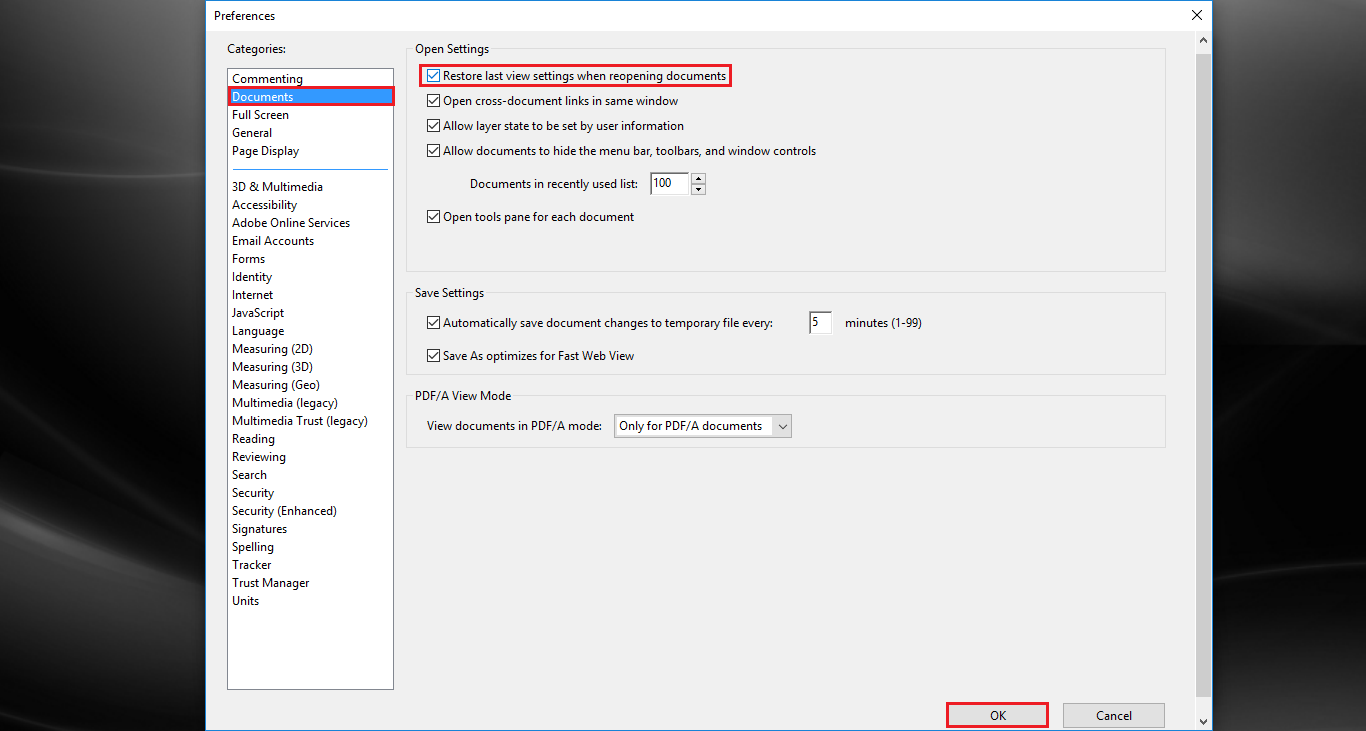 If you are using a PDF file reader other than Adobe Acrobat reader, there is a good chance it will also support the option to remember your position. If you don't mind spending a few minutes navigating the menus, you should be able to find it.
Note: Something worth noting is that the Adobe Acrobat reader for mobile platforms (Android, iOS & Windows) doesn't support the option to start where you left off.
If you are in the market for a new program that will open more files than just PDF's, you can try one called Icecream Ebook Reader. The PDF reader is pretty basic, however, it does have the option to remember your position and will open EPUB and MOBI files. The interface is a little odd too but it is easy to use and navigation is great. There is also an option to add bookmarks and leave notes, plus the night mode function is brilliant.