Windows 10 has plenty of hidden features a lot of users are unaware of. Like the ability to install apps from the Windows Store on any drive you like or move apps already installed to a new location. You don't even have to uninstall and reinstall them. It's also even possible to save Windows Store Apps on SD cards and USB drives. Pretty cool right?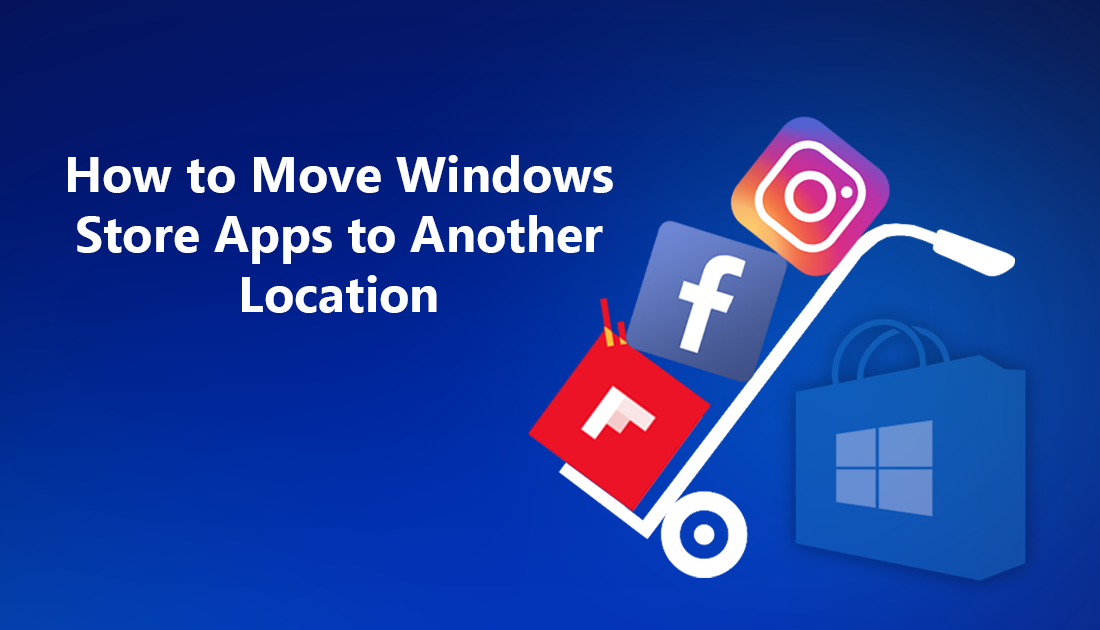 How to Take Scrolling Screenshots Of Any App, on Any Android Device. 
If you didn't know about the option that allows you to move Windows Store Apps to different locations and drives, you can be forgiven. It's not something most people are aware of. It's actually quite surprising that Windows even included it. If your Windows based computer has a small hard drive or you just want to free up some space on your SSD, moving Windows Store apps is a great way to do just that.
How to Change the Installation Location for New Windows Store Apps.
Changing the installation location the Windows Store installs apps to is quite simple. Open the Settings menu and go to: Settings > System > Storage. Here, under More storage settings, click Change where new content is saved.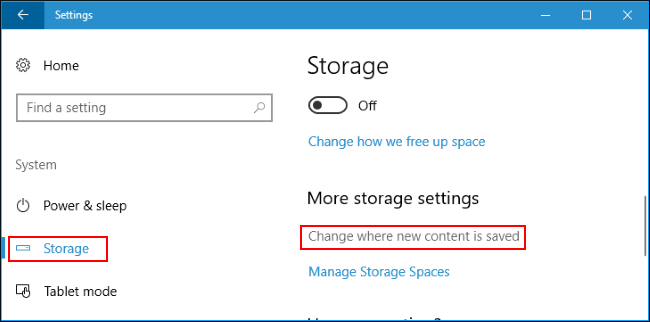 Using the drop down box under New apps will save to, select the drive you want the new apps to install too. Remember, you can use USB drives, SD cards, and external hard drives as well as internal drives.  
Note: You can also change the default save location for documents, pictures, video, and music files.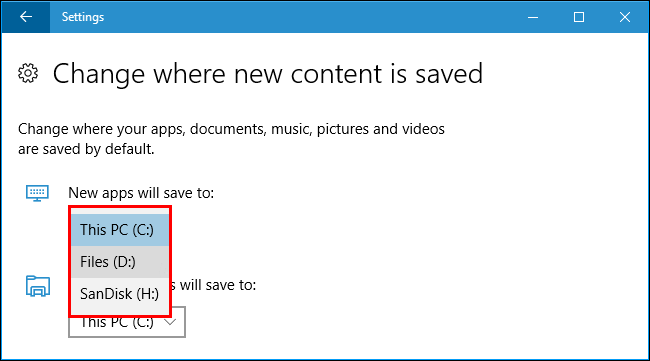 Changing this Windows setting will only change the default install location for Windows Store apps. Not standard programs and games you install from other sources. For these, you will need to change the location manually when you are installing each individual app, program or game.
How to Move Installed Apps to Another Drive.
If you are wanting to move Windows Apps that are already installed, the option is quite easy also. (Although you can't move any of the factory installed apps) To move apps to another drive go to Settings > Apps > Apps & features. Next, click the app you want to move and select Move.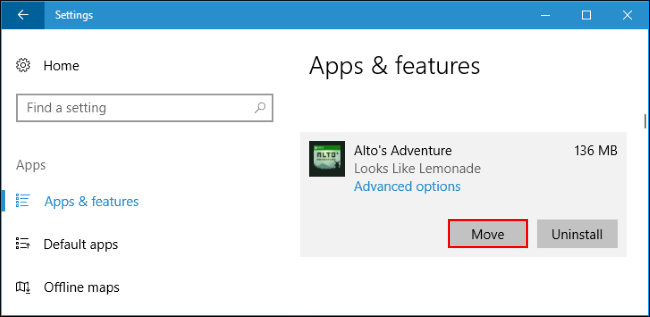 Now all you need to do is select the drive you wish to move the app to. If you try this and see Modify instead of Move, you have selected a pre installed factory Windows app which cannot be moved.
Note: Whenever you try to install really large items from the Windows Store such as fully featured games, you will automatically be asked where you would like to install them.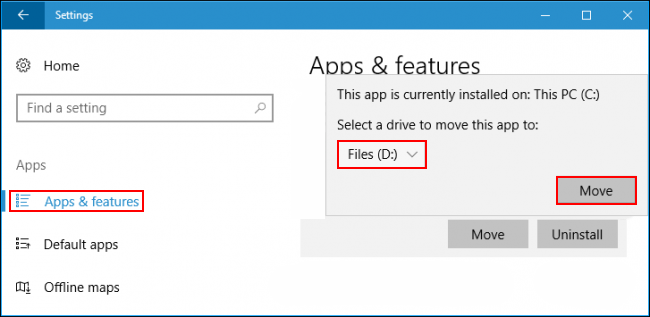 Can I Remove the Drive Once I Have copied Apps to It?
If you remove the drive from your computer after installing or moving apps onto it, the apps installed on it will no longer work on your computer, for obvious reasons. As soon as you reconnect it though, the contents will begin to work normally again. This is the reason Windows doesn't allow you to remove factory installed app. Although most of them are useless, Windows still deems them too important to system stability to move to a new location. This doesn't mean they can't be deleted. If you'd like to find out how to delete factory installed apps from your Windows PC, you can check out the following guide. 
How to Remove Pre-Installed/Bundled Factory Windows 10 Apps. (Think Groove Music.....)