It is tradition that when the year comes to an end Facebook offers its users the option to create and share a video summary of the year gone by. In 2016 as with previous years Facebook will be including a collection of photos that you have been tagged in, photos you have uploaded yourself, comments, reactions to posts and new friends you've added in the last 12 months.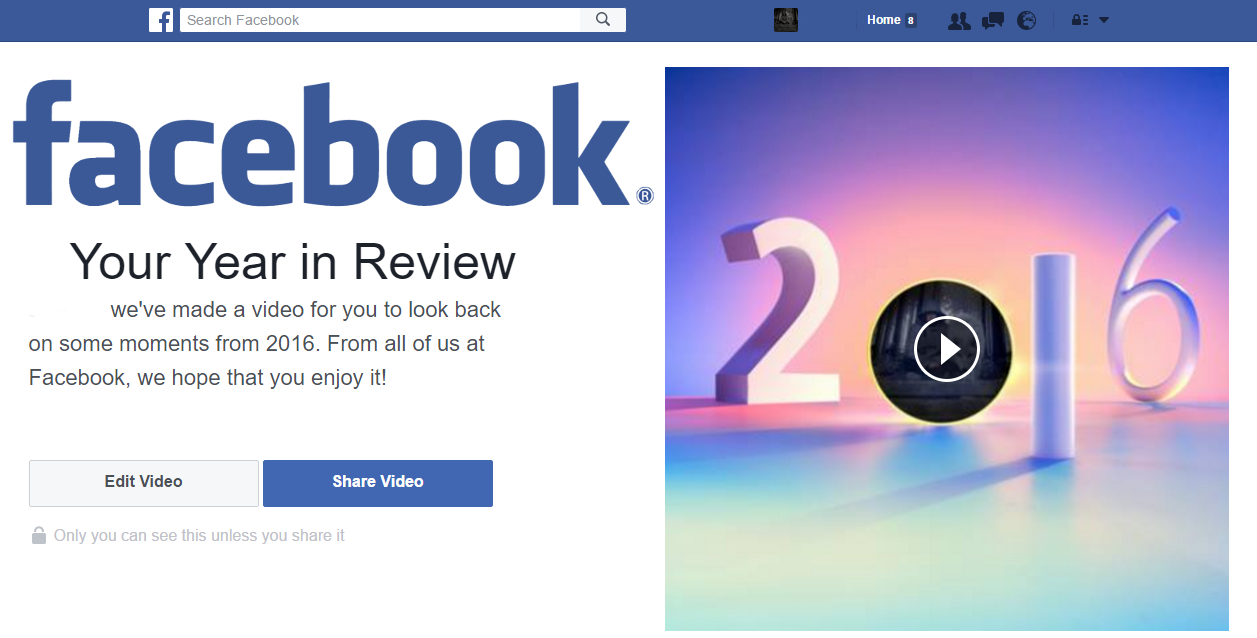 How to Use Facebook's Search Function to Its Full Potential. 
The video as usual, just like all those in the past is offered to all users of Facebook's social media service. However, for the moment this video isn't offered automatically to everyone and has to be requested manually. So if Facebook hasn't offered you your video just yet don't panic, you can request it and it will be ready within a few minutes.
As mentioned earlier, the year in review 2016 video is created using popular posts from the year gone by, either ones you have posted yourself or ones you might have been tagged in. It also features photos you have uploaded and been tagged in by others. Facebook automatically compiles this list, however, you can edit the clip yourself, adding and removing things you like and dislike. Once you have edited it to just the way you like, you can upload and share away, or just keep it private on your own wall.  
How to Request Your Facebook Year in Review 2016 Video.
The first thing to do is go to the 2016 Year in Review Facebook section. This can be done by adding the /yearinreview2016 to the end of your Facebook browser URL or directly on this link:
https://www.facebook.com/yearinreview2016/
Once you are on the website there are two options Number 1 That your video is not yet ready and Number: 2 that your video is ready to be edited and shared. If your video is not ready yet, Facebook will offer you the option to apply for it by clicking on the blue button "Order Video"
After clicking to apply for your video a message informing you that your video is being processed will appear, notifying you that in a few minutes it will be ready. When it is finally done a notification will also be sent to your profile saying your video is available and ready to be edited and shared. (during the waiting period you can move away from the site and come back later if you please) When you receive the notification you can simply click on it to view.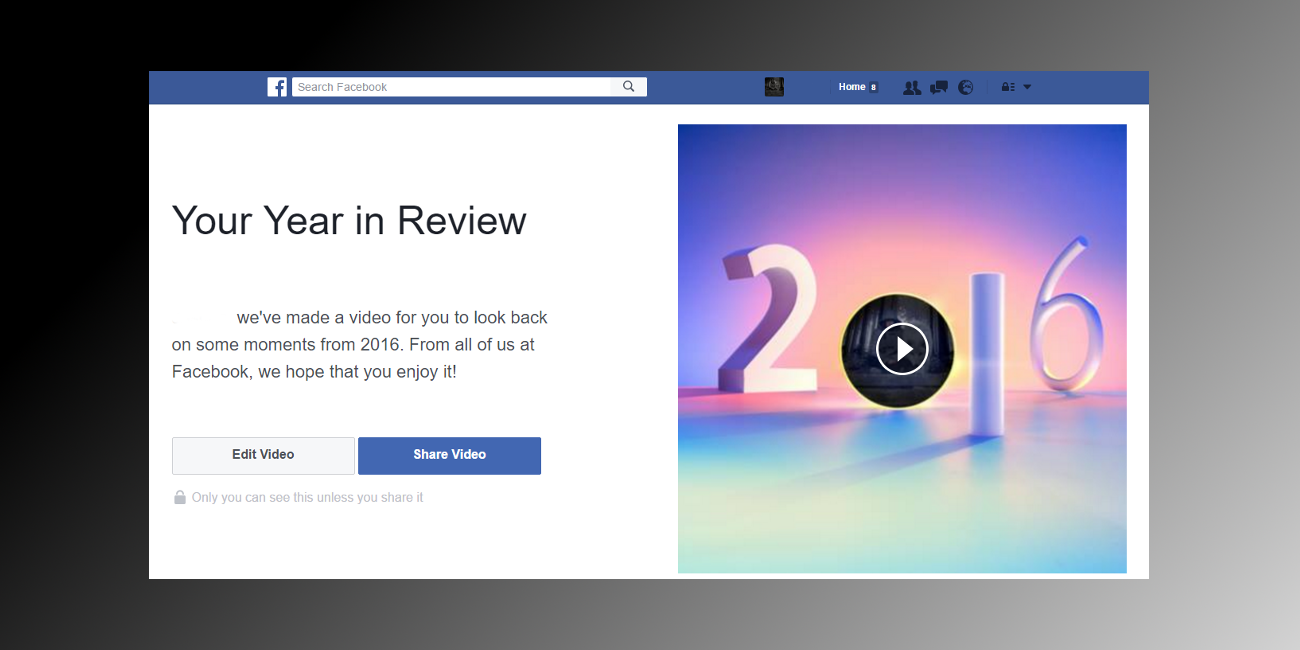 Note: From the main page displaying your option to order or edit you can scroll down to see more information about your year gone by such as places you visited marked on the world map, friends you made, and some data on how you reacted to posts throughout the year.
How to Edit Your Facebook Year in Review 2016 Video.
If you like what you see with facebook's auto-compiled version you just have to press publish, however, if it is not to your liking, you can click on the button "Edit Video"  This will display a small window in which all the elements of your Facebook profile are currently displayed. Here just click the replace button and swap out what you don't want by moving the blue tick to the box of the image you want instead.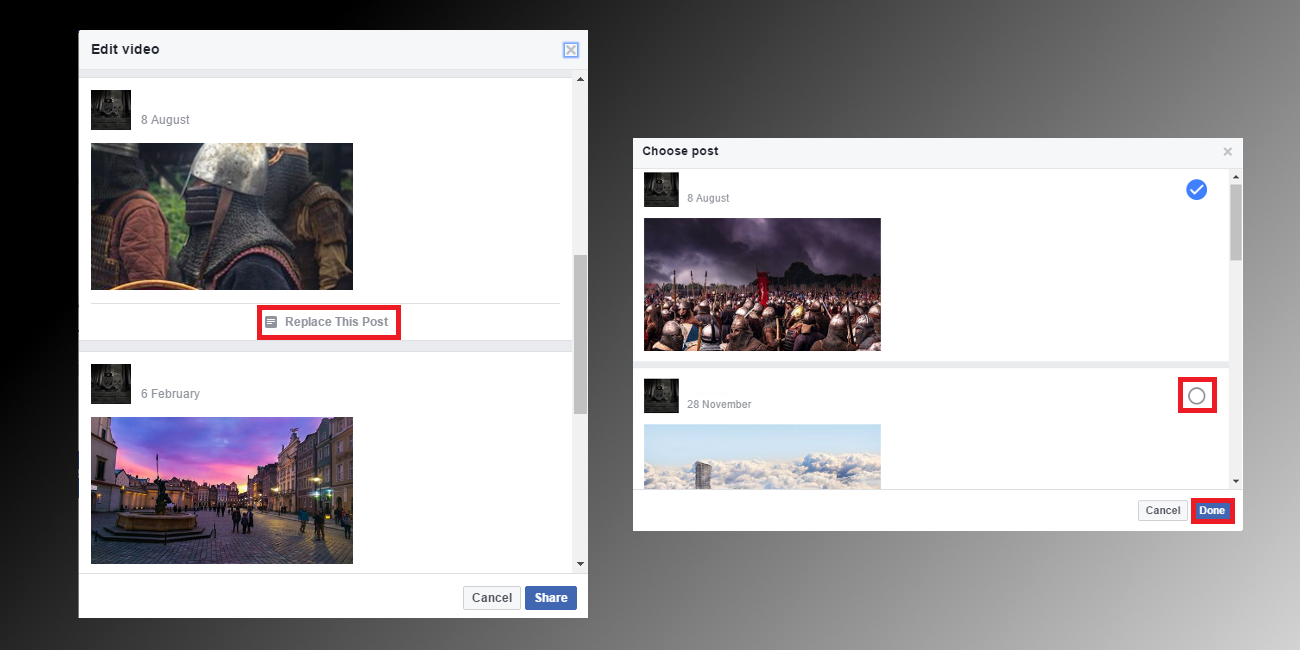 Once it's all sorted, all you have to do is click Post, this will bring up the final screen that allows you to add some words and emojis to post alongside your video. You will also be able to choose the audience you are sending the video out to and tag people by name directly to your post.
This is a quick entertaining and fun way to remember posts, activities, friends you made and places you visited over the year gone by.