If you are someone who has a million icons on your desktop in a specific order that you don't ever want to lose, this guide will show you how to backup and save your desktop icon layout so it can quickly and easily be restored, should Windows ever decide to ruin your day.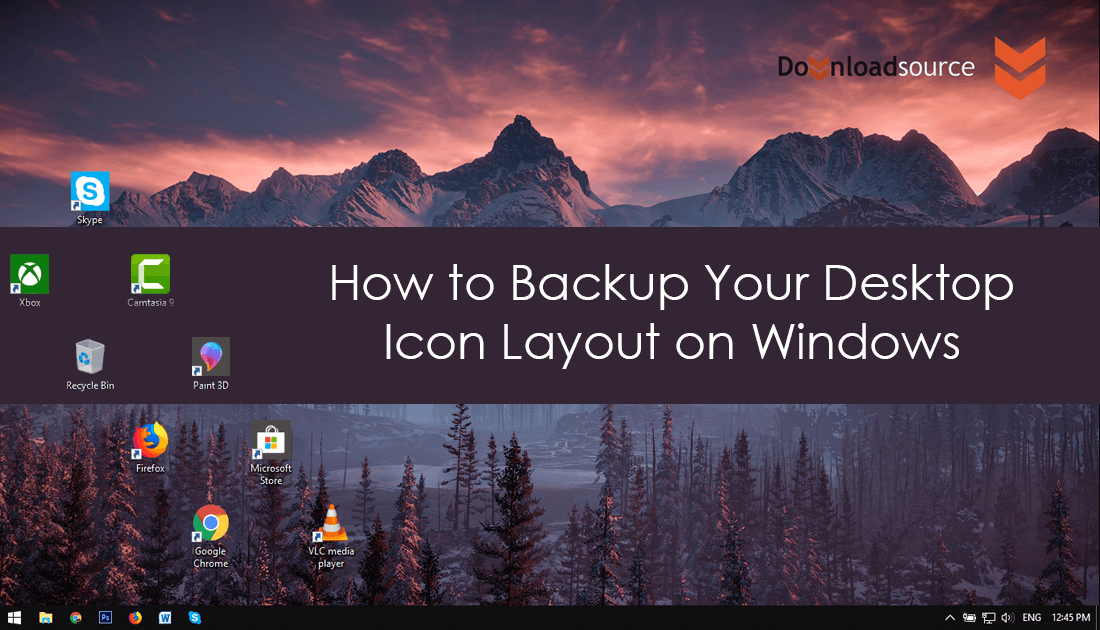 How to Get a Mac-Like Dock For Your Icons on Windows 10.
The Windows 10 Fall Creators update came with quite a few cool new features and options. Simple things like VPN access and Photos App were all made easier to use with more options. Unfortunately, one feature that is still missing from all Windows versions is the ability to save and backup your Desktop icon layout. Although Windows doesn't offer the option internally, there are several third-party options you can use to get the job done. Below, listed in no particular order are 3 of the best options you can use on any version of Windows.
How to Save Your Desktop Icon Configuration on Windows Using ReIcon.
First on the list is a small portable program called ReIcon. ReIcon is a simple program that allows you to create a backup of your desktop icon layout, it's super handy if you are constantly changing desktop resolutions or jumping in and out of games that sometimes mess up your icon configuration. It allows you to:
Save your favorite icon layout for each resolution.
Save multiple different layouts.
Unicode support.
Align icons to Grid.
Context menu support. (right-click menu)

Once you have downloaded and installed ReIcon, using it is really easy, as there are basically only 3 main options. Save, Restore and Delete. Once you have your icon layout configured, choose Save to save your layout. Then use Restore to restore your layout at a later time. If you would like a more detailed how to, check out the ReIcon main website.
How to Save Your Desktop Icon Configuration on Windows Using DesktopOK.
The next tool you can use to save your desktop icon configuration is called DesktopOK, it is very similar to ReIcon, although the website is reminiscent of the Internet's earliest days. Once you download DesktopOK, using it is relatively easy, as it also has 3 main options, Save, Restore, and Delete. Apart from these features, DesktopOK has one unique feature that allows you to set autosave times which will force DesktopOK to save your layout at specific times, every 15 minutes, hourly, daily, or on shutdown.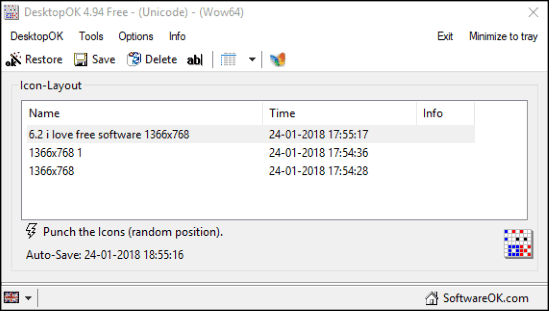 How to Save Your Desktop Icon Configuration on Windows Using IconRestorer.
The final desktop layout saving tool is called IconRestorer and it too has a very basic, easy to use interface. As with both DesktopOK and ReIcon, IconRestorer allows you to backup and restore your desktop icon layouts quickly and easily. Although it doesn't specifically state that it works on Windows 10, it works well without any issues. The only downside is that it hasn't been updated in a considerable amount of time, so if you do come across any bugs, it's best to switch to one of the other options. It will come in handy if you are running older versions of Windows.

Conclusion.
Of all three of the programs I personally find ReIcon the best, the interface is clean, modern and easy to use. It also has the ability to be added to the context menu, which is something I find very useful. If you are using an older version of Windows, IconRestorer is a great option as it is also easy to use and has great compatibility for Windows XP, 2003, Vista, 2008, and Windows 7.