If you are looking for the best free file sharing service that lets you upload and share large files and folders. This article will show you how to share up to 10gb for data full encrypted without the need to enter and verify email addresses or other data. Simply upload your file, get a download link and share it with whoever you want.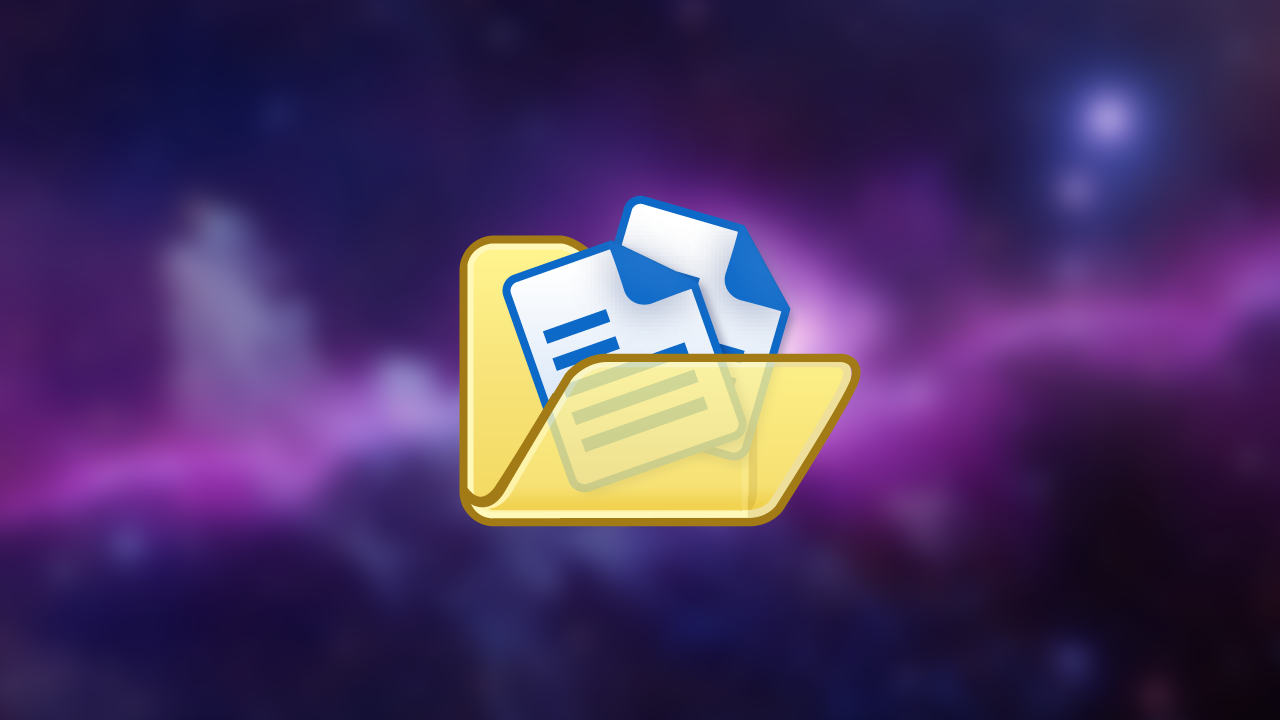 Related: How to fix Microsoft Teams can't change sign-in email address.
There are dozens and dozens of different file-sharing services available on the Internet nowadays, and although they all get the job done, each and every service has its list of pros and cons. Over the years we've covered quite a few different services, which have all proven to be useful, though have changed a lot since we last reviewed them. Sadly almost all of them have become more restrictive or more expensive to use.
Which brings us to today's article! We've finally found another top-notch file sharing service that you can use to share files up to 10GB without the need to enter a ton of identifying information such as your name or email address. What makes this service even better is the fact that it is entirely free, has decent encryption and doesn't want to know everything about you and your file.
The service is called Wormhole and works pretty much the same as every other free file sharing service on the market. Simply visit the website, upload your data, make a couple of quick preference changes and get a download link to your file. It really doesn't get any easier than Wormhole. If this is your first time using a file sharing service like Wormhole, follow along for the full how-to process below.
The best free file sharing service for files up to 10GB. Share files up to 10GB without entering an email address!
To begin the first thing you need to do is head on over to the official Wormhole website at https://wormhole.app/. Once you are on the main Wormhole page, simply click the Select files to send option, or drag and drop files / folders into the specified area. Once your file has uploaded successfully, you'll be taken to a new page with two different options: Copy Link and Share.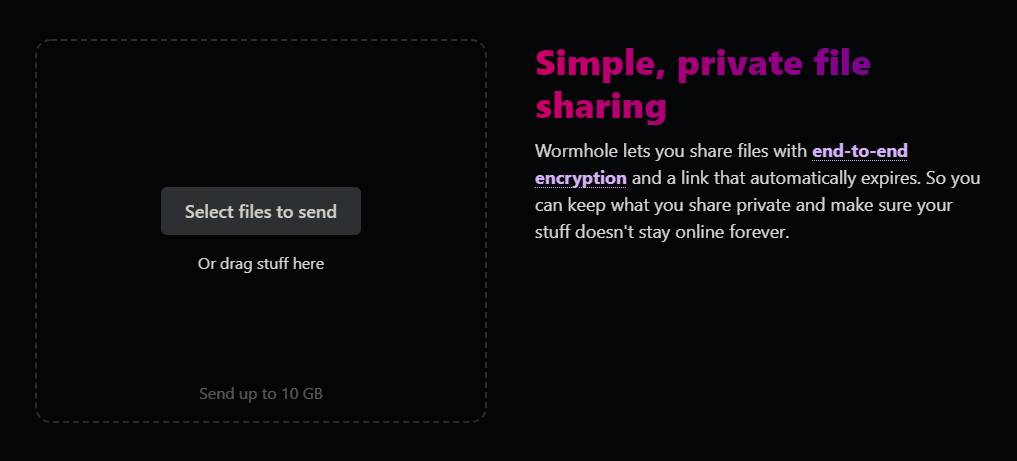 Note: The speed it goes will be determined by your upload speed, so it may take a while for files nudging 10GB.
Copy link is the easiest method as it allows you to instantly share your file with whoever you choose. The only requirement is that they download the file within twenty-four hours of you creating the link. If you choose the Share option a few of the usual options: Mail, Bluetooth, Your Phone, One Note.
If you aren't one to trust the encryption process of online file-sharing services like this, you can easily encrypt the data yourself then upload and share it using Wormhole. This is by far the safest method available but does take a little extra time to get sorted.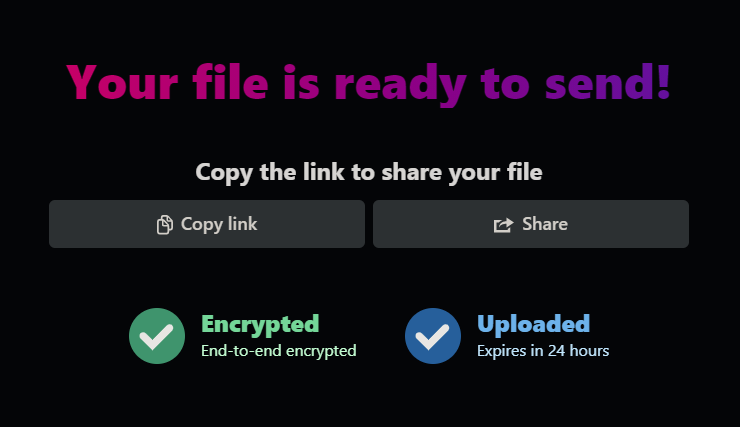 If you've recently spent some time Googling the best free online file-sharing services, you'll know it's a difficult take trying to find a service that offers file sizes up to 10GB for free. Alternatively, you could just use your Google accounts free 15b storage service, however, there's a good chance you've already used a decent portion of it. That said there's nothing stopping you from creating another throw away Google account just for sharing files up to 15GB in size.